13th Street Winery
by
Kathy Sullivan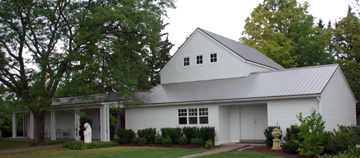 Summary: With the appearance of a custom designed tasting room and art gallery, 13th Street Winery in St. Catharines, Ontario has successfully paired art, wine and food.
In 2008 two couples, June and John Mann and Doug and Karen Whitty, purchased the13th Street Winery, in St. Catharines Ontario. The winemaker is Jean Pierre. The emphasis at 13th Street Winery is on sparkling wines and wines made from Gamay Noir. However, this is a winery with also a focus on farm, food, wine and art.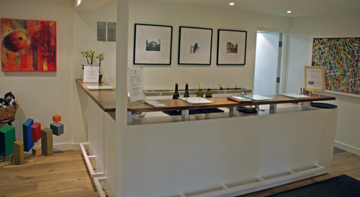 The visitor facility was an old farmhouse built in 1908. Today the structure has been completely renovated. When first entering the facility one sees colorful walls of artwork displayed against gleaming walls of white. The golden honey-colored wood floor adds to the art gallery feel. To discover the wine tasting area, walk towards the back of this restored old farmhouse. A delightful porch wraps around the building. Numerous tables are available on the porch for enjoying a glass of wine. Bright colored sculptures displayed outside provide additional color against the greenery of surrounding trees.
A farm market is across the driveway from the tasting room.It offers a seasonal lunch menu during the summer and early fall. In season, visitors will discover farm fresh fruits and vegetables. Nearby are large greenhouses with fully grown blackberry bushes and tomatoes. These greenhouses came with the purchase of the property and the owners chose to continue the operation. All appeared to be bearing fruit prolifically. The bakery is known in the region for its pies and butter tarts.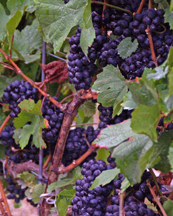 Onsite vineyards consist of Gamay Noir, Pinot Noir (pictured). At June's Vineyard the grape varieties grown include Riesling, Chardonnay, Cabernet Franc and some Cabernet Sauvignon. Merlot, Pinot Gris and Gewürztraminer are grown at other vineyards.
13th Street Wines
Chardonnay June's Vineyard 2011 was unoaked and a light straw color. The aroma and taste offered notes of apple and citrus. The finish was crisp with a lemony aftertaste. June's Vineyard Riesling 2011 was a pale yellow with fruit and mineral nuances on the aroma. The taste was sweet and crisp with peach and melon hints. The finish was fruity and dry with nuances of minerality. White Palette 2011 was a blend of whites. A winemaker blends wines as an artist blends paints. The blend was Riesling, Sauvignon Blanc, Gewürztraminer, Viognier and Chardonnay. This wine was a pale yellow. It was aromatic with some sweetness on the taste. This is a good 3P (patio, porch and pool) wine. 13 Below Zero Riesling was a blend of Riesling Ice Wine and Riesling. The result was a light straw color wine with an aroma of honeysuckle and orange blossoms. Apricot nuances were on the finish.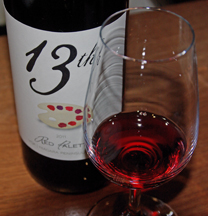 Gamay Noir 2011 was unoaked with a light ruby color. The aroma had mushroom and dark fruit notes. The taste was of dark fruit and the finish was very fruity with mild tannins. Red Palette 2011 was a ruby color. This was a blend of Cabernet Franc, Cabernet Sauvignon, Merlot, Syrah, Pinot Noir, and Gamay. The wine offered an aroma of floral and fruit cocktail notes. The taste was of roses, cherries and raspberries. The wine was fruity with mild tannins. This is a good walk-around-wine.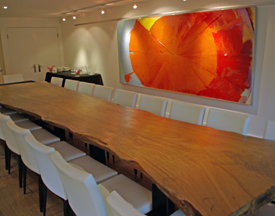 Art Gallery
13th Street Winery displays the works of art of Canadian and local artists. The art exhibited changes several times each year. In the center of one of the rooms is a large Indonesian hardwood table. This room is for board meetings, wine club members and private events.
Garden Sculptures
Bright colored sculptures displayed outside provide additional color against the greenery of surrounding trees. Karoly Veress, who became known in Europe, created these original colorful sculptures. Veress was also a poet and writer. Eventually he moved the Canada and today several of his original sculptures can be seen at the winery.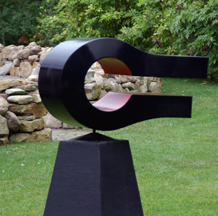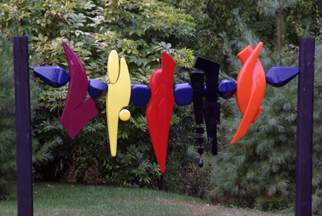 13th Street Winery is an ideal winery to visit any time of the year where visitors can enjoy a strong wine and art connection. When visiting 13th Street Winery, plan to spend extra time to view the artwork, walk the grounds and stop by the market.
13th Street Winery
1776 Fourth Avenue 

St. Catharines, Ontario
Canada, L2R 6P9
GPS: N43º 09.181' W79º 18.793'
Article written in September 2012.
---
Visit this Winery/vineyard travel agency and Canada winery that partner with Wine Trail Traveler.