Sandbanks Estate Winery
by
Kathy Sullivan

Summary: Sandbanks Estate Winery is a vibrant, inviting winery to visit. The winery is a great place to relax and enjoy a glass of wine on the large deck or lawn. Visitors can choose between a variety of wines to taste.
For wine enthusiasts and travelers, a visit to Sandbanks Estate Winery in Prince Edward County is a delightful experience. The winery and vineyards are located in Wellington, Ontario. From the flags on the road to the multi-colored chairs, Sandbanks Estate Winery is colorful and celebrates life.
Background
Catherine Langlois is the owner, winemaker and winegrower. Before reaching this respected position, Catherine studied hotel management. Eventually she traveled to Burgundy to work at a winery. After experiencing winemaking in Burgundy, Catherine returned to Canada where she worked at Pelee Island Winery. She visited Prince Edward County, purchased land and planted her first vineyard. The name Sandbanks was chosen, as it is an Ontario Park in the region. Currently the winery produces 15,000 cases of wine.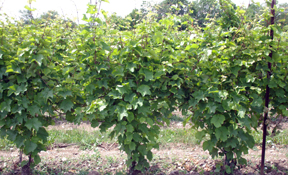 Vineyards
Grape varieties in the vineyards include Vidal Blanc, Marechal Foch, Riesling, Cabernet Franc, Baco Noir and Geisenheim. Other grapes are sourced from within Ontario. The Sandbanks vineyards focus on sustainability and therefore no pesticides or herbicides are used. The vineyards are located a short distance from Lake Ontario. The water modifies the temperature in the vineyard by helping to protect the grapevines from early bud break and thus protecting the tender grapes from early spring frosts.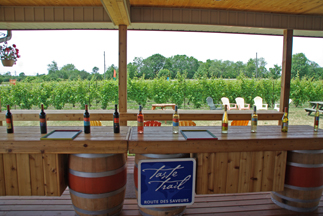 Tasting Room
A large tasting room continues the multicolors that one sees outside the winery. Notice the art work on severals walls. The art also has vivd colors that match the tasting room and outdoor chairs. There are two tasting counters. A third tasting conter is located outside on the covered patio.
White Wines
Riesling 2009 VQA was almost clear with a slight yellow hue that gleamed. The aroma and taste were sweet with honey and floral notes. The finish lingered and there were honey nuances on the aftertaste. Shoreline White 2010 VQA, a blend of Chardonnay, Riesling and Gewürztraminer, was a straw color. The aroma was floral with notes of roses and honeysuckle. The taste also had rose and honeysuckle with citrus notes. The wine was crisp and refreshing. This is a 3P wine as it would be delightful to sip on the patio, picnic or pool.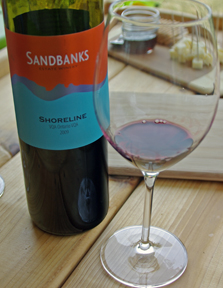 Rosé
Rosé was a blend of Geisenheim and Cabernet Franc. This estate wine was pleasantly sweet with notes of raspberries and citrus. This is a delightful wine for summer sipping. Suggested pairings included fish and grilled chicken.
Red Wines
Cabernet Franc VQA 2008 had an aroma of dark fruit and spice. The taste had notes of pepper and dark fruit. Shoreline Red 2009 VQA was a blend of Merlot, Cabernet Franc and Cabernet Sauvignon. This ruby wine offered an aroma of dark fruit. The finish was fruity with tannins. Suggested pairings included red meat and stews. Mouton Noir 2009 VQA was produced with Marchel Foch. The wine was dark purple. The aroma had raisin notes with jammy dark fruit. The taste reminded one of jammy fruit while the taste was crisp with fruit. Cabernet Merlot 2007 VQA offered an aroma and taste of dark fruit and spice. The finish was crisp with mild tannins. The fruit yielded to spice.
Dessert Wine
Winter Harvest VQA was a late harvest wine made with Vidal. The yellow wine had a floral aroma. The taste had notes of honeysuckle, peaches and apricots. The finish was crisp and fruity. The residual sugar was eight percent.

Events at Sandbanks Estate Winery
Events have a big role at the winery. Watch the winery's website for updated information or join the winery list for emails including events and announcements. Special events offered at the winery include wine releases, yoga sessions, campfires, fiestas, art shows, a local artisan and farmers' market and harvest.
Take time to visit Sandbanks Estate Winery. To get full enjoyment of your visit, plan to stay for a couple of hours to enjoy a glass of wine while viewing the vineyards.
Sandbanks Estate Winery
17598 Loyalist Parkway
Wellington, ON K0K 3L0
GPS: N43º 56.237' W77º 24.915'
---
Visit this Winery/vineyard travel agency and Canada winery that partner with Wine Trail Traveler.