Norman Hardie Winery
by
Kathy Sullivan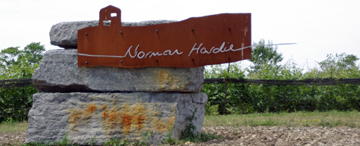 Summary: Norman Hardie, owner and winemaker, at Norman Hardie Winery is enthusiastic and serious about producing "old world wines in the new world." Visitors to the tasting room will discover that employees are knowledgeable about wine and the winery. They have worked in the vineyard and winery and can easily talk about the wines. Plan to stay awhile to enjoy pizza from the outdoor pizza oven.
One of the names one will frequently hear in Prince Edward County, Ontario is Norman Hardie. His wine knowledge and experience is intense. Norman is forward thinking constantly looking at different ways to do things. Wine bottle labels have Norman's signature. He backs-up each vintage with his name.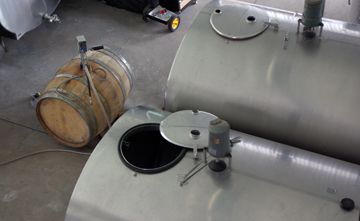 At the Norman Hardie Winery tasting room, visitors can observe the downstairs open facility with numerous stainless steel tanks. The tasting room is located on the second level of the winery enabling visitors to observe the functions taking place in the winery.
Norman became interested in the wine industry when he journeyed to Burgundy for a year. Later he became a wine buyer. Norman has worked at the Four Season Hotels as a sommelier. After he became a little bored, he realized that he should learn to make wine. His travels took him to several wine regons where he practiced his craft. Norman traveled to Oregon and South Africa. In South Africa he was offered a winemking position. He made four vintages in South Africa and three vintages in Burgundy. Feeling that he learned a lot in Burgundy, he went on to make wine in Santa Barbara, California and New Zealand.
Norman began looking for property in New Zealand and researched property in Ontario, Canada. He finally settled in Prince Edward County. He discovered the county's beautiful clay limestone soil.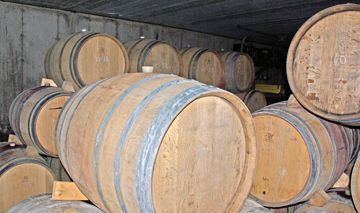 Norman Hardie Vineyards and Winery
In 2003 Pinot Noir vines were planted. Chardonnay and Pinot Gris were added in 2004. There are 16 acres of vineyards and current plans are to add three to four acres in subsequent years. The first winery vintage was in 2004 with mostly fruit sourced from the Niagara region. Norman produced about 500 cases. By 2007 the number of cases jumped to 3,500. The winery is now producing about 4,500 cases.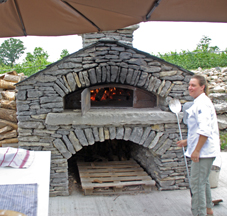 Norman noted, "Your potential starts with the grapes you harvest." In the winery, no must pumps are used. He has discovered that horizontal stainless steel dairy tanks are better than vertical stainless steels tanks for making wine. Norman discovered that the horizontal tanks provide more contact with the lees. The barrel cellar is partially below the ground. Barrels are all French oak. Norman wants wine enthusiasts to have wonderful old-style wines in the new world, believing they will have a wonderful experience.
While we talked with Norman, he shared a fresh pizza from the large stone outdoor oven. It was a simple pizza with a thin crust, tomato sauce and cheese. The pizza menu includes several types of pizza. The pizza oven looks like a miniature all stone house.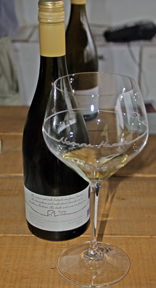 Wines
Each bottle of Norman Hardie wine states, "The vines and oak barrels are from France.
The limestone soil and ideal climate are in Southern Ontario. The taste and nose are from me. Enjoy."
White Wines
Riesling 2010 produced with county and Niagara fruit offered an aroma of tropical fruit with some floral hints. The taste had mineral and peach suggestions while the finish was crisp and fruity. Chardonnay 2008 was produced with Niagara fruit. The wine was smooth and well balanced. Jancis Robinson gave this Chardonnay the highest marks when in London. Chardonnay 2009, a light yellow, had notes of pear, caramel and vanilla on the aroma. The taste was smooth with fruit. The crisp finish was fruity yielding to caramel. Cuveé L Reserve Chardonnay 2008 produced with county and Niagara fruit offered pear and caramel notes on the aroma. The taste began with pear followed by apple and then caramel notes. The crisp finish had apple notes yielding to some minerality with a hint of caramel.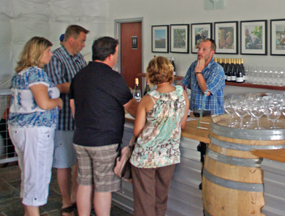 Red Wines
County Pinot Noir 2009 offered an aroma of red berry fruit and mineral hints. The taste had notes of red cherry and raspberry. The crisp finish, with very mild tannins, had fruit with a touch of minerality on the aftertaste. Pinot Noir 2009, produced with Niagara grapes, was bright red. The aroma was of red berry fruit. The taste had notes of red cherries and red cherry pits. The finish was crisp, fruity and spicy. Cuveé L Pinot Noir 2009 had a red berry aroma and a taste of raspberry and red cherry notes. The crisp finish offered tannins and was fruity.
Visitors will enjoy visiting the winery, which offers a patio with a large outdoor pizza oven and views of the vineyards. Norman Hardie wines should be on the "wines to watch" list.
Norman Hardie Wines
1179 Greer Rd,
Hillier, Ontario K0K 1A0
GPS: N43º 57.320' W77º 26.737'
---
Visit this Winery/vineyard travel agency and Canada winery that partner with Wine Trail Traveler.