Oxley Estate Winery
by
Meghan Neumeier
Photos by
Andy Neumeier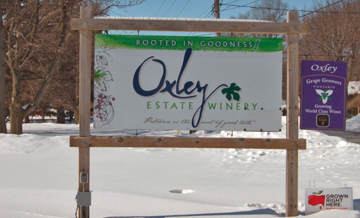 Summary:
After years of education and research, Ann and Murray Wilson put together vineyards, a winery, a tasting room, and a restaurant in less than a few years. Since its opening in July 2012, Oxley Estate Winery has been met with overwhelming success. Its wines have appeared in Vintages magazine and are sold in 23 cities in Ontario. Ann and Murray are committed to supporting research for new grape varietals and to offering visitors refreshing wines in a relaxed, elegant atmosphere.
History
In July 2012, Ann and Murray Wilson fulfilled a lifelong dream by opening the doors of their tasting room at Oxley Estate Winery. With a background in law and business, Ann and Murray might seem like an odd couple to open a winery. However, they were unfettered in their drive to make their dream a reality. Ann and Murray worked with other wine owners and winemakers in the Lake Erie North Shore region to learn more about wine and winemaking. After substantial research, the couple purchased the land for their winery and vineyards in April 2010; they planted their first grapes soon after. They made their first wine that year and christened 2011 as "a practice year" for winemaking. Their 2011 wine turned out to be incredibly pleasing to the senses, so Ann and Murray hastened to convert the old tobacco barn on their property to a tasting room, retail store, and event center. Today, Ann and Murray are committed to supporting the wine industry in Ontario and to experimenting with different varietals.
Vineyards
Ann and Murray own a total of 38 acres of land destined to become vineyards. Oxley Estate currently produces about 1,000 cases of wine a year from 10 of these acres. The vineyards are home to common varietals and experimental varietals, including Riesling, Chardonnay, Auxerrois, Bianca, Hibernal, Cabernet Franc, Cabernet Sauvignon, Merlot, Syrah, Pinot Noir, Regent, HG-01, HG-03, and HG-04. Oxley Estate has also been approved to grow its own root stalk and is currently experimenting with a red Riesling. Ann and Murray use minimal spraying and intervention in the vineyards because they want to "let the grapes speak for themselves."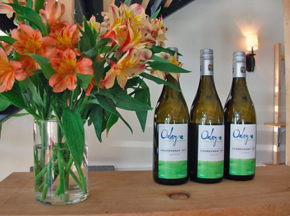 Wines
Oxley Estate's most popular wines include their Riesling and Cabernet Franc. The 2012 Riesling is the color of light straw. It has a sweet, floral nose and a creamy, dry, and smooth taste. It contains no residual sugar. Other white wines include the 2011 Chardonnay and the 2012 Chardonnay. Both of these wines are surprisingly different in scent and flavor. The 2011 Chardonnay is unoaked and contains notes of apples. It tastes light and buttery. The 2012 Chardonnay, also unoaked, offers tasters notes of lemon and citrus. Oxley's 2012 Rosé is pink-orange in color. It features a dry and floral taste and is light and acidic in nature. The Rosé is a blend of four different varietals, including Regent HG 01, HG 03 and HG 04. The 2012 Cabernet Franc is ruby in color. It contains notes of oak on the nose and a light, acidic taste, followed by some tannins on the finish. The 2011 Pinot Noir is also ruby in color. It features an earthy nose with notes of pepper and tannins.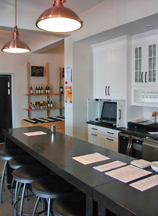 Tasting Room
Visitors will be hard-pressed to recognize Oxley's tasting room, retail store, and event center as a 1920s tobacco barn. The Barn at Oxley is open, bright, and welcoming, with white walls, numerous windows, and sun-loving glass doors. The tasting bar and stools are black, modern, and elegant. A loft overlooks the tasting room and provides extra seating for the restaurant and events. The retail store situated in the tasting room offers Pinot Noir jelly, Regent jelly, salsa, verjus, and pickled white asparagus.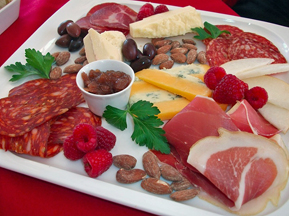 Restaurant
Oxley's restaurant serves lunch on weekends year round, every day in July and August. Dinner is served on Friday and Saturday evenings, from April through October. Visitors can also order food on Saturdays and Sundays. The menu changes each week to accommodate the local growing season. The menu has been known to include New York Sirloin, Pork Tenderloin Wellington, Yellow Lake Perch, and Ricotta Cheese and Spinach Roulade with Spicy Sausage Sauce. Oxley also offers cheese boards, charcuterie plates, and salads, as well as other appetizers and desserts. The food is well-loved by guests.
Events
Oxley Winery is very active in local winery and business events, including Explore the Shore and March Mac'ness. The Explore the Shore event, in July, offers visitors the chance to explore over 30 Lake Erie North Shore businesses, including wineries and restaurants and art and gift shops. Several area wineries participate in March Mac'ness, which affords guests the opportunity to try a different macaroni and cheese dish and a different wine at each winery. Oxley Winery also hosts Sip, Swirl and Twirl; Vintage Sessions Acoustic Theatre, a Harvest Dinner in the Vineyard under the Full Hunter's Moon, Valentine's Day Dinners, and cooking classes.
Visitors will be delighted in what Oxley has to offer. As staff member Jody Goslin explained, "We make agreeable, approachable, refreshing, bright, fun wines for a relaxed, casual, and elegant atmosphere." Oxley Winery is open daily for tastings.
Oxley Estate Winery
533 County Rd. 50
Harrow, Ontario, N0R 1G0
Article written March 2014
---
Visit this Winery/vineyard travel agency and Canada winery that partner with Wine Trail Traveler.