North 42 Degrees Estate Winery
by
Meghan Neumeier
Photos by
Andy Neumeier
Summary: Martin Gorski and Suzanne Dajczak opened North 42 Degrees Estate Winery in Harrow, Ontario, in 2012. In a short amount of time, their wine achieved international recognition in the Finger Lakes International Wine Competition and the Lake Erie North Shore All-Canadian Wine Judges Competition. Martin and Suzanne are passionate about their business and are committed to getting "a high quality product into the hands of the consumer at a price that they like."
History
For Martin Gorski and Suzanne Dajczak, establishing North 42 Degrees Estate Winery was meant to be. Martin's family history in farming and background in biology prepared him for understanding how to optimize the quality of grapes and wine. At a young age, Martin thought that growing grapes would be a good business. It was not until years later, however, after Suzanne randomly sat in on a grape seminar at a conference, that Martin and Suzanne decided to seriously consider opening a winery. Martin attended winemaking school at Washington State University and became a certified professional winemaker. Today, Martin is very dedicated to his work as a winemaker and is "very much engaged in learning more about winemaking every day." Martin and Suzanne planted vineyards in 2007 and opened the winery for business in 2012. They chose to name the winery "North 42 Degrees" because the 42nd parallel runs through the land. The 42nd parallel also runs through other notable wine regions, including California, Oregon, Italy, and New Zealand. "This is where grapes are grown," according to Martin.
Vineyards
North 42 Degrees owns a total of 17 acres of vineyards, which include Pinot Noir, Cabernet Franc, Cabernet Sauvignon, Gewürztraminer, Sauvignon Blanc, and two different types of Riesling that are clones from Germany. The area in which the vineyards sit is unique, not only because it has been an agricultural community for over 350 years, but also because of its soil type. The soil is called Harrow Sandy Loam, and Martin refers to it as "magic soil." It extends deeply into the ground and gives the surrounding land great potential. The area is "extremely fertile," Martin said. "It allows the grapes to express their true self." With such excellent soil, "the vines are wanting for nothing."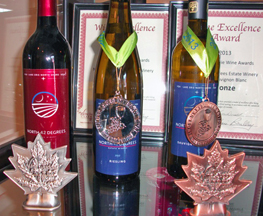 Wines
North 42 Degrees produces 3,300 cases of wine a year and hopes to eventually expand that total to 5,000 or more. The most popular wines are Riesling and Cabernet Franc. The Riesling is a light yellow color and is dry, light, floral, and smooth in taste. It won the silver medal at the Finger Lakes International Wine Competition. North 42 Degrees' Gewürztraminer, produced in an Alsatian style, is pale yellow and possesses a unique rose scent and flavor; it tastes like liquid roses. It is dry but floral. The Sauvignon Blanc is the color of light straw. It has a sweet and grapey nose and a fruity, semi-sweet, lightly acidic taste. It won the bronze medal at the Finger Lakes International Wine Competition and the Lake Erie North Shore All-Canadian Wine Judges Competition and is currently being served at a five star restaurant in Toronto, several restaurants locally and resturants further in Ontario. The Pinot Noir is dark ruby in color and contains notes of berries and earth on the nose. It is dry and peppery with bold tannins. The Cabernet Franc, which won the silver medal at the Lake Erie North Shore All-Canadian Wine Judges Competition, is dark red in color. It features berries and oak on the nose and is dry and silky with some tannins on the finish.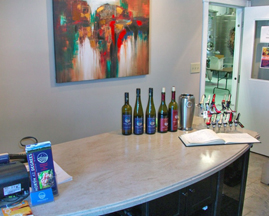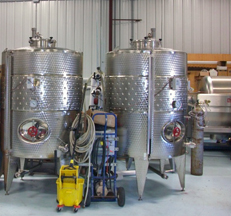 Tasting Room and Winery
North 42 Degrees' tasting room, which is housed in a barn, is small and cozy. It is connected to the winery, where Martin gladly takes visitors in order to share some of his knowledge of the winemaking process. "We like to make an educational, fun experience here," Martin said, adding, "I like to talk to my guests." The winery features a gravity-flow design and is geothermal. For Martin, it is important to run the winery as efficiently as possible.
Serenity Lavender Farm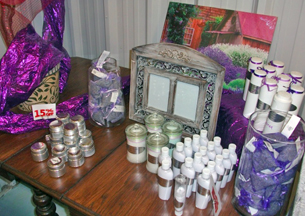 Martin and Suzanne also own Serenity Lavender Farm, which sits next door to the winery. Visitors to the winery can peruse a variety of lavender products that are for sale, including culinary lavender (herbs, jelly, etc. ) and body products (lotion, body butter, etc.). The body products are organic.
Events
The winery hosts several events, including a Mardi Gras party, a Cinco de Mayo celebration, and a Lavender Fest. The Mardi Gras party includes a live band and a five course meal with paired wine tastings. The Lavender Fest, in July, features live entertainments and craft vendors. On average, 1,000 guests stop by for the Lavender Fest each year.
Visitors to North 42 Degrees will find high-quality wines and a relaxed, educational atmosphere. As Martin explains, "We are the purveyors of good times and fine wines." North 42 Degrees is open seven days a week.
North 42 Degrees Estate Winery
130 County Road 50 E
Colchester, Ontario N0R 1G0
Article written March 2014
---
Visit this Winery/vineyard travel agency and Canada winery that partner with Wine Trail Traveler.