Inniskillin Wines
by
K.L. Sullivan
Summary: Inniskillin has been on the forefront of vinifera winemaking in Canada. The emphasis at Inniskillin is on customers, wine, food and educational experiences. Additional programs enhance visitors' experiences. Individuals, small and large groups are all welcome at Inniskillin.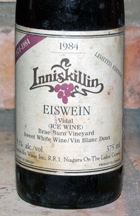 We arrived at Inniskillin a few days before the final touches to a major renovation of the Inniskillin tasting room. Our tour with Debi Pratt, led through the new almost ready to open wine tasting room and along a self-touring walkway. Education is a large part of the winery experience with several large displays explaining with words and images the terroir and history of Inniskillin. During our tour, we viewed the covered crush pad and many stainless steel tanks. A wine library houses a 1984 Eiswein and other award winning wines. A table for meetings and special tastings is available. A long barrel corridor also has a long parquet table available for formal tastings.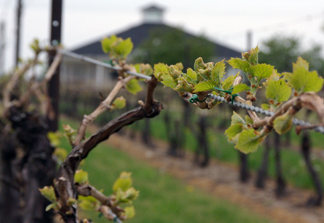 Historically, on July 31, 1975 the government granted the first winery license in Ontario, Canada since 1929 to Inniskillin. Two men were instrumental in the development of Inniskillin, Karl Kaiser from Austria and Donald Ziraldo. Karl was quoted as saying, "If I'm going to live in my new country, I'm going to drink my new country's wine." However, at that time, the wine industry in Canada used native grapevines and the wines were not up to Karl's expectations. After meeting Donald, they decided to try to produce quality wines from vinifera grapes. The result was their first vintage in 1974. In 1984 Inniskillin produced their first icewine. Today they own 125 acres of vineyards and produce 150,000 cases of wine.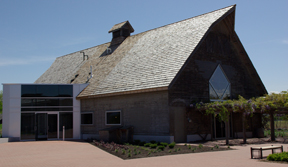 Frank Lloyd Wright has influenced Inniskillin's architecture. The original barns built as early as the 1920's were "prairie barns," built to help cereal grains dry. Research by Inniskillin discovered that the barn was inspired by the work of Frank Lloyd Wright.
Inniskillin offers several tours. There are General Public Tours, Prearranged Tours and Tastings and the Riedel Stemware Experiences. All tour fees vary depending on which one you choose.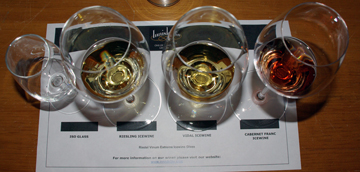 We were delighted to have our tasting with the Riedel Stemware Experience. During our tasting with Debi, she demonstrated the difference between an ISO wine glass and Riedel glasses. In this experience, the ISO glass was referred to as the "joker" glass. When using the joker glass the wine stays on the front of the tongue. With the Riedel glass, the mouth opens and sends the wine farther back on the tongue. The right stemware maximizes the taste and the aroma of a wine.
At Inniskillin, stemware placed on white placemats enhances the color of the wine and provides the opportunity to compare three or four wines. Visitors can take the time to write tasting notes. This is a great idea that we would like to see more wine tasting rooms offer visitors.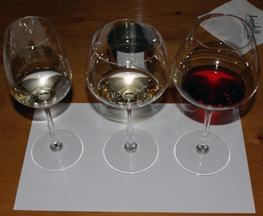 The Reserve Riesling had a fruit nose and taste with a crisp finish. The Montague Vineyard Chardonnay resulted in oak and butterscotch on the nose and taste with an additional vanilla on the taste. This Chardonnay was crisp. Pinot Noir was a dark purple with some strawberry and earthiness on the taste.
The Riesling Icewine was an elegant wine with a fruit nose and taste. It was sweet with acidity on the finish and was crisp and cleansing. Vidal Icewine was luscious with a mango taste and a full mouth feel. It had a long aftertaste and was less acidic than the Riesling. It offered more layers and complexity. Cabernet Franc had a strawberry nose and strawberry with rhubarb taste. There was a noticeable prune aftertaste.
After the tastings, we stopped and viewed an icewine video available for anyone interested in knowing more about icewine. Canadian law requires workers to harvest grapes for icewine at -8 Celsius (17 degrees F) and to process the grapes while frozen. Some growers like to wait until the temperature goes to -10 C (14 degrees F.) The thicker the grape's skin the longer it can stay on the vine. Vidal has a thick skin. Each icewine grape has approximately one to two drops of juice.
Inniskillin has a fully equipped demonstration kitchen located in the retail building. Inniskillin designated a room in this building as The Riedel Room. This room is for special tastings with different Riedel stemware.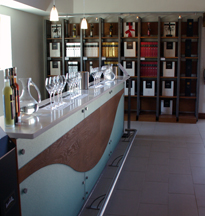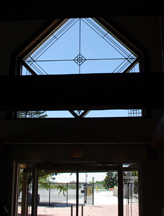 The week following our first visit to Inniskillin, we stopped back to see the newly opened tasting room. The tasting room has four separate tasting counters. One is dedicated to Icewines and a long tasting counter for visitors. Two other tasting areas are for small group tastings. Overhead the original large wood beams are still in place. High, overhead is a window in the shape of a pentagon with a diamond sitting on its point. The room is spacious and everyone is enthusiastic about the new space.
When visiting wineries along the Niagara Peninsula, Inniskillin is a must see destination. The history, architecture, friendliness of the staff, educational experiences and wines offer visitors a relaxing and enjoyable time.
Inniskillin Wines
1499 Line 3
Niagara-on-the-Lake, Ontario
GPS N 43° 21.104' W 079° 06.385'
---
Visit this Winery/vineyard travel agency and Canada winery that partner with Wine Trail Traveler.