Hinterland Wine Company
by
Kathy Sullivan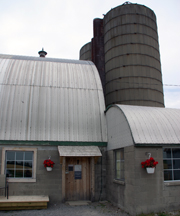 Summary: Hinterland Wine Company is a relatively new winery in Prince Edward County, Ontario. The focus at Hinterland is on producing fine sparkling wines.
Hinterland winery is owned and operated by Jonas Newman and Vicki Samaras. They opened the winery in the spring of 2010. The site of the winery and tasting room is an old dairy barn. On site, there are five acres of vineyards and another vineyard with seven and a half acres is just minutes away.
Jonas and Vicky chose the name Hinterland for its meaning of a barren landscape surrounded by water. Located five minutes off Loyalist Parkway (Route 33) the area is somewhat desolate but in the summer vineyards add bright green to the landscape. The sparkling wines produced by Jonas and Vicki are available at numerous restaurants in Toronto as well as smaller towns.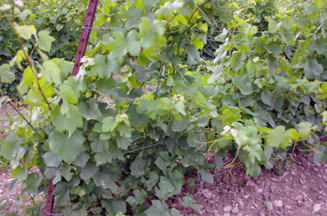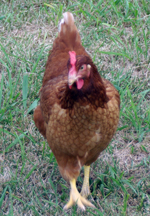 Vineyards
Vineyards include Riesling, Pinot Gris, Chardonnay and Pinot Noir. Due to the severe cold weather in the region, vine canes are buried with soil to protect the plants. The Hinterland grapevines were planted in 2004, 2005 and 2006. On a walk to the vineyards a chicken or two may accompany you. Winery dogs and cats get most of the publicity. It's now time to spotlight winery and vineyard chickens.
Tasting Room
The tasting room is in a small area near the entrance. The winery stretches out beyond with stainless steel tanks, oak barrels and gyropalette. Visitors will note that they are in the winery.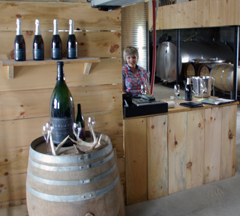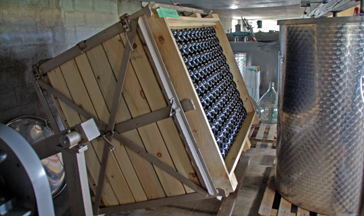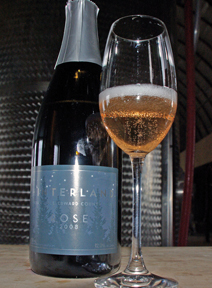 Sparkling Wines
In July 2011, the sparkling wines at Hinterland were sold out. The Hinterland Rosé 2008 was available for tasting. The color of the wine was a light orange color. There was a slight red berry aroma and taste. The crisp finish was cleansing with fruit yielding to some apple.
New Sparkling Releases
In August 2011, the tasting room will reopen with three sparkling wines. Vicki noted that they would announce the reopening and release of the sparkling wines on Twitter and Facebook.
Visiting Hinterland Wine Company
Vicki Samaras is a delightful person to meet. Her friendliness and enthusiasm for the winery and producing fine sparkling wines is inspiring. While we were only able to taste one sparkling wine, we look forward to another visit to Canada when we can taste the other Hinterland sparkling wines coming online.
Discover Hinterland Wine Company in Prince Edward County. Keep this winery on your radar in the future.
Hinterland Winery
1258 Closson Road, RR#1
Hillier Ontario, Canada K0K 2J0
GPS: 43º 59.031' W77º 25.317'
---
Visit this Winery/vineyard travel agency and Canada winery that partner with Wine Trail Traveler.