Stonechurch Vineyards
by
K.L. Sullivan
Summary: Enjoy a visit to Stonechurch Vineyards where the owners are involved in the day to day operations and where the quality of small batches of wines is continually increasing due to special attention in the vineyard and the winery. Here is a winery with an onsite welder fabricator who makes custom manufactured pieces such as stainless steel wine tanks.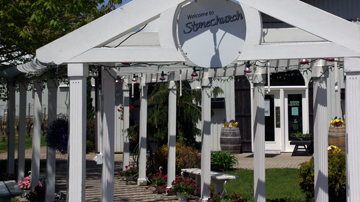 At one time the surrounding community was called Stonechurch and there may have been a stone church nearby, thus the name of the vineyard was derived from the community. The entrance to Stonechurch Vineyards reminds one of a white cottage. The architecture and delightful walkway lined with colorful flowers including petunias emphasizes the friendliness and comfortable tasting room one enters. To the side of the walkway, the Stonechurch Trail beckons visitors to walk through the vineyards. A brick patio outside the entrance to the winery tasting room has several tables and a covered area of tables and chairs. Stacked oak barrels, at one end of the patio, lead you to the covered tables and chairs.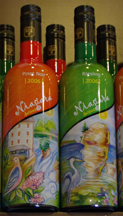 Inside the tasting room, the floor is of slate tile and on a wall is a fireplace with two comfortable chairs. A partial hexagon creates a tasting bar with a wood and glass surface. The tasting room displays wine bottles throughout. Nearby, juice and water are for sale. Amongst the wine for sale, a selection of giftware is available. Visitors can choose between stemware, decanters, wine soap fragrances and more. Stonechurch is in the process of changing wine bottles and labels. A newer bottle design is modern and elegant with a simple label. Another bottle design is used for the Niagara series. It has an elaborate label aimed at younger wine buyers who are on the go. Both of these newer bottles feature easy to remove screw caps.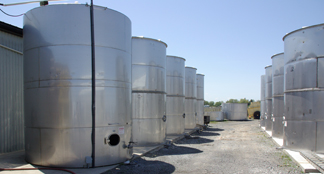 We met Chris Inns, the assistant winemaker at the winery. He guided us through the winery pointing out various items of interest and added the history of the winery. The vineyards were started in the 1950's with the winery beginning in 1989. Today the vineyards consist of 150 acres. Grapes include Merlot, Cabernet Franc, Syrah, Gewürztraminer, Chardonnay, Vidal and Sauvignon Blanc. Stonechurch has an optimistic future. This year they look forward to producing 20,000 to 25,000 cases of wine. The winery has the capacity to be able to fulfill these goals. Stonechurch Vineyards was the first winery we visited that employs a welder fabricator. This enables the winery to have access to specially made equipment for their particular needs. We saw stainless steel tanks that he had made.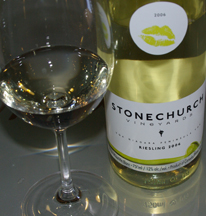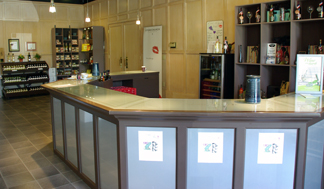 Chris guided the wine tasting using R Croft Stemware. This stemware has a thin cut glass edge. According to Chris, "taste is all about first impressions." The Chardonnay 2007 produced in a stainless steel tank resulted in a wine with a clear to light yellow color, a tropical fruit nose and a taste that was crisp. Chardonnay 2007 oak was fermented in oak and had a light yellow color with a fruit nose and taste. There was light oak and butter on the finish. Sauvignon Blanc 2007 fermented in stainless steel was reminiscent of grapefruit. Gewürztraminer 2007 fermented in stainless had a spice nose and fruit taste. Cabernet Sauvignon 2007 was reddish purple with a red fruit nose and taste. It was crisp with tannins on the finish. Syrah 2007 had a dark purple color. There was pepper and wood on the nose with a pepper and dark fruit taste with soft tannins on the aftertaste. Riesling 2006 had fruit and peach on the nose with a fruit taste and crisp finish. This wine had a rating of 2 for residual sugar but the acid balanced the sugar so it seems dryer than it really was.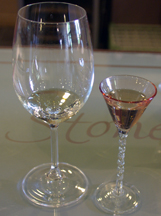 At the end of our tasting, Chris treated us to a demonstration that he had seen using well known glassware. For this experiment, he poured the same wine into two different size and shape wineglasses. We tasted the wines and noticed a difference in aroma and taste. Chris had us taste again and notice the shape of our mouth when tasting. There is a difference. There was very little aroma from the smaller glass. Drinking from a small glass, the wine is placed in a smaller area of your tongue and mouth, while when drinking from a larger glass the wine covers more tongue and mouth surface areas. Why not try this experiment yourself?
Stonechurch Vineyards
1242 Irvine Road
Niagara-On-The-Lake, Ontario, Canada, L0S 1J0
GPS N 43° 22.412' W 079° 17.120'
---
Visit this Winery/vineyard travel agency and Canada winery that partner with Wine Trail Traveler.