Joseph's Estate Wines
by
K. L. Sullivan
Summary: Joseph's Estate Wines is much more than a winery. You will find grape seed oil, gluten free flour and cream sherry along with quality wine. Dr. Joseph Pohorly received a Ph.D. from Columbus University for his study of the benefits of grape seed oil.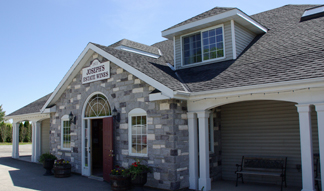 Joseph's Estate Wines, designed and built by Joseph Pohorly, opened in 1996. Joseph has been involved in so many careers, he is amazing. After teaching on the secondary level for twenty years, he became a civil engineer and architectural engineer. Following those career choices, he turned to winemaking. For a number of years he designed, built and ran a hotel in Niagara-on-the-Lake. Then he returned to winemaking. Understanding that there are areas of the world where the weather does not cooperate in producing icewine, Joseph is experimenting with drying grapes on straw. The winery produces 35,000 cases from 600 tons of grapes. The grapes are obtained from their own 20 acres of vines and access to 400 acres owned by family and friends.
We had an entertaining and informative tour of the facility by Ted, also known as OHNO the clown. Ted is a licensed clown and adds wonderful humor throughout the tour. Near the end of our visit, we were fortunate to meet Joseph. As a winemaker in the 1980's with Hillebrand Estate Winery, Joseph produced the first commercial icewine.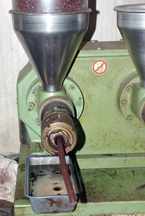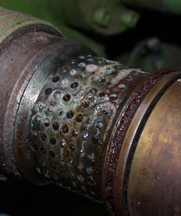 Joseph has an extraordinary background and is constantly experimenting with new ideas and ways of doing things. As a result, you will find gluten free flour made with dried grape skins. Both red and white flour are available. Grape seed oil from crushed seeds is available either as oil or in capsules. Joseph has received many testimonials back from people who have used the oil for medicinal purposes and sing its praises. At Joseph's Estate Wines, no part of the grape goes to waste.
We observed the process of making cold pressed grape seed oil. Seed is collected from wineries and placed in a container. The dried seed is added to a grinding machine that extracts the oil from the seed. The oil is then transferred to stainless steel tanks until it is ready to be bottled.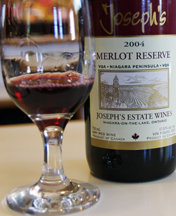 At the end of our tour, Ted guided our wine tasting. Twenty percent of the wines were barrel aged. Non-oaked Chardonnay 2006 VQA offered a slight apple nose, apple and citrus taste, and was medium to heavy bodied. The wine had a very long aftertaste of fruit followed by intense butterscotch. Chenin Blanc 2005 had citrus on the nose and taste and was medium bodied with a crisp finish. Gewürztraminer 2006 had tastes of pineapple. This wine had a medium body with grapefruit on the finish and a very long aftertaste. Cabernet Franc 2004 VQA offered red cherry and pepper on the nose and taste with crispness and tannins on the finish. The dark purple Shiraz 2002 VQA had a grass nose with a dark berry taste. Merlot Reserve 2004 had a red cherry and oak nose and taste with a crisp finish and tannins. The 2002 Cabernet-Merlot was part of the Dr. Joseph Signature series. This wine offered red berries and grass on the nose, with a red berry taste, crisp finish with tannins. Chancellor Grand Reserve 2001 had a dark purple to black red cherry and grass nose, was very smooth with cherry and leather on the taste. It had a crisp finish with long fruit aftertaste.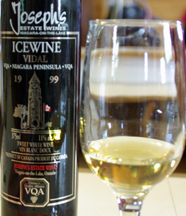 Agawam grapes (French/American hybrid dating from the 1850's) were used to produce cream sherry. It spent six years in old whisky barrels aging outside during all seasons and one year in a stainless steel tank. The cream sherry was a golden color with nuts on the nose. It was creamy with an intense nut finish. It had a complex aftertaste of walnuts and almonds. The alcohol content was 18.5%. Another treat was the 1999 Vidal Icewine. It had a honey nose with honey and apricot taste. The acid balanced the sugar on the finish.
As you taste wines be sure to notice the architecture of the wine tasting room and the numerous gift items available. Also ask about grape seed oil.
Joseph's Estate Wines
1811 Niagara Stone Road
Niagara-on-the-Lake, Ontario
GPS N 43° 23.248' W 079° 10.798'
---
Visit this Winery/vineyard travel agency and Canada winery that partner with Wine Trail Traveler.