Mastronardi Estate Winery
by
Kathy Sullivan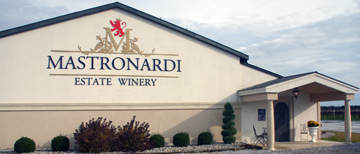 Summary: Mastronardi Estate Winery is located in Kingsville, Ontario. Mastronardi's goal is producing quality wines from grapes harvested from 100 acres of estate vineyards. A portion of sales of their wine, Brianjë, goes to research for Batten Disease.
Visitors to the winery tasting room will enjoy the enthusiasm of the staff. This is a winery where the staff is involved in all aspects of the vineyard and winemaking. They are comfortable and knowledgeable talking about the winery and vineyard. Tours are available by appointment.
Upon entering the building, visitors will notice a retail area where wines are artfully displayed along a wall and a curved tasting bar fits snugly in a corner. An adjacent rectangular shaped room with double doors opens on to a large patio with views of the vineyards. Events are held in the rectangular room and outside area. Charities and weddings take place here. Anyone searching for a wedding venue will want to consider Mastronardi Estate Winery. According to Pamela, the winery is adept at creating a wedding package that lowers the stress and worry of wedding planning.
Mastronardi Estate Winery Background
Eadie and Tony Mastronardi bought the property from Colio Estate Wines. Today, the vineyards are well established with the 30 year old plantings. The Mastronardi family bought the land and decided to keep the vineyard. Since other wineries wanted to buy the grapes, Tony Mastronardi learned how to care for the vineyard.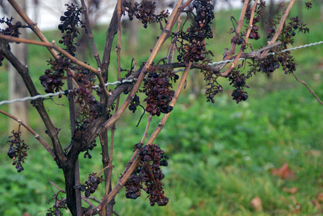 The grapevines are planted in sandy loam. With 100 acres of vines, the grapes are 90 percent vinifera and 10 percent hybrid. Varieties include Baco Noir, Cabernet Sauvignon, Cabernet Franc, Syrah, Pinot Noir, Zinfandel, Vidal, Chardonnay, Pinot Grigio, Viognier and Pinot Blanc. The vineyards are protected from frost damage by eight wind machines. The wind machines are usually needed only two or three times a year. At the time of our November visit, most grapes were harvested and leaves fallen from many of the vines. The berries will begin to turn into raisins. Berries left behind are for the birds and photographers.
The winery opened in 2006. Lyse Leblanc is the winemaker. The winery is focused on producing quality wines and Lyse will not release a wine until it is ready. The winery produces 30,000 liters (between 3,000 and 4,000 cases). Grapes not used for their own production are sold to other wineries including Colio Estate Wines. Forty percent of Mastronardi wines are sold locally in Windsor and Essex County, while another thirty percent go to northern London, Niagara and Toronto. The remaining thirty percent is shipped to the United States.
Brianjë Wine Donation
Brianjë is a special wine dedicated to the memory of Mastronardis' daughter, Brittany Alyssa. A portion of Brianjë sales is donated to research on Batten Disease . Brianjë is made of Riesling and pairings suggested include grilled chicken, spicy foods and soft cheeses.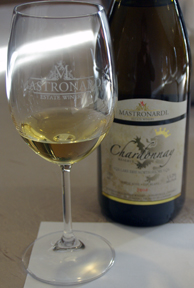 White Wines
Chardonnay 2008 Reserve was yellow with pear, apple and vanilla notes. The finish was also fruity. Pinot Grigio 2010 was a light yellow with a pink hue. The aroma and taste offered apple and melon notes. The finish was crisp with apple yielding to tropical notes on the aftertaste. Viognier/Pinot Blanc 2010 was a light yellow. The aroma was very floral especially rose notes. The taste offered rose and lemon grass nuances. The finish was crisp and fruity.
Red Wines
Merlot 2007 was a ruby color. Red cherry and earthy tones were on the aroma while the taste offered red cherry notes. The finish had tannins. Merlot Cabernet 2008 was a dark ruby color. The wine offered cherry notes. The finish was fruity with tannins. Cabernet Sauvignon 2008 was a dark purple with a ruby rim color. The aroma was of dark fruit and raspberry nuances. The taste also had dark fruit, raspberry and blackberry notes. The finish offered bold tannins and was fruity.
Enjoy a visit to Mastronardi Estate Winery where you can enjoy vineyard views and taste wines enhanced with the experienced and enthusiastic staff. A portion of wine sales goes to support research of Batten's disease. Anyone looking for space to host an event will want to consider Mastronardi Estate Winery.
Mastronardi Estate Winery
1193 Concession 3 East
Kingsville, Ontario N9Y 2E5
GPS: N42º 03.724' W82º 41.348'
---
Visit this Winery/vineyard travel agency and Canada winery that partner with Wine Trail Traveler.