Pillitteri Estates Winery
by
Kathy and Terry Sullivan
Summary: Pillitteri is a family owned and operated winery where you will find a blend of old world and new world. This is evident in the awards room where you will find a 150 year old antique carretto and numerous recent icewine awards.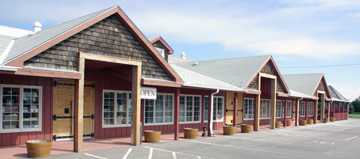 June of 2008 marks the 15th anniversary of Pillitteri Estates Winery, which opened in 1993. They are the largest estate producer of icewine in the world. Today the winery has 20 acres of vineyards onsite and 30 acres offsite. They produce between 70,000 and 75,000 cases of wine of which about one-third is icewine.
Gary Pillitteri emigrated from Sicily in 1948 with his father. Gary bought the present property in 1973. He was the original winemaker for the winery. Gary met his wife Lena, also from Sicily, in Italy and married in Italy. Pillitteri Estate Winery is family owned and operated. Three generations are involved in the day-to-day operations.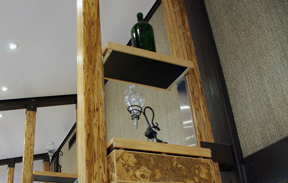 The one story visitor center at Pillitteri Estates Winery is deceptively small from the outside and much larger on the inside. You will discover displays of wines and awards, an icewine timeline, and artifacts. The theme of the Pillitteri's is "Old World meets New World." This theme is conveyed several ways. One is the use of the building materials. Notice the use of cork on counters and walls. Some of the structural pieces in the building are made from paralama, a building material from Australia. Sea grass, oak, and wall hangings help make a connection with Asia.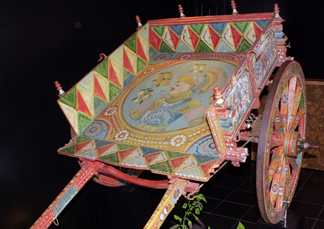 During our tour with Katie Jones, we quickly learned there was so much more to see inside the building. At the center of the front of the facility are two award walls where many awards are placed. At the back of the area is a colorful carretto. The carretto is brightly painted with blue, red, yellow and more. The carretto, more than 150 years old, was designed by one artist, and had been used ceremonially and as an educational tool. The pictures on the cart attempt to educate about the Battle of Charlemagne. During festivals, fairgoers could tell the wealth of a family by what or who pulled the cart. Gary brought this carretto to Canada when he emigrated from Sicily.
At the far end of the winery is a market room where foods, wine and wine accessories are available. During the summer months, fresh locally grown fruit is available for purchase. This room has two tasting bars. There are five tasting bars in four different rooms. Large groups can easily disperse throughout the facility thus allowing the visitor to receive personal attention.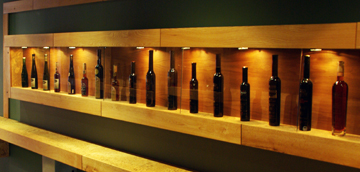 Katie gave us a tour of the hospitality center, vineyard, winery and cellars. Walking down one hallway, the winery displays icewine bottles in a timeline fashion. The earliest icewine we saw was a label for 1988. The story is that Gary's children entered this icewine into a contest unbeknownst to their father where it won an award. This gave Gary the confirmation he needed to continue on with icewine making.
In 2007, Pillitteri harvested 10 different varieties for icewine. Katie who participated in the icewine harvesting last year, explained how the workers prepared for picking the grapes. They had dressed for the cold, and had five pairs of gloves with them. Gloves need to be changed throughout the process because they become sticky. One needs to work quickly in order to generate some heat. It was a great learning experience that helps her appreciate the work involved in producing an icewine.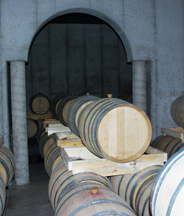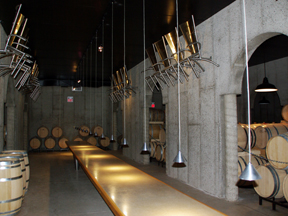 The Barrel Cellar is influenced by Neo- Norman architectural elements. When you visit it, you will see the old and new connection. The arches are reminiscent of old wine caves while 23 modern stainless steel chairs hang on the walls high above a 500-inch table of concrete. The chairs are very symbolic having Roman numerals in them representing important dates, squares representing children and grandchildren and an indication of the location of the chair placement in relation to the table. Designers should enjoy these chairs that are not only functional but relate to a family's history. Today the winery has 550 barrels in the cellars, mostly American oak. The cellars make a wonderful area for events. At this time they are not equipped to host weddings in the cellars.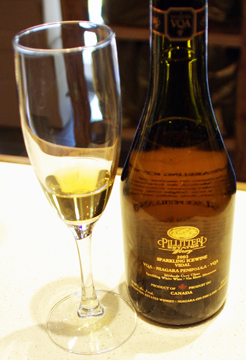 Katie guided us through a tasting in one of the tasting rooms. Our first tasting was of Pinot Grigio 2006. This wine had a light almost pale yellow color with a citrus nose and taste. It had a crisp and refreshing finish. Chardonnay 2006 fermented in stainless steel resulted in a smooth, creamy, green apple and citrus taste with a fruit aftertaste. Gewürztraminer Riesling Fusion 2006 was a blend of Gewürztraminer 51% and Riesling 49%. This wine had a slight citrus nose and melon taste. This was very light and refreshing. Cabernet Franc 2002 aged in French and American oak for 1.5 years had a dark red purple color. It had a spice nose, red fruit taste and pepper on the finish. Merlot Reserve 2002 was in French and American oak for two and one half years. It had a dark red purple color with a dark red fruit nose and was fruit forward. There were tannins and a crisp finish. Gamay Noir Family Reserve 2002 was translucent red and had a raspberries taste.
We had to taste some of the Pillitteri icewines. In some years 30,000 cases of Vidal icewine is made. Their icewines are distributed worldwide. The 2006 Semillon Icewine produced a tropical fruit nose with apricot and peach taste. It ends with a bit of citrus and had a long honey aftertaste. The 2004 Riesling Icewine had a floral nose with a pineapple taste. It was heavily bodied but finished crisp. There was a long sweet aftertaste. The 2003 Vidal Sparkling Icewine was rare. It had a fruit salad taste, was full bodied and smooth. The effervescence lifts off the tongue and cleanses the palate. Our favorite was the 2004 Cabernet Franc Icewine. It had a light orange color with strawberries and rhubarb on the nose. The smooth mouth feel gave way to strawberry rhubarb pie flavors ending with a bit of citrus. There was a long, lingering fruit taste.

When you visit Pillitteri Estates Winery, be sure to visit the various areas available for tourists to enjoy. Notice the wonderful integrated building and design materials. Take the time to enjoy several wines including the world famous icewines.

Pillitteri Estates Winery
1696 Niagara Stone Road
Niagara-on-the-Lake, Ontario
GPS N 43° 22.881' W 079° 11.365'
---
Visit this Winery/vineyard travel agency and Canada winery that partner with Wine Trail Traveler.