Angels Gate Winery
by
Kathy Sullivan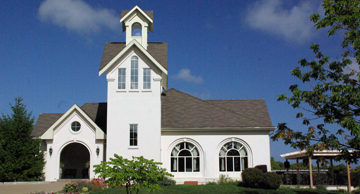 Summary: Angels Gate Winery was built to be reminiscent of a "mission-style" building. The winery celebrated its 10th Anniversary in 2012. Visitors will discover a wide range of wines including sparkling wines and Icewines.
The day was a perfect September day for visiting Angels Gate Winery. The winery with its tall white tower overlooking vineyards was striking against the bright blue sky. Angels Gate is a delightful winery to visit from the entrance with a wrought iron gate, bypassing a pond with small warning signs for snapping turtles and the wood arched doorway.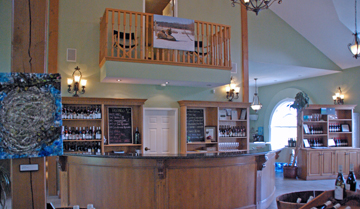 Tasting Room
The immense tasting room is easy to find upon entering the building. The large arched windows reminds one of a chapel or small church. The windows provide bright light to this large room. Inside the tasting room has vaulted ceilings with simple hanging ceiling lights. Visitors can enjoy browsing numerous wine related items available for purchase.
Originally the property was a fruit farm owned by the Congregation of Missionary Sisters of Christian Charity in Ontario. Eventually they sold the land to the Huntsmans who established a mink farm. In 1995, 13 shareholders including the Burrs and the Youngs purchased the property and began planting wine grapes. Today 20 more shareholder families have joined Angels Gate Winery. When establishing the winery, the owners decided to honor the Congregation of Missionary Sisters of Christian Charity in Ontario by naming the winery Angels Gate.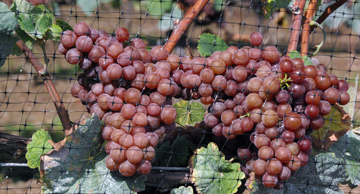 Vineyards
The 25 acres of property is described as shaped like a piece of pie and has six acres of vineyards. Two hundred feet behind the property is the escarpment. Angels Gate Winery owns other vineyards with 190 acres. One vineyard is organic. A wide range of grape varieties are planted including Gamay, Merlot, Cabernet Franc, Cabernet Sauvignon, Pinot Noir, Syrah, Petite Verdot, Malbec, Chardonnay, Riesling, Gewürztraminer (photo) and Pinot Gris. Fruit is also sourced from Beamsville Bench.
Angels Gate Winery opened in 2002 and today produces 35,000 cases of wine. According to AJ McLaughlin, "In the winery, it is less about the equipment and more about the recipe." He noted, "The quality is good regardless of style." Philip Dowell is the winemaker and he spends as much time in the vineyards as he does in the winery.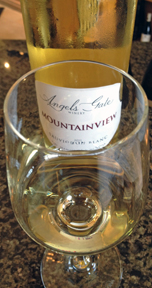 White Wines
Archangel Chardonnay 2010 was a refreshing sparkling wine with nuances of apples and bread. Riesling 2007 St. John Vineyard Lincoln Lakeshore sub appellation was a straw color. There was a mineral and floral aroma and taste. The taste also had hints of petro. The finish was crisp with mineral and petro nuances on the aftertaste. Sauvignon Blanc Mountainview series 2011 was a light gold color. Mineral nuances were on the aroma. The taste had minerality with yellow stone fruit notes. It was slightly sweet with a hint of botrytis. The crisp finish had fruit and minerals dancing. Chardonnay Mountain View 2007, aged in French oak, was a yellow color. The wine was aromatic with a smooth, fruit taste. The finish was dry and fruit nuances lingered.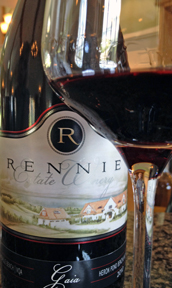 Red Wines
Archangel Brut Pinot Noir Rosé 2008 was produced using the traditional method. The wine was fruity, crisp and light. Mountain View Pinot Noir 2009 was a ruby color with cherry aroma and taste notes. The fruity finish had mild tannins. Rennie Estate Winery Merlot was 100 percent Appassimento-style. The color was a dark opaque ruby. The aroma and taste had dark fruit with a hint of sweetness on the taste. The fruity finish had bold tannins. Although the alcohol was 16.5 percent, tasters will not notice the high alcohol.
During the summer months visitors may want to combine an Angels Gate wine tasting with a light lunch on the Angels Terrace. Choose from something as simple as a basket of fresh bread with butter to a plate that features the terroir of Québec. A la carte items are also available.
Discover Angels Gate Winery in Beamsville Ontario where you will discover a large mission-style facility and numerous wines.
Angels Gate Winery
4260 Mountainview Road 

Beamsville, Ontario
Canada, L0R 1B2
GPS: 43º 09.865' W79º 29.952'
Article written in September 2012
---
Visit this Winery/vineyard travel agency and Canada winery that partner with Wine Trail Traveler.