Thirty Three Vines Winery
by
Kathy Sullivan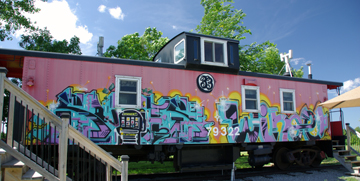 Summary: Thirty Three Vines offers a unique tasting room in which to taste wines. It is unusual to find a tasting room in a train caboose. The tasting room makes the experience one to remember.
Thirty Three Vines Winery is located along the Loyalist Parkway about six miles east of the Glenora Ferry. Although not in Prince Edward County, the winery and vineyards are in the Prince Edward County DVA (Designated Viticulture Area). Visitors will discover the winery tasting room in an old renovated train caboose. Art and Laurie Muew recently purchased the winery.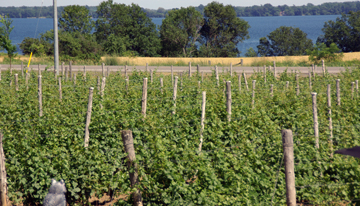 Vineyards
The vineyards have eight acres of grapes with grape varieties including Pinot Noir, Cabernet Franc, Merlot, Riesling and Chardonnay. The views of the onsite vineyards are delightful with the glimmer of Adolphus Reach in the distance. The vines need to be buried in the late fall to protect the plants from severe cold damage. The owners have also planted another vineyard and own two orchards.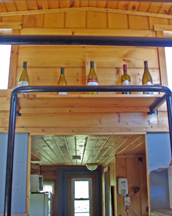 Caboose Tasting Room
When the cabooses were discontinued 17 years ago, this particular caboose #79322 was purchased and placed on the property. The caboose remained on the property when the land was sold.
Inside the renovated caboose is small and intimate. The golden glow of pinewood gives off a warm hue adding to the ambiance. A variety of jams from the orchards are available for purchase. Jams include Triple Berry, Black Currant, Strawberry and Rhubarb. Maple syrup is also available.
A patio outside of the caboose tasting room is attractive with tables, chairs and umbrellas. It is a good place for enjoying a wine while gazing at vineyards. Currently the caboose is painted with bright colors lending a more modern aspect to the site. The story is told of a small girl visiting with her parents. Asked what color the caboose should be, her reply was "red." With that in mind the owners may repaint the caboose.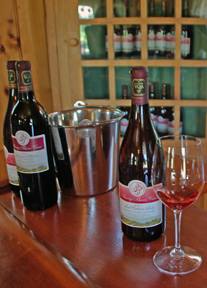 Wines
The winery is located in a weathered but renovated barn near the caboose.
Winemaker, Paul Minaker, is the winemaker. Paul has been producing wine for several years. Two wines were tasted using Riedel stemware. Red Caboose Rosé 2010, a blend of Riesling and Cabernet Franc was a beautiful light red color. This dry wine had notes of light red fruit. The Cabernet/Merlot 2009 was an even blend of Cabernet Franc and Merlot. The wine offered black fruit notes. The finish had tannins and was fruity.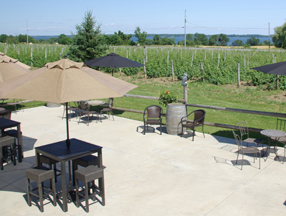 In the future, the Muews plan to set up a market place for their orchard products at Thirty Three Vines Winery.
Stay awhile and enjoy a glass of wine on the patio.
Thirty Three Vines Winery
9261 Hwy 33
Adolphustown, Ontario K0H 1G0
GPS: N44º 05.899' W76º 56.619'
---
Visit this Winery/vineyard travel agency and Canada winery that partner with Wine Trail Traveler.