Palatine Hills Estate Winery
by
K.L. Sullivan
Summary: Palatine Hills Estate Winery is a family owned and run winery. The winery produces quality wine and is able to expand into the United States. John Neufeld wants to grow their wine market dramatically but cautiously. Their focus is on selling "good quality, good value wines for the consumer." John is a "hands on person" and is very involved in the vineyards and winery. Be sure to check out the new Wine Club. The fee includes two bottles of wine, shipping, bottle deposit taxes special events and special offers.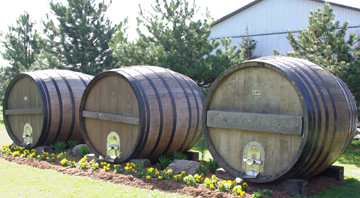 Palatine Hills Estate Winery began with the John and Barbara Neufeld's purchase of 115 acres for fresh fruit and grapes. In the early years, grapes were sold to other wineries. By the mid 1970's, they began to experiment with vinifera grapes. They began with Gamay and Gewürztraminer. John and Barbara made the change from fruit farmers to winery owners because of the fruit market. The market for fruit dropped greatly and in 1998. When they had a surplus of grapes, wineries offered John 30 percent of the grapes value. The Neufelds made the decision to use the grapes to produce their own wines and obtained their license in 1998. From 1998 to 2000, they produced only icewines. In 2001, they started to produce other wines and in 2002 and 2003 they expanded their production.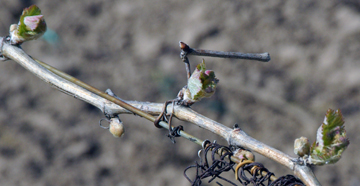 Today the winery has 180 acres and they use ten to fifteen percent of the grapes to produce 15,000 cases of wine. Vineyards are maintained with environmentally friendly practices including not using artificial fertilizers and using an organic filtering system. Currently the vineyards have Riesling, Gewürztraminer, Cabernet Franc, Cabernet Sauvignon, Merlot, Vidal and Baco Noir. The winery sells unused grapes to other wineries. Palatine Hills is renowned for good grape quality.
John oversees the agricultural side of the business and during the summer spends two hours each day outdoors among the vines. John likes to use the Scott Henry trellis system and leaf removal to help maximize the growing seasons. This extends the growing season and helps to increase the brix level of the grapes.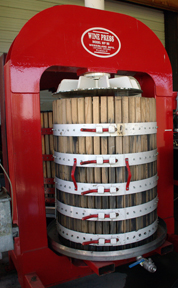 As we toured the winery, we discovered an icewine press. Icewine cannot be pressed in the traditional bladder press used for table wines. The frozen grapes must be pressed while frozen and the pressure to squeeze the juice out of the grapes is intense.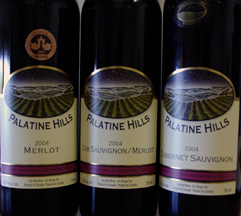 After we had a tour of the winery with John, we stopped at the tasting counter for a guided wine tasting with Matt Reynolds. Fumé Blanc was crisp with a citrus nose and grapefruit taste and a long finish. Gewürztraminer was golden yellow with a floral, honeysuckle and spicy nose, and a fruit with honeysuckle taste. In addition, it was smooth. Riesling Traminer 2006 was a blend of 75% Riesling and 25% Traminer. With a residual sugar level of one, it was dry on the aftertaste. Merlot 2004 was aged in American oak. The Merlot had a brick red color, red cherry nose and taste. It was crisp on the finish, and had soft tannins on the finish. Cabernet Sauvignon was the 2004 Proprietors Reserve. This wine had a dark red-brown color, with a red fruit nose and taste. It was crisp with tannins on the finish. The Meritage 2004 was an interesting blend of Cabernet Sauvignon, Cabernet Franc and Merlot. The Cabernet Sauvignon was aged in French oak, the Cabernet Franc aged in Hungarian oak and Merlot aged in American oak. The result was a complex nose with spices, smooth mouth feel and red fruit on the aftertaste. A sparkling wine, Juliette 2004, was 100 percent Chardonnay with a green apple nose. It was crisp, refreshing and cleansing. Palatine Hills is planning in the future to create a wine named "Romeo."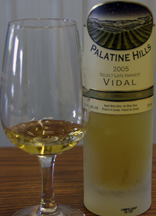 Palatine Hills produces several dessert wines including the Select Harvest Vidal 2005 with a residual sugar of 10. This had a honey and fruit nose and taste with a honey aftertaste. Vidal Icewine 2003 was a dark yellow to gold color with a honey and apricot nose and taste. It was very smooth, and sweet but not syrupy. The Gewürztraminer Icewine had a honeysuckle taste. It had a velvety mouth feel and was sweet with a residual sugar of 23. The Cabernet Sauvignon Icewine 2006 had a strawberry and rhubarb nose with a smooth and fruity taste.
A banner in the winery proclaims that, "Wine is our expression." A wide variety of wines await the visitor and are expressive of the terroir of the area. The staff is energetic and knowledgeable.

Palatine Hills Estate Winery
911 Lakeshore Road
Niagara-on-the-Lake, Ontario
GPS N 43° 24.435' W 079° 15.069'
---
Visit this Winery/vineyard travel agency and Canada winery that partner with Wine Trail Traveler.