Keint-He Winery and Vineyards
by
Kathy Sullivan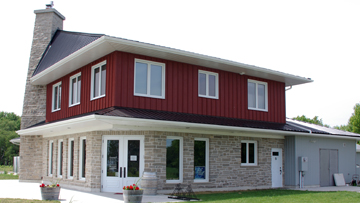 Summary: Pinot Noir is the flagship wine for Keint-He Winery & Vineyards. Keint-He wines are produced from the three vineyards owned by the winery. The owners use organic practices in the vineyards.
Keint-He Winery & Vineyards is located just off of Loyalist Parkway in Prince Edward County, Canada. The name Keint-He is the Iroquois word for the area. The French converted the name to Quinte.
Ron Rogers, Geoff Heinricks and Bryan Rogers formed a partnership to create Keint-He. Heinricks has been involved with viticulture for 17 years. He was one of the first to plant Pinot Noir in Prince Edward County 16 years ago. He also wrote, A Viticultural Primer for Investors and Growers.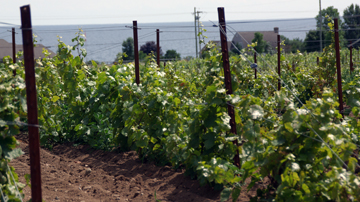 Vineyards of Keint-He
The winery has three vineyards within Hillier. Grapevines are planted with high density. Organic practices are followed in the vineyards and no synthetic pesticides or fungicides are used. The vines are hand cultivated and pruned. The Little Creek vineyard 4km from the tasting room has Pinot Noir. Foxtail vineyard, 2km from the winery, has Pinot Noir and St. Laurent. The onsite vineyard, overlooking Lake Ontario, has eight acres that include Chardonnay, Melon du Bourgogne, Pinot Noir and a little Pinot Gris. In the three vineyards, vines are buried under soil for the winter.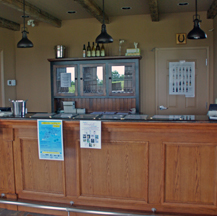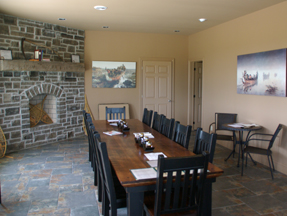 Keint-He Tasting Room
The Keint-He boutique tasting room is on the first floor of a modern style building. The tasting counter has a marble-style countertop that can accommodate four wine tasters. A few feet away a large table for 12 adds an elegant ambiance to the tasting room. A stone fireplace is at the far end. Décor includes snowshoes and paintings of early Canadian history. One painting, Canoes in a Fog, Lake Superior, was created by Frances Anne Hopkins, a Canadian artist. The image from this painting is used on the Keint-He wine labels.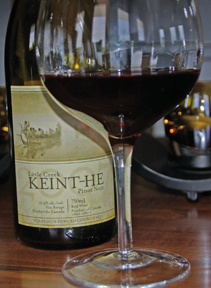 Little Creek Keint-He Pinot Noir
Little Creek Keint-He Pinot Noir 2007 was red with Sienna hues. The aroma offered red cherry notes with a touch of cedar. Cherry notes were on the taste. The finish had tannins with fruit yielding to mineral. This wine was aged for 18 months in a combination of oak. Barrels used in creating this wine included recoopered French oak, new French oak and some Hungarian oak.
Pineaux Sauvage
Pineaux Sauvage 2008 was produced with Botrytis affected Pinot Noir. This wine was fermented in oak barrels for two years. The wine was a beautiful amber color. The aroma was of jammy fruit. The taste was slightly sweet with jammy apricot fruit. The finish was crisp with tannins. Heinricks, commented, in referring to producing a Botrytis wine, one has only "one or two chances to make a Botrytis wine in a life time."
Enjoy a visit to Keint-He Winery & Vineyards where you can taste unfiltered wines produced from estate grown grapes.
Keint-He Winery & Vineyards
49 Hubbs Creek Road
Wellington, Ontario K0K 3L0
N43º 56.421' W77º 23.853'
---
Visit this Winery/vineyard travel agency and Canada winery that partner with Wine Trail Traveler.