Stoney Ridge Estate Winery
by
K. L. Sullivan
Summary: Stoney Ridge Estate Winery offers a unique winery experience to the visitor. A sign outside of the tasting room notes, "Niagara's Garden Winery." The tasting room area is surrounded by several landscaped gardens including English, herb, rose and Japanese gardens. Two small fountains add a lovely ambience among the delightful gardens. In warmer weather, tastings can take place in these wonderful oasises.
We met Annette in the Stoney Ridge tasting room and she quickly donned a jacket and had us out viewing the 3.3 acres of Pinot Noir grapevines behind the tasting room and winery. Previously the property had been an apple farm. Another vineyard owned is Questa that has 75 acres of grapes including varietals of Cabernet Franc, Chardonnay, Merlot, Baco Noir and Cabernet Sauvignon.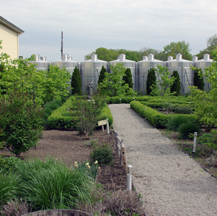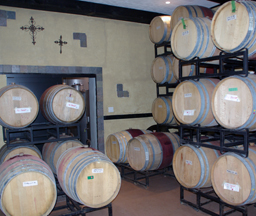 Outside the winery, numerous tanks and barrels are on cement. Inside, we saw a staff member funneling hot water into a new barrel still wrapped in plastic. This helps the wood to swell and prevent leakage. The winery has a bottling line with the capacity to bottle three cases a minute. They bottle for other wineries. Entering into the barrel room, we noted enough space to host a small event. The winery uses French, American and Hungarian oak. Past the barrel room was another room housing vintage wines also in barrels.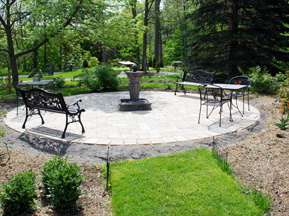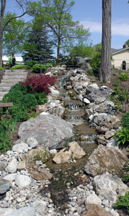 We strolled through the gardens, which despite the cool weather were flourishing. Annette pointed out the rose garden where she plans to host tastings for groups of ten during the warm summer months. An herb garden provides herbs for food used in pairings with wine. Take time to stroll through and smell the herbs. A stone stairway leads to a waterfalls and the Japanese garden. This peaceful spot affords another opportunity to enjoy a glass of wine and connect with nature. Help with the gardens was provided by horticulture students from Niagara College.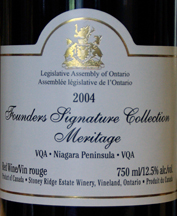 After a thorough tour of the landscaped gardens, we returned to the tasting room and discovered the wine library located several steps above the main tasting floor. When the winery moved to its present location, several cases of wine were misplaced. Several years later, these wines were discovered and made available to the public. We spied a bottle of Stoney Ridge 2004 Meritage with a unique label. The Ontario Legislature is using this wine with their own label. While in England we visited the winery that makes the wine with the British House of Commons' label.

A large entertaining deck is off a small conference room. The design and landscaping allow several groups to enjoy the ambience of the winery at the same time. Stoney Ridge hosts many weddings, corporate and private events. Special events include Movie Night and live music with barbeques.
Back to the main floor, we went to the tasting counter to taste several wines. Special tours are available which include wine and cheese pairings. There is a fee for this special tour. The Beamsville Bench Riesling 2006 with 13.5 percent alcohol had an apple and citrus taste with a crisp finish and fruit aftertaste. The Reserve Chardonnay 2005 was aged in American and French oak. It had a yellow to gold color and the taste was very smooth with notes of apple, pear and caramel. The wine was crisp on the finish with a bit of butter on the aftertaste. Pinot Noir Reserve 2006 had a red color with a cherry nose. The taste was cherry. It was smooth with a crisp finish. There was a long fruit aftertaste.

The Meritage 2004 was light red with a black fruit nose. The taste was fruit forward and the finish was crisp with soft tannins. The Meritage 2003 was a darker red with a spice nose and a bit of cedar. There was intense fruit on the taste. The finish was crisp with soft tannins. The Cabernet Franc 2005 Icewine had strawberries on the nose and taste. When paired with chocolate it reminds you of chocolate covered strawberries. Try spreading blue cheese on the chocolate. The blue cheese dominates then subsides while the chocolate begins to dominate. When paired with Cabernet Franc Icewine the strawberry taste intensifies.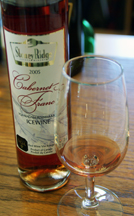 Cranberry 2006 was produced from 100% cranberries. The nose was cranberry and the taste was of tart cranberries. Try adding this to a sparkling wine, vodka or 7up for an interesting drink.
Forté is a Port style wine with an alcohol level of 18.7 percent. Forté is produced with 85 percent Cabernet Franc and 15 percent Baco Noir. It had a dark red-purple color with a dark fruit nose and a taste of figs and chocolate.
Be sure to visit Stoney Ridge Estate Winery and you may become one of their loyal followers who continue to return. This winery offers an environment that is peaceful. You can sample a wine while strolling through the many gardens. See how well wine pairs with nature.
Stoney Ridge Estate Winery
3201 King St.
Vineland, Ontario, Canada
GPS N 43° 14.810' W 079° 38.261'
---
Visit this Winery/vineyard travel agency and Canada winery that partner with Wine Trail Traveler.