Peller Estates
by
K. L. Sullivan
Summary: Started in British Columbia by his grandfather, today John Peller is the CEO for Peller Estates. The Niagara facility is elegant and provides several tasting rooms and a restaurant to enjoy.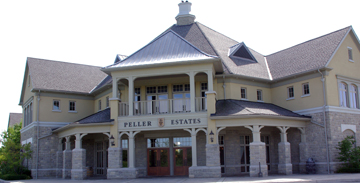 A long driveway lined with grapevines leads around Peller Estates to the front where the entrance is located. The chateau-styled building is elegant. Upon entering the lobby, one can either go up a small flight of stairs to a restaurant or turn left to a large tasting room. The lower level of the building has cellars for aging wine in oak barrels. Wine producing takes place at other locations.
Peller Estates began in British Columbia in the Okanagan Valley and opened its facility in Niagara-on-the-Lake in 2001. Today the Niagara facility is located on 40 acres with 25 acres under vine. They work with 30 local growers to obtain the grapes needed for their wine production. John Peller's grandfather founded Peller Estates in British Columbia. Today the winery produces 300,000 cases of VQA wine.
The restaurant is brightly lit from a wall of windows that look out onto the vineyards and a patio where more tables are available for seating. Lunch and dinner are served. Tables are set for an elegant dining experience. Adjacent to the main dining room is a private dining room for special group dinners.
Although winemaking facilities are at other locations, the lower level of the building is a 5000 square foot area used for barrel aging. Oak barrels line both sides of a low ceilinged long cellar. Soft lighting illuminates the walls and ceiling adjacent to the barrels. In addition to the use of the area for aging wine, there is a small tasting counter. Another tasting counter is near one end of the cellar. The Peller Estates wine library is also located on this level. Tables are set for special tastings. Visitors can reserve a seat for these tastings on the Peller website.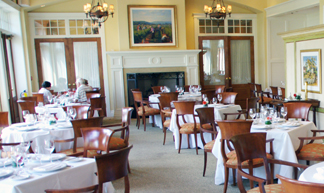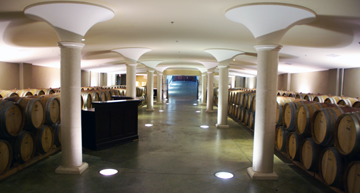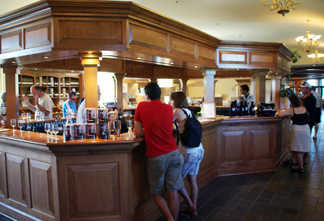 On the entrance level, there is a long retail and tasting area. The layout of this room is well designed. Displays of wine and wine accessories are artfully arranged. The tasting counter is an island in the center of the area. The island has several sides and visitors have the feel of a private tasting along the sides of the counter. Although the area is spacious, large crowds do sometimes form. Visitors are encouraged to go to the reserve boutique tasting room located on the second floor. This tasting room is more private and features back vintage library wines and wines that are only available at the winery.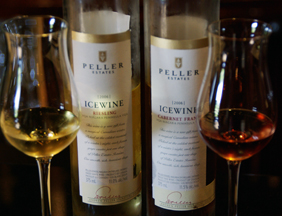 Our tasting took place in this boutique tasting room. Wines we tasted included the 2006 Dry Riesling (Private Reserve) that offered a slight tropical fruit nose with citrus on the taste and aftertaste. The most intriguing wine we tasted was a sparkling wine with a bit of Icewine. This Ice Cuvee Signature Series was a blend of Chardonnay and Pinot Noir plus a dosage of Vidal Icewine. The result was an apple nose, slightly sweet taste and dry cleansing finish. There was a floral – lilac and honeysuckle – aroma from the 2007 Private Reserve Muscat. It was sweet and smooth with 11.5 percent alcohol. The 2004 Merlot Andrew Peller Signature Series had a translucent ruby red color with a red fruit nose. The taste was fruity and it finished with light tannins. The 2007 Private Reserve Rosé, a blend of Cabernet Sauvignon, Merlot and Cabernet Franc, had a deep pink color with a long aftertaste. The 2006 Signature Series Riesling Icewine had a honey aroma and was full bodied and sweet. If you are looking for a sweet dessert wine, try the 2006 Cabernet Franc Icewine. This wine had a strawberry-rhubarb nose and taste. It had a crisp finish with a lingering strawberry aftertaste.
Many events take place at Peller Estates. Find out more about barrel cellar dinners and tours. Numerous educational opportunities are available. Be sure to check out the website for Peller to discover scheduled events. Just to tempt you, events for Summer 2008 included Reserve Boutique, Art of Wine & Food Stemware & Decanting Demystified and Icewine & Cuisine. Anyone planning to visit Peller Estates can book their tour online. Enjoy your experience at Peller Estates.
Peller Estates
290 John Street East
Niagara-on-the-Lake, Ontario
GPS N 43.23943 W 79.06734
---
Visit this Winery/vineyard travel agency and Canada winery that partner with Wine Trail Traveler.