Southbrook Vineyards
by
K.L. Sullivan
Summary: Although Southbrook began north of Toronto in 1991; this tasting room and winery have just opened a new facility in Niagara-on-the-Lake. Here is a tasting room with an emphasis on the culinary and wine connection. Watch for the Grand Opening in June 2008.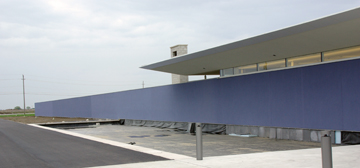 During our stay in Niagara-on-the-Lake, several times we drove past a very long blue wall. Soon we realized that this was a new winery that opened a week and a half earlier. Although we did not have an appointment, we decided to stop in and we are happy we did.
We met Bill Redelmeier who along with his wife owns this winery. Although a new winery and tasting room, Bill and his wife are experienced winery owners. They had originally owned a winery north of Toronto but due to urban sprawl decided it was time to move.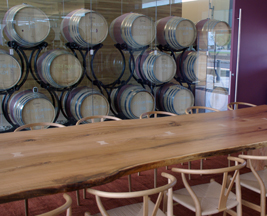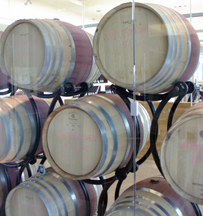 Their next question was whether to renovate an old building to start over or to begin with a new building. Choosing the latter, they hired a renowned architect, Jack Diamond, to design the building. The building was designed by Diamond to "sit lightly on the land" and to stand for 100 years. The design of the building is extraordinary as it features glass both inside and out. The one story building has a "floating" roof resting on glass walls. Inside, oak barrels are housed between glass panels. Between the panels, the air is temperature controlled to protect the wine. The building is transparent and it is possible to see from one end of the building through to the other end. Throughout the building the only curves in the facility are the barrels and barrel racks. Everything else has straight lines.
A long blue wall seen from the road and inside the tasting room begs the question, "What is the wall?" Bill's answer, "The wall is the wall." The tasting room is bright and the emphasis is on the displays of wine produced by Southbrook Vineyards. Outside of the tasting room, space is waiting for a wood burning pizza oven. Visitors will be able to come and purchase a variety of pizzas to pair with a wine. All types of pizza toppings will be available.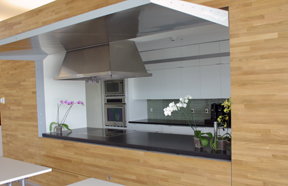 The winery and tasting room are environmentally friendly and will be the first LEED Gold certified winery in Canada. To achieve this goal they have a storm-water management pond, a parking lot that is reflective and make good use of natural daylight. Currently the winery produces 10,000 cases. To keep the vineyards maintained, Bill is exploring the idea of sheep in the vineyards. For this summer they have hired a student shepherd to herd the sheep.
On the other end of the building is a large room that is available for use as a seminar room or when a wall opens up a demonstration kitchen.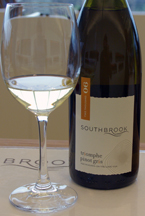 Back in the tasting room, we tasted several wines offered by the winery. Tastings use Speglau stemware and can be done in vertical tasting flights. Our tasting guide, Issy Graham, is enthusiastic and knowledgeable about wine. We tried Triomphe Pinot Gris 2006 which had a citrus nose with a grapefruit taste and crisp finish. Syrah 2006 had pepper and cedar on the nose, cherry, pepper and cedar on the taste and a grapefruit on the aftertaste. Cabernet Merlot 2001 had a dark purple color with a dark red fruit and bit of pepper nose, black cherry taste and was crisp.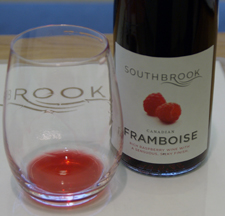 This was the first Canadian winery we had visited to offer fruit wines. The Framboise is a raspberry wine with alcohol level of 13.5 percent. This wine had a beautiful red raspberry color and a fresh raspberry taste. The Queen of England favored this raspberry wine. Issy suggested stirring the Framboise with whipped cream or to add it to a salad dressing of oil and balsamic vinegar. Other fruit wines included Cassis, a black currant wine with 14.5 percent alcohol, blueberry wine with a smooth taste and blueberry on the finish. One hundred percent fruit is used in all fruit wines.
A visit to Southbrook Vineyards is a truly unique experience. We hope you will be as impressed with the facility and wines as we were during our visit.
Southbrook Vineyards
581 Niagara Stone Road
Niagara-on-the-Lake, Ontario, Canada
---
Visit this Winery/vineyard travel agency and Canada winery that partner with Wine Trail Traveler.