Erie Shore Vineyard
by
Kathy Sullivan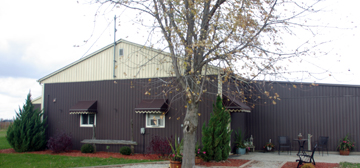 Summary: Erie Shore Vineyard is a delightfully friendly winery to visit. This is a farm winery with an emphasis on the vineyard and producing wines their customers will enjoy. Visitors will likely meet one of the owners when visiting the tasting room.
The Erie Shore Vineyard boutique tasting room is in a designated room, part of the winery. Visitors are likely to meet one of the owners, Harvey and Alma Hollingshead, in this family operated winery and vineyard. The winery has numerous customers who return repeatedly. Alma commented that at the end of the tourist season, some customers will stop to say good bye.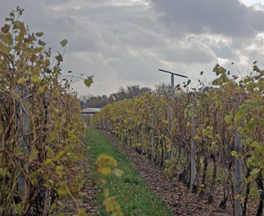 Alma is the vineyardist and Harvey is the winemaker. Harvey's philosophy of ownership includes, "I can't afford to hire someone to do what I can do." Therefore the family is involved in all aspects of the winery and vineyard. The Hollingsheads' two sons are also involved with the vineyards and winery. The winery produces 100 percent estate grown wines.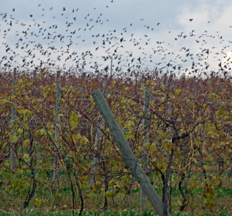 Harvey and Alma purchased the property while working in other careers. At that time, with young children, they looked for ways to earn an income enabling them to be at home with the children. Settling upon establishing a vineyard, the Hollingheads began planting 15 acres of vineyards in 1997. The following spring they added another 10 acres. Grape varieties include Cabernet Franc, Baco Noir, Zweigelt, Chambourcin, Riesling, Chardonnay, Vidal and a Geisenheim variety. Geisenheim is a German grape frequently used for blending. During our November visit, the vineyards were harvested. A few grapes left hanging became the envy of birds bulking up before heading south across Lake Erie.
Along with placing an emphasis on the vineyard, Harvey noted that Baco Noir and Chambourcin are now more marketable than they were 10 years ago when people did not recognize their names. In choosing grape varieties for the vineyards, the Hollingsheads look at the marketability of the grape variety. They know to be successful they need to produce good wines their customers like at competitive prices.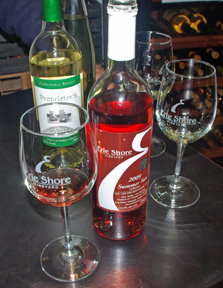 White Wines
Cornwall Beach Proprietor's White was a light straw color. The wine offered apple notes and a hint of citrus with a crisp finish. Pairing suggestions included white meats, pork and sausage. Riesling 2008 was a pale yellow with a light fruit aroma. The crisp taste was fruity with nuances of apple and pear. The finish was dry and fruity. This wine would pair with many foods including appetizers and entrées.
Red Wines
Summer Sun 2009 (pictured) was produced with Cabernet Franc with minimal skin contact. The wine color was a reddish orange/salmon. It offered a citrus aroma and tastet with a crisp finish. Zweigelt 2007 was a ruby color wine with pepper on the nose. The taste included pepper and cherry notes. The finish was crisp with bold tannins. Suggested pairings included grilled meats, pork and pizza. Cabernet 2010 was produced with Cabernet Franc grapes. This wine saw no oak or barrel aging. The dark ruby color wine offered dark fruit aromas with taste nuances of plum and pepper. The finish had bold tannins with fruit notes yielding to spice. Suggested pairings included meats, pizza and vegetables.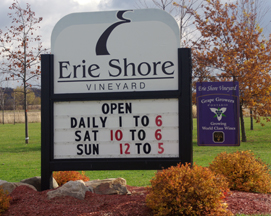 Dessert Wines
Cabernet Icewine 2008 was a deliciously light red Icewine with strawberry and rhubarb nuances. The finish was crisp, sweet and fruity.

Enjoy a visit to Erie Shore Vineyard, an Ontario farm winery where you are likely to meet Harvey or Alma Hollingshead in the tasting room.
Erie Shore Vineyards
410 County Road 50 West, RR3,
Harrow, Ontario N0R 1G0
GPS: N42º 00.320' W82º 57.754'
---
Visit this Winery/vineyard travel agency and Canada winery that partner with Wine Trail Traveler.