Ridgepoint Wines
by
Kathy Sullivan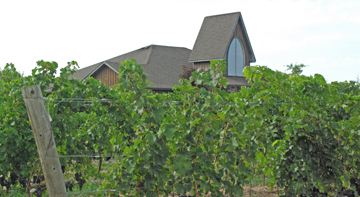 Summary: Ridgepoint Wines is a family owned and operated boutique winery in Vineland, Ontario. In addition to the tasting room, the location offers a casual dining restaurant. Enjoy the story of how the family left Italy planning to leave agriculture behind. Years later they began Ridgepoint Wines.. Ridgepoint is one of the only wineries in Canada and the US to produce a white Cabernet Sauvignon.
Visitors to Ridgepoint Wines will see acres of vineyards in front of the chalet-style winery, tasting room and restaurant. The high peak of the center of the building rises above the vineyards; perhaps reminding one of a steeple and beckoning visitors to come visit.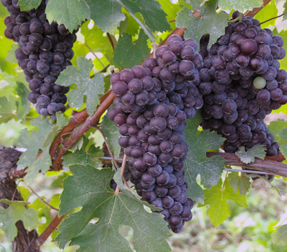 Ridgepoint is owned by Mauro Scarsellone and his sister Anna Gottardo. Their family left Italy for Canada looking for a better life outside of the hard agricultural life. They made wine for family use. After spending years as an accountant for a firm, Mauro and his sister purchased the Vineland property in 1996. They planted wine grapes in 1997. The winery was built in 2004 and the small casual restaurant was added in 2006. While talking with Mauro, he shook his head and said that it was a "hobby that went nuts." When Mauro saw vineyards in the Niagara area it peeked his interest.
For Mauro, wine is an everyday food. Ridgepoint offers an intimate approach in the tasting room. He believes that this is an era of unpretentiousness. Ridgepoint offers great wines and great people. Mauro notes that Ridgepoint is the best-kept secret in Niagara.
The vineyards consist of 18 acres and are planted with Cabernet Franc, Nebbiolo (pictured), Pinot Noir, Merlot, Cabernet Sauvignon and Riesling. In 2012 they are using all estate grown fruit. Current production is between 4,000 and 5,000 cases.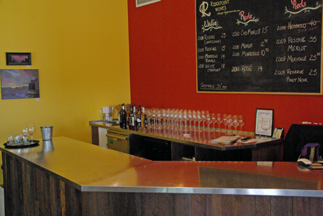 Tasting Room
The boutique winery tasting room, with walls of deep yellow and red, has a stainless steel tasting counter. Works of local artists decorate the walls and are available for purchase. Tastings at Ridgepoint are with Riedel stemware.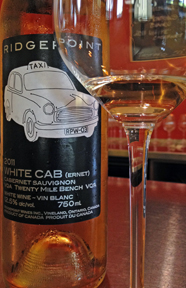 White Wine Tasting
White Cab was produced with Cabernet Sauvignon grapes. The wine was yellow with an orange tinge. The wine had nuances of berry fruit and was slightly sweet. Be sure to note the label that features a drawing of a white taxi. Ridgepoint Wines is one of the few wineries in North America to produce a white Cabernet Sauvignon. Monticello Bianco 2010 was produced with Cabernet Sauvignon, Cabernet Franc, Riesling and Gewürztraminer. The light yellow wine had floral aroma notes. The taste was of berry fruit with a touch of yellow stone fruit. The finish was crisp and like a fruit salad. Reserve Chardonnay 2008 was a yellow color with an aroma and taste of apple. The finish was crisp with apple yielding to caramel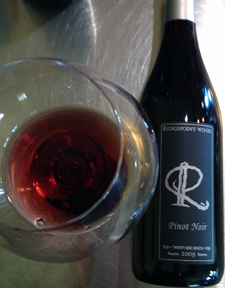 Red Wines
Cabernet Merlot was a blend of Merlot, Cabernet Sauvignon and Cabernet Franc. It was a dark ruby color with dark fruit notes on the aroma and taste. The finish had mild tannins and was fruity. This wine was an everyday easy red to enjoy with food. Pinot Noir 2009 Reserve was a ruby color with cherry notes on the aroma. The taste had cherry with a hint of mushrooms. Tannins were on the finish. Nebbiolo 2008 was from a tank that would be bottled in October. This light ruby wine offered cherry notes and bold tannins on the finish.
Ridgepoint Wines offers visitors a warm welcome and casual dining. Be sure to stop and discover Ridgepoint Wines when you are in Vineland.
Ridgepoint Wines
3900 Cherry Avenue 

Vineland, Ontario
Canada, L0R 2C0
GPS: N43º 08.878' W79º 24.946'
Article written in September 2012.
---
Visit this Winery/vineyard travel agency and Canada winery that partner with Wine Trail Traveler.