Kittling Ridge Wine & Spirits
by
K. L. Sullivan
Summary: Kittling Ridge Wine & Spirits tasting room has a range of over 70 products to taste. With the exception of two products, all tastings are complimentary. Tastings are limited to three tastings per individual so choose your tastings carefully. The tasting associate was informative about all of the products produced by the winery and distillery.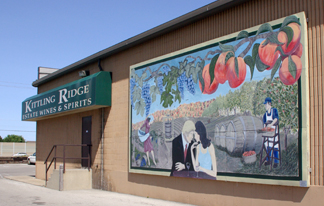 We were please to meet John Hall, owner and winemaker, before we began our tastings in the retail shop. John purchased the facility in 1992. Today it is Canada's 5th largest winery and 5th largest distillery. Kittling Ridge is the last independent distillery in Canada. The winery and distillery produces 800,000 cases with 100,000 of these being wines.
John related that he had been a winemaker for 22 years and wanted to handcraft a Canadian whiskey. In 2002, he sold his first bottle of Canadian whiskey. He prefers producing a whiskey compared to wine, as it takes longer and more patience to make whiskey. According to John, spirits and wine consumption is growing. Currently there are 30,000 whisky barrels on site. John's production is unique as he distills the grains separately.
The tasting room is filled with shelves of wine bottles and bottles of spirits. It is reminiscent to some of the enotecas we observed in Italy. Other interesting gift items include colorful rectangular and square plates, pizza plates, wooden trays, stoneware that has been hand built and hand painted by artisans who have a pottery studio in Hamilton, Canada. Also available are glass cutting boards and food items. Look for Vidal Icewine jelly, raspberry gourmet spread, salsa, guacamole, onion-chive and chipotle dip mix. A gourmet village dip warmer is available for purchase.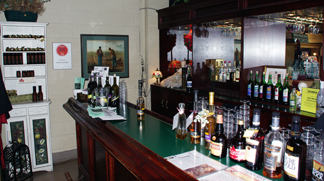 The tasting counter is located on the right hand side and at the back of the tasting room. The counter has room for two to four visitors. This is adequate as tastings are limited to three per person and thus other visitors don't have too long to wait. Unfortunately one doesn't learn of this policy until after the third tasting. The rest of the counter has an assortment of wine bottles and spirits ready for the associate to pour. At this winery, wineglasses are used for tasting wines and plastic cups with stems are used for spirits.
The wines are classified into two lines. Symmetry Wines VQA are a higher-end wine and only 200 to 300 cases are produced. These are sold only in the tasting room. The Kittling Ridge line is available in area stores. The Symmetry 2007 Riesling Gewürztraminer, the most popular white wine, is 55 percent Riesling and 45 percent Gewürztraminer. The aroma was fruity and there was sweetness on the taste. It had a long finish. This would pair well with poultry and Chinese food. It is a classic sipping wine. The Symmetry 2007 Riesling offered a floral-violet nose, violets and citrus on the first taste and citrus on the second taste. The finish was crisp and dry. The nose of the Sauvignon Blanc 2006 was citrus and the taste was pear. It had a crisp pear aftertaste. Made from 34-year-old vines, the Symmetry 2007 Old Vines Foch had a vegetative nose with a blackberry and current taste. The aftertaste was crisp. Symmetry Baco Noir 2006 offered a dark berry/black cherry nose with earthiness and black cherries on the taste. The aftertaste was crisp and balanced with tannins on the finish. John produces a special Icewine with brandy. The result is a nose of Vidal grapes and it has a long aftertaste.
Stop by Kittling Ridge Estate Wines & Spirits for a wide selection of wines and spirits.

Kittling Ridge Estate Wines & Spirits
297 South Service Road
Grimsby, Ontario
GPS: N 43° 20.297' W079° 58.420'
---
Visit this Winery/vineyard travel agency and Canada winery that partner with Wine Trail Traveler.