Redtail Vineyard
by
Kathy & Terry Sullivan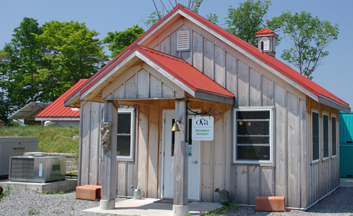 Summary: Redtail Vineyard is a green winery and vineyard that is completely off the grid. Wine enthusiasts will discover a small, boutique winery aside solar panels that provide the needed power for operating the winery and tasting room. The estate Pinot Noir is a wine to watch. The wine had layers of fruit and minerality.
Gilbert Provost and Pauline Joicey own Redtail Vineyard. They are devoting their second careers to developing a vineyard and winery. Prior to starting a vineyard, Gilbert had become very involved in the wine industry including taking wine classes, being a wine guild member, and ultimately teaching wine education classes. He knew he would make wine when he could grow his own grapes. As retirement time approached, Gilbert and Pauline decided to plan for their life long dream of owning a vineyard. In 2002 they purchased property in Prince Edward County.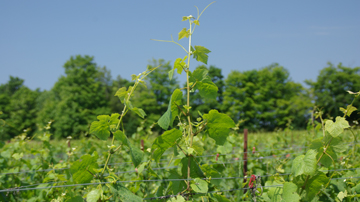 Vineyards
The soil in the vineyards is a combination of limestone, granite and phosphorus. Gilbert and Pauline planted grapevines in 2004, 2005 and 2006. The five acres of vineyards have 8,500 grapevines including Pinot Noir and Pinot Gris. The vineyards are dry farmed. The grapevines are trellised with a double wire trellis system. Organic practices are used in the vineyard as well as some biodynamic practices including the use of teas. Visitors to the vineyards will note several birdhouses for sparrows. Occasionally one may glimpse a redtailed hawk.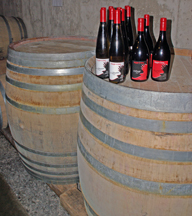 Winery/Tasting Room
Gilbert sources some grapes from within Prince Edward County. He follows traditional winemaking practices when it comes to producing wine. Gilbert believes in minimal intervention in winemaking. Natural yeasts are from the vineyards, sometimes referred to as indigenous yeast. Wines including whites are not filtered or fined. In 2010, they experimented with the use of Canadian oak barrels and have been pleased with the results.
Gilbert's pride and joy is the barrel room. The rectangular room has been banked with soil providing additional insulation. This allows the room to be kept cool and at a relatively constant temperature.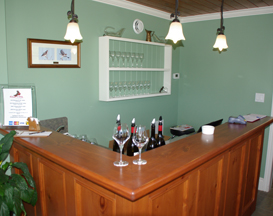 A small L-shaped tasting counter contrasts with the light green walls with white trim. The display of fine stemware used for tastings adds to the elegance of the room. The wood ceiling adds a touch of old-world to the tasting room.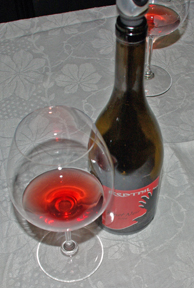 Wines
The 2010 Riesling was a straw color. There were apple, citrus and mineral notes on the aroma. The citrus taste was crisp and refreshing. Grapes were sourced from fellow winemaker, Lauren Horlock, who has her own vineyard in Wellington. Chardonnay 2010, grapes, sourced from Rosehall Run Vineyard also in Wellington, offered mineral notes with pear on the taste.
Ti-Rouge Pinot Noir 2009 was produced with fruit from Niagara-on-the-Lake. The wine was light ruby with sienna hues. The wine had red cherry notes. The finish was light with red fruit notes. Pinot Noir 2009 estate grown was a ruby color. The aroma had red cherry and mineral notes. The taste offered notes of red berries, red cherries and mineral nuances. The finish was crisp with mild tannins and fruity with a hint of minerals. This is a wine to watch.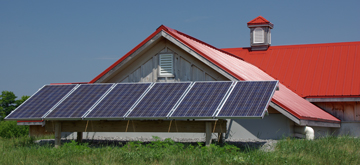 Off the Grid
Many vineyards and some wineries like to state that they are green. Redtail Vineyard certainly can make that claim. Organic and some biodynamic practices are followed in the vineyard while organic principles are followed in the winery. However Redtail Vineyard goes further with the winery and tasting room. They are off the grid. Electrical needs are provided by solar panels. Soil is within a few inches of the roof of the barrel room providing a well-insulated environment for the oak barrels.
Enjoy a visit to Redtail Vineyard. If no one is at the tasting room ring the large bell at the entrance.
Redtail Vineyard
422 Partridge Hollow Road
RR3 - Consecon, Ontario K0K 1T0
GPS: N43º 58.448' W77º 31.572'
---
Visit this Winery/vineyard travel agency and Canada winery that partner with Wine Trail Traveler.