County Cider Company and Estate Winery
by
Kathy Sullivan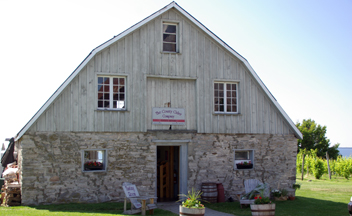 Summary: County Cider and Estate Winery sets itself as a unique winery to visit in Prince Edward County, Ontario. Views of Lake Ontario behind the vineyards are picturesque. The winery offers both hard cider and wine tastings for visitors. Apples and grapes for the ciders and wines are handpicked. The tasting room is open from May through November.
County Cider and Estate Winery is a family owned and operated cidery and winery located in Prince Edward County near the shore of Lake Ontario. The views of vineyards with Lake Ontario in the background provide a beautiful scene that enhances the visit.
History
The Howse family purchased the property in 1976 where the cidery and winery are now located. Apple orchards were already established at that time. In 1995 the Howses added a vineyard to the property.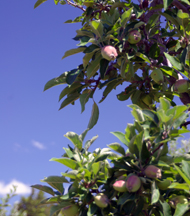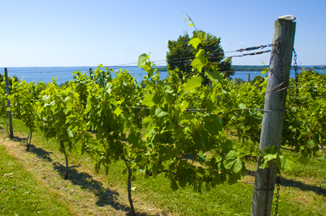 Today the property has 45 acres with a variety of apple orchards and 15 acres of grapes. Apple varieties include Northern Spy, Russets, Ida Red, Crispin, Kingston Black, Brown Snout, Michelin, Medaille, Dabinett, and Somerset. Grape varieties include Frontenac and Geisenheim.

Hard Ciders
Grant Howes is the cidermaster. The cidery began producing cider in the mid to late 1990s. The hard ciders are produced using 100 percent apple juice. Since that time they have won international awards for their ciders. Starting with only 600 liters the winery now produces 200,000 liters.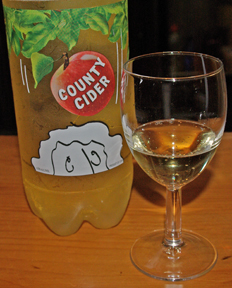 The County Cider and Estate Winery offers several sparkling hard ciders and these are a real treat. County Cider was dry, refreshing and crisp. Serve chilled and it is food friendly. Cranberry Cider was a bright pink/orange. The cider was fruity and sweet. Cranberry notes lingered on the finish. Waupoos Premium Cider was a straw color with an aroma and taste of apple. The finish was crisp and cleansing with a bit of sweetness. Peach flavored cider was produced with peach natural flavor added. This wine had peach notes throughout and was refreshing.
Ice Cider is a specialty for County Cider and Estate Winery. The cidery received an award for Agri-Food Innovation Excellence in 2008 for their creation of ice cider produced from apples left to freeze in the orchards. These special awards are from the Ontario Ministry of Agriculture, Food and Rural Affairs.

Wines
Jenifer Dean is the winemaker. Note the details on the back wine label on the bottles of wine. For example, the Pinot Noir back label notes that the grapes were harvested October 29th, Brix level was 20.5, Ph was 3.54 and TA was 5.8g/L. The winery produces oaked and unoaked Chardonnay and Pinot Noir.
The Vineyard Cuvee Grant Howes was red with purple hues. The aroma, taste, and finish had pepper notes. The Pinot Noir 2007 was a ruby color. There were mineral and red cherry notes. The finish offered tannins with a mineral emphasis.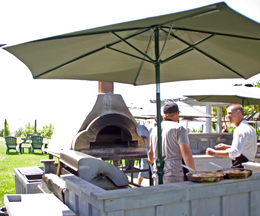 Lunch al Fresco
Outside on the far side of the tasting room and within view of vineyards and Lake Ontario is a small outdoor kitchen. During good weather enjoy purchasing lunch and sitting on the large delightful patio to enjoy lunch with a glass of wine.
Round out your palate by tasting wines and hard ciders at The County Cider and Estate Winery.
County Cider Company & Estate Winery
657 Bongards X RD
Picton, Ontario K0K 2T0
GPS: N44º 01.287' W76º 57.741'
---
Visit this Winery/vineyard travel agency and Canada winery that partner with Wine Trail Traveler.