Lacey Estates Vineyard and Winery
by
Kathy Sullivan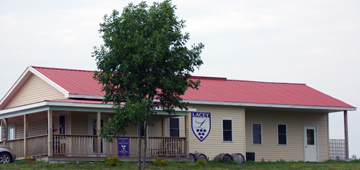 Summary: Lacey Estates Vineyard and Winery is a boutique family-run vineyard and winery located on Closson Road in Hillier, Ontario. Kimball Lacey is helping to fulfill his parents' dream of owning a winery and vineyard. The wines are all-estate grown and bottled.
Enjoy a delightful visit to Lacey Estates Vineyard and Winery tasting room where wine enthusiasts can taste wines at a tasting counter from a 120-year-old farmhouse. Be sure to note the quality quilt pieces by Liz Lacey decorating the walls and available for sale.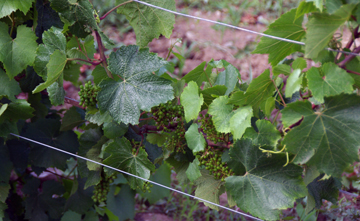 Background and Vineyards
Kimball Lacey is the winemaker and winegrower at Lacey Estates. In 2002 Kimball and his father, Charles, attended a seminar about starting a winery in Prince Edward County, Ontario.
In 2003, they planted eight acres of grapevines including Pinot Gris, Chardonnay, Gewürztraminer, Baco Noir and Riesling. While there is limestone in the vineyard soil, some places have little topsoil. Riesling is planted in about 2" topsoil followed by solid and fractured limestone. Plans are to add another nine acres of grapevines of Riesling and Pinot Noir varieties.
Kimball began working in an area winery; he worked for Norman Hardie and now works at Closson Chase winery. The Lacey Estates winery was built in 2008 and the winery tasting room opened in 2009.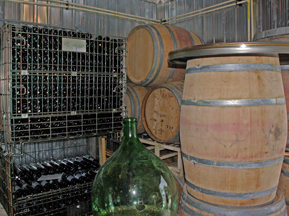 Lacey Estates Winery
Kimball uses French and Hungarian oak barrels. He noted that he likes the flavors from the Hungarian oak. Pinot Noir ages in oak for 18 months. To produce white wine, Kimball uses a whole cluster press.
The majority of wine is sold from the Lacey Estates tasting room. In order to be environmentally friendly (green) and in an effort to cut costs, Kimball stores his wines in Champagne cages. Currently the winery produces 1,000 cases of wine and Kimball would like that number to increase to 3,000 cases.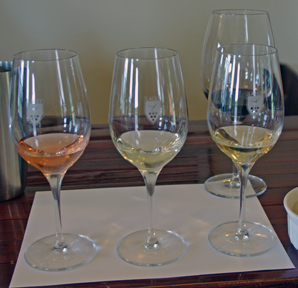 White Wines
Wines were paired with different cheeses. The 2010 Pinot Gris was a pink color with orange hues. The citrus especially grapefruit on the taste had a perceived sweetness. The wine matched well with the Aciago cheese. Neither overpowered the other. Riesling 2010, a light yellow, offered a floral aroma with a hint of tropical fruits. The finish was crisp with tropical fruit and a hint of minerality. Paired with cheese, the Triple Cream Brie provided the background and the Riesling provided the color. Gewürztraminer 2010 had floral notes of roses with a hint of honeysuckle. The taste had suggestions of roses, perfume, honeysuckle and a splash of lavender. The finish had a perceived sweetness. The Boursin cheese was creamy and salty and went well with the Gewürztraminer's perceived sweetness.
Red Wine
Baco Noir 2008 was a dark purple with a ruby rim. The aroma had tobacco notes and dark fruit. The taste offered dark fruit notes especially black cherry. The finish was crisp with dark fruit nuances. There was a faint hint of citrus when the wine was paired with Swiss cheese. The cheese emphasized the fruit.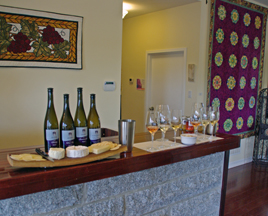 The winery is tech savvy and announces wine releases on Facebook. Wine enthusiasts can taste and purchase wines in the Lacey Estates tasting room and will discover them in several area restaurants.
Lacey Estates Winery
804 Closson Road
Hillier, Ontario K0K 2J0
GPS: N43º 59.802' W77º 24.155'
---
Visit this Winery/vineyard travel agency and Canada winery that partner with Wine Trail Traveler.