On the Twenty Restaurant
by
K. L. Sullivan
Summary: On the Twenty Restaurant is a friendly wine country restaurant. Located in a building dating from the 1830's, the restaurant can be reached by a short hallway from Cave Spring Cellars Winery retail store or the from the street. The restaurant is easy to spot with its red brick front with white window casings.
On the Twenty Restaurant is an elegant restaurant where diners can have a quiet dinner. Gourmet dishes created by Kevin Maniaci are offered every evening. Kevin is the Executive Chef. Presentation is an important part of the restaurant. Everything from the windows overlooking the Twenty to orchids for every table are provide a setting for a meal that also looks elegant on the plate.
We were fortunate to be able to ask Kevin several questions, after he had finished providing breakfast for guests. When deciding what wines to use while creating new recipes, Kevin works together with the staff of the winery in deciding wines and foods. Wines with good acidity heat to flash point and the alcohol burns off. One can reduce six bottles to one bottle. A high acidic wine will maintain the fruit taste. Pinot Noir is a good cooking with food wine. For Kevin, inspiration develops from previous experiences and experimenting in the kitchen. Texture, flavor and aroma must be considered. When creating a new recipe, Kevin sits down and eats the creation to see if they would work on the menu.
Breakfast and dinner at On the Twenty Restaurant is a wonderful experience. Both days of our visit we were welcomed to a warm breakfast item or we could choose from other items at a breakfast bar. Our waitress immediately offered coffee or tea and it arrived promptly. A tray of a variety of breakfast breads was served. The breads were in a cloth lined tray constructed of dry grapevine canes. The terms gourmet and breakfast do go together. Each morning a gourmet breakfast is prepared which one may order.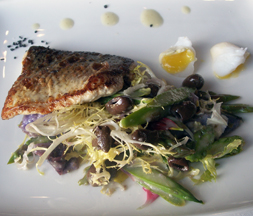 At dinner, we discovered several options on the menu for both a first course and second course. First courses varied between a spring salad and grilled octopus Salad. The Tree & Twig Spring Blend consisted of wild lee vinaigrette, soy nuts, oven cured grapes and Upper Canada Comfort Cream. The suggested wine pairing for this salad was the 2006 Riesling Dry. Whitefish Nicoise another first course with a combination of asparagus, soft boiled quail eggs, spiced olives, purple potatos and anchovy vinaigrette. The Gewürztraminer 2006 was the suggested pairing.
Main courses on the menu ranged from Seared Copper River Salmon to Cumbrae Farms Spring Lamb Duo. The Fennel Pollen Seared Sea Scallops was served with tomato and leek confit, lobster mashed potato, vermouth and sorrel cream. The suggested pairing was 2006 Riesling 'Dolomite.' The Ontario Beef Tenderloin was served with potato and chanterelle gratin, asparagus, baby carrots and oxtail jus. Cabernet/Merlot 2005 was the suggested pairing.
If you are visiting Cave Spring Cellars, if you have a special event you want to celebrate with a love one or you are in the Jordan area think about having dinner at On the Twenty Restaurant. The foods and wines are well paired. You can take your time and savor the flavorful experience.
On the Twenty Restaurant
3846 Main Street
Jordan, Ontario, Canada
GPS N 43° 14.944' W 079° 36.899'
Related Articles
Cave Springe Cellars
Inn on the Twenty
---
Visit this Winery/vineyard travel agency and Canada winery that partner with Wine Trail Traveler.