Adams County Winery
by
K.L. Sullivan

Our journey to Adams County Winery was sun filled and reminded us a bit of our visit to California. We traveled along a narrow valley with tree covered low mountains on the sides. The valley captured the sunlight and everything sparkled. We discovered the winery nestled in the south Mountain Chain. The winery is located a short distance from Gettysburg and amid miles of farmland and orchards. Adams County Winery is one of the oldest wineries in Pennsylvania. The Cooper family started the winery in 1976.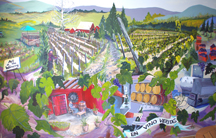 Cheerful purple grapes painted on a white background decorate a doorway. Inside the entrance is a large vibrant mural. Two artists commissioned to paint the mural were asked to depict everything that goes on at a vineyard and winery in one year. Two tables and chairs are close to the wall and make a delightful place to share a bottle and enjoy the details of the mural. A large map of the United States is on another wall. On your visit, be sure to add a pin to show your hometown. International visitors drew outlines of their countries beside the map.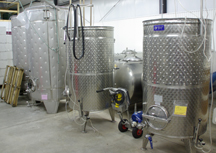 Jessica Fogas, Marketing Manager, took us on a tour of the winery. We learned that John Kramb and Katherine Bigler purchased the property in 1998, when it had three acres of vineyards planted and produced 3,000 gallons. Since the purchase, it has grown to 15 acres of vineyards and this year's vintage will produce just under 30,000 gallons, about 12,500 cases. They purchase about 25% of the grapes they use from other vineyards in Pennsylvania. Today John is the vintner and Katherine handles the winery business.
The current tasting room is in a Pennsylvania bank barn built more than 130 years ago. The front of the barn appears to be three stories but the back is two stories. Bank barns make it easier to load crops into a barn. A wagon enters directly into the second floor of the barn where it can be unloaded.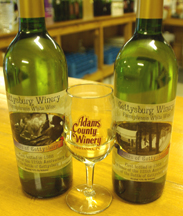 Currently, the vineyards consist of seven varietals and include Concord, Seyval, Vidal, Lemberger, Traminette, Chambourcin and Cabernet Franc. We started our tasting with the whites. The Chardonnay has an acid and fruit balance, while the Majestic, a Double Gold Medal Winner has a long aftertaste. The Red, Red Wine a blend of Cabernet Franc and Chancellor is light, with fruit, acid and low tannins. Three Ships to the Wind is a Chambourcin with a fruity, sweet peach taste. Ruby Rose, a Steuben, is sweet with a sweet aftertaste. Tears of Gettysburg, a Niagara blend, is the number one seller and Rebel Red, a Concord blend, is the best red seller. Tasting wines at Adams County Winery is relaxed. Jessica poured wines and asked what we thought about the aroma and tastes. All too often we encounter winery staff that tell you what you are going to taste. Adams County Winery allows you to discover aromas and tastes on your own. They will offer suggestions if you ask.
We spoke briefly with John and enjoyed his sense of humor. John asked if we were aware that the winery is the number one winery. With a straight face, he continued on and said, "Number one winery in Pennsylvania – alphabetically."
An unusual sight in the tasting room is a large glass bottle in the shape of a rifle. This three liter bottle is filled with the wine Tears of Gettysburg. The wine was blended in honor of the 125th Anniversary of the Battle of Gettysburg in 1988. Gifts to purchase include clothing, even for babies. The baby clothes had sayings such as "Vintage Baby Mom's and Dad's Special Blend." Different sized pottery graced a corner of the tasting room. They would make a perfect accent piece for the home.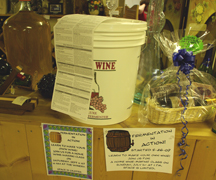 If you are interested in making your own wine, there is a good supply of winemaking kits for the beginner and advanced home winemaker. A sign with the words "Fermentation in action," invites you to participate in a class taught by John. In this two-hour class, you will learn everything you need to know in order to use one of the kits and make your own wine. A glass tank fermenting juice is on display.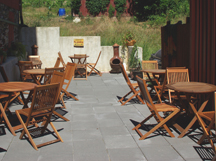 Events play a big part at the winery. A slate patio, equipped with tables and chairs, surrounded on three sides by the building provides a protected location from wind. A "Poolless Pool Party" is a big and fun event. The only missing item is water. Other events include music bands on several Saturday afternoons. People are encouraged to bring a picnic basket or to purchase snacks in the tasting room. Wine appreciation classes are offered throughout the year.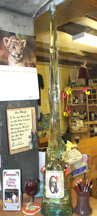 Adams County Winery is a friendly place to visit. The staff shows an interest in finding out about people and does not push people out the door. Visiting this winery is much more than wine tasting; it is an experience. If you can't make it to the winery, visit their tasting room and store in Gettysburg.
Adams County Winery
Orrtanna, Pennsylvania
GPS: N 39° 51.913' W077° 22.472'
---