Peace Valley Winery
by
K.L. Sullivan
Summary: Peace Valley Winery not only provides a rustic winery to visit, but also the opportunity to pick your own grapes and apples when in season. Call ahead to check on availability of pick your own fruit. If you are in need of a unique gift basket, the winery tasting room has numerous baskets to offer.
Peace Valley Winery is a small unassuming winery located in the countryside, north of Philadelphia. We chose to visit this winery based on its location on the Bucks County Wine Trail. The tasting room hidden behind an old wooden fence and shrubs is barely visible from the road.
Historically the vineyard began many years before the winery. Originally called Susan's Vineyard, Susan Gross started with three acres of grapes planted in 1968. At the same time Susan, planted an experimental area with hybrid varieties from Germany and France. Since 1968, she has experimented with more than 200 grape varieties. In 1984, Peace Valley Winery opened with Robert Kolmus who is a partner. Today the vineyard consists of 25 acres and produces 8,000 gallons of wine.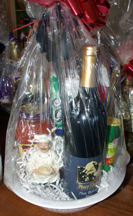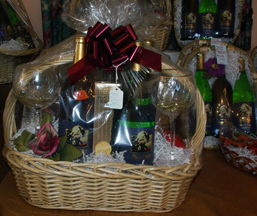 Upon entering the tasting room, one sees an amazing number of one-of-a-kind gift baskets, all wrapped and ready to go. Creative holders form the base of some baskets. A kitchen colander held one assortment. Close by was a gardener's small bag used as a basket. Creative themes are available. Some of the labels bore titles including "Our Tribute to Johnny Appleseed," "A Fish Tale," "Hostess with the Mostess," "Our First Christmas Together," "A Taste of Tai," and "Adult Trick or Treat." Nancy Macur creates these unique gift baskets.
We tasted several wines while Robert, vineyard manager and winemaker, talked about the quality of red wines that he seeks. Today he is seeing more of a preference for red wines. However, he is not marketing a high tannin wine.
Wines we tasted included Excalibur, a dry red blend of Lucy Kuhlman and Castel. It had a dark ruby red color. Merlot was ruby red with soft tannins. New Britain Red, Peace Valley's best selling wine, is a blend of Castel and Chancellor. This had a red fruit flavor with a touch of sweetness. Bucks Blush, Traminette, is spicey, fruity and dry.
Robert spoke about the challenges of making wine. The quality of the grapes in the vineyard influences the quality of the wine. Robert will harvest between four and six tons of grapes per acre. He is responsible for pruning all 25 acres of grapes and 4 acres of apples.
In addition to existing as a vineyard and winery, Peace Valley Winery also operates as a pick your own fruit farm. During the season (usually September), apples and grapes are available for picking. Pick your own apples and fruit is popular with some families who now bring the third generation for the pick your own experience.
Peace Valley Winery
Chalfont, Pennsylvania
GPS N40° 20.166' W075° 12.041'