Blair Vineyards
by
Kathy Sullivan

June, 2011
Summary: At Blair Vineyards, visitors will discover a friendly tasting room with serious wines. Spend time on the deck while enjoying a glass of wine.
Visitors to Blair Vineyards will find themselves driving between fields of corn on gently rolling hills to the winery. The winery sits at the pinnacle of a hill surrounded by vineyards.
Blair Vineyards is a family owned and operated winery located in the picturesque countryside of eastern Pennsylvania. The views of the vineyards and Pennsylvania's beautiful countryside make a photographer's delight. Artists may want to contemplate painting or sketching the scenery.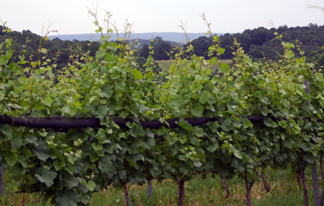 Background/Vineyards
Richard Blair learned about wine as a college student. He discovered that wine is a beverage to be enjoyed with dinner. Thirteen years ago Richard planted a vineyard and began a winery in his garage. The garage quickly became too small for an operation of its growing size. In 2006 Richard and his wife, Carol, purchased the current site.
The vineyards consist of 20 acres located at approximately 1,000 feet elevation. The vineyards are not affected by late frosts due to the hillside locations of the vines. Grape varieties include Riesling, Gewürztraminer, Pinot Noir, Pinot Grigio, Chardonnay, Cabernet Franc and Syrah. Eventually Sauvignon Blanc will be added to the vineyards.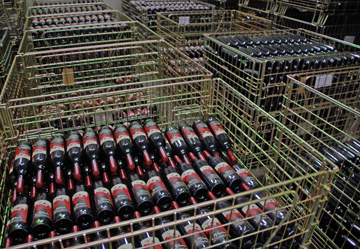 Winery
Richard commented that while he is experienced as a winemaker and makes good wines, he hired a French winemaking consultant so the winery can make great wines. The winery below the tasting room is based on a design of a winery Richard visited in California. The winery produces 4,500 to 5,000 cases and has plenty of room to grow. The winery is set deep into the ground so that little energy is needed to keep the temperature constant. While most wineries in the United States box their wines in cardboard cases, Richard decided to use a technique used in Europe. He has purchased numerous reusable metal cages that hold the wine bottles until they are needed in the tasting room. When cases of wine are sold the wine bottles are placed in cardboard cases. Richard noted that frequently customers purchase two or three bottles of wine so the cardboard case box is not needed.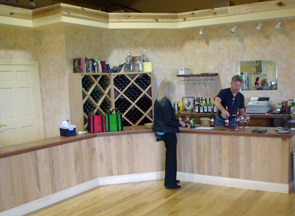 Blair Vineyards Tasting Room
The tasting room, built in 2010, is located on the ground level while the winery was built below into the ground. The tasting room has a light wood floor and wood tasting counter. The walls are a light gold color. A large deck with a roof for shade provides an excellent area to enjoy a glass of wine and the setting.
Blair Vineyards Wine
Richard's philosophy of wine is that wine is for everyday and it should go with food. All of the wines we tasted were food friendly.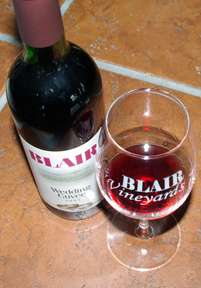 Gewürztraminer 2010 was a light yellow. The wine had floral and spice nuances. There were orange blossom and honeysuckle notes on the taste leading to spice. Riesling 2010 was a light yellow with notes of yellow stone fruit especially apricot. Chardonnay 2010 was aged in French oak for seven months. The aroma had oak and apple notes while the taste was smooth with apple and caramel nuances. The crisp finish had layers of apple and caramel.
Three Sisters was a blend of Pinot Noir, Merlot and Cabernet Franc. The wine was named for the three Blair sisters. The color was a dark ruby. The aroma reminds one of dark fruit. Blackberries and plum notes were on the taste. The finish was fruity with bold tannins. Wedding Cuvee 2007 was a blend of Merlot, Cabernet Franc and Cabernet Sauvignon. The aroma was of dark fruits. The taste had notes of blackberries, plums and blackcaps. The finish had tannins and was fruity.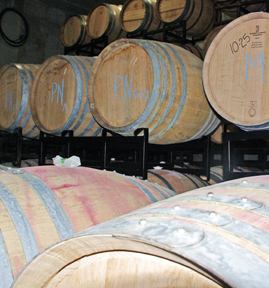 Barrel Tastings
Pinot Gris 2010 was a straw color. The wine offered citrus notes with noticeable grapefruit on the taste. The finish was crisp. This wine was ready to bottle. Lehigh Valley Pinot Noir 2010 was a blend of five Pinot Noirs with different clones. The result was a dark ruby to purple color. The aroma was of red berry fruit while the taste offered strawberry and raspberry notes with a hint of vanilla. The finish was fruity with tannins. Keep a watchful eye for when this wine is bottled and sold.
Events
Blair Vineyards hosts a number of monthly activities including winemaker dinners, happy hour, family and music events. The winery participates in Berks County Wine Trail events.
Richard wants people to know they produce great wine grapes, Blair Vineyards is a delightful place to enjoy a glass of wine and visitors can spend as much time or as little as they like.
Visit Blair Vineyards a friendly winery where visitors can enjoy the wines and the views of the countryside.
Blair Vineyards
99 Dietrich Valley Road
Kutztown, PA 19530

GPS: N40º 33.212' W75º 49.756'
---