Folly Hill Vineyards
by
K.L. Sullivan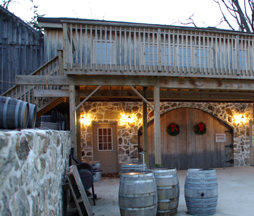 We parked at the far end of the parking lot at Folly Hill Vineyards. Following the small signs across the parking lot, we went down steps to a cement patio with tables and chairs to our right and the entrance to the tasting room to our left
Immediately, we were met by our host, who was very hospitable and knowledgeable about the wine industry. She willingly shared her knowledge with us.
Opening on Mother's Day, 2003, Folly Hill focuses on the quality of their wines and currently produces under 2,000 cases. Labeling is done by hand. Folly Hill has about four acres of grapes – Chardonnay and Cabernet Sauvingnon - on the winery site. While their tasting room is small, Folly Hill has a large patio for an enjoyable afternoon. The large patio would be a wonderful place in the spring, summer or fall, to sit and enjoy a picnic lunch and glass of wine.
Toys are available for children to play with while you shop at Folly Hill Vineyards. One can also purchase juice box drinks for children.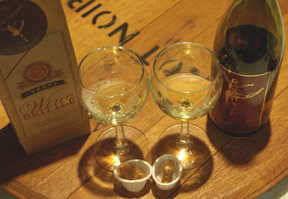 The tasting room has an assortment of candles with unusual and enticing scents for purchase. We had the chance to sample a peanut brittle. The flavor is not overwhelming and it was absolutely delicious with or without wine. If you know someone with a sweet tooth this might make the perfect gift.
A unqiue idea at Folly Hill are the Complimentary Wine Tasting Cards. These are given to people as prizes and donations. This is a complimentary wine tasting for two.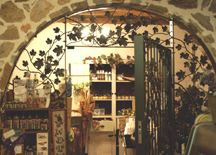 You may want to check out the package deal offered by Folly Hill Vineyards – A Taste and Chateau Tour of the Brandywine Countryside.
In addition to the winery and vineyard, Folly Hill has a Bed and Breakfast on site. You may want to inquiry about it for your trip to the Brandywine Valley Wine Trail.
Folly Hill Vineyards
Kennett Square, Pennsylvania
Area Lodging: Hilton Garden Inn, Kennett Square
---