Buckingham Valley Vineyards
by
K.L. Sullivan
Summary: The first thing visitors will notice before entering Buckingham Valley's tasting room are the eye-catching metal red, brown and silver sculptures spaced out on the large lawn. Upon entering the tasting room, you will find yourself pouring your own tastings. Each bottle has a cap to measure the correct amount of wine poured. Quality wines are reasonably priced, as are the giftware items.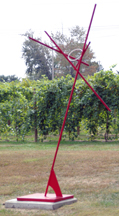 The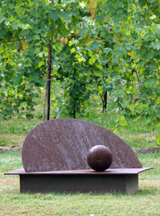 north Philadelphia countryside was warm even on an October day. Outside of Buckingham Valley Vineyard's winery doors, the large lawn was decorated with sculptures created by Kevin Forest, Jerry and Kathy's son. An annual show takes place during the summer to give Kevin and his friends an outlet for sculpture. We arrived at Buckingham Valley to a warm welcome by Jerry Forest and his wife, Kathy. Buckingham Valley Vineyards started in 1966 and with hard work and family participation now produces18,500 cases of wine. Many of the grapes are from their own 18 acres of grapes.
As we toured the winery, Jerry indicated that the building was built by adding on to the building over the years. While Buckingham Valley has some of the traditional equipment that wineries have, it also has innovative machinery to help with producing better quality wine more easily.
The winery has had 42 years to become well known. Today people travel from out of state to purchase the quality wines at Buckingham Valley. Many visitors are repeat customers. Their wine is only available from the winery. However, Jerry believes that the wine industry is not well known in Pennsylvania. He believes the success of Buckingham Valley is due to the longevity of the winery and the quality and value of the wines.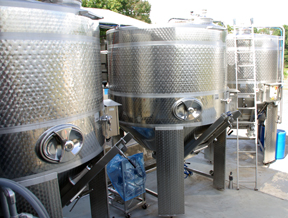 The Forests are passionate about winemaking and after 42 years of being involved in the industry, they continue to show their animation and interest in the business. Jerry and Kathy travel widely to visit wineries, vineyards and trade shows learning about new techniques and machinery that will increase efficiency in the winery and continue to increase the quality of the wines produced. For the first time, we saw tanks that use a stirrer on the bottom and an automated pump-over system to mix the juice thus eliminating the need to punch down. These new tanks are designed for the seeds to fall to the bottom and be easily disposed. Recently the winery purchased a new filter from Germany. The Forests believe this is the best filter available. During their travels, they became aware of an ozone machine that sterilizes stainless steel tanks more effectively and they now have that machine.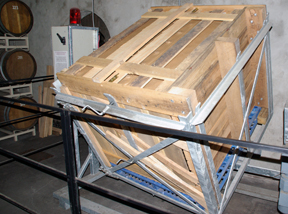 Another innovation is in the making of sparkling wine. Jerry makes sparkling wine in the traditional method. He uses a gyroplatte for riddling the bottles. However, he is experimenting with the use of encapsulated yeast during the secondary fermentation. Using this yeast does not require riddling. Just turn the bottle upside down and the yeast will fall to the neck of the bottle. He even has a machine that exactly pre-measures the correct amount of encapsulated yeast that needs added to a bottle.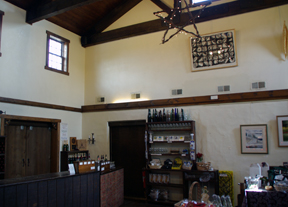 Dark wood floors, ceilings and beams accent the large tasting room. This was our first experience of being able to pour our own wine tastings. Jerry built rectangular boxes lined with foam. Six open wine bottles are inside each box. Wines that need to be kept cooler have ice packs between the bottles. There were three sets of boxes; one for the red wines, one for the white wines and another for the fruit wines. As we remarked on the uniqueness of this, we learned that any visitors who might try to taste more than a tasting size would receive help with pouring their tastings. According to Pennsylvania state law, tastings may not exceed one ounce. Jerry believes that his "wine is a good value." He determines his prices by what he would be willing to pay for the bottle.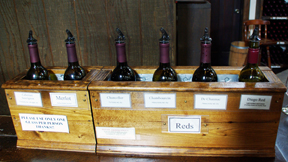 Some of the wines we tasted included a Chardonnay that had a fruit nose and taste with butter on the aftertaste. It had a touch of perceived sweetness even though it had 0% residual sugar. Seyval Blanc was dry with a fruit taste and fruit aftertaste. Vidal Blanc was dry with a fruit taste. Riesling had a floral nose, with a fruit taste. It was slightly sweet with a medium body. Cabernet Sauvignon had a red fruit flavor with light tannins. Chambourcin had a red fruit jam nose and flavor. DeChaunc had a dark red fruit flavor with tannins.
Various items are available for browsing and purchase. As with their wines, the Forests do not believe in overcharging for the giftware. When you stop to taste the wines, take time to browse the gift selections.
Perhaps the best way to sum up Buckingham Valley Vineyards is to quote Jerry about producing quality wine "consider it a journey never a destination."
Buckingham Valley Vineyards
Buckingham, PA 18912
GPS N 40° 18.436' W075° 01.967'
---
Visit this Pennsylvania Winery and Wine & Fruit Trail that partner with Wine Trail Traveler.