Rushland Ridge Vineyards
by
K.L. Sullivan
Summary: Rushland Ridge Vineyards is a small family-run boutique winery with 100% estate wines. Opening hours are limited but this is a very friendly winery with reds, whites and a strawberry wine available for tasting. The wines are only available in the tasting room. Their goal is to create quality wines at reasonable prices.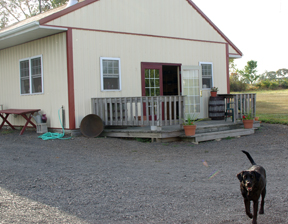 A friendly, large black dog greeted us before we entered the tasting room. We met Lisa Ullman. She and her husband, Ed, are the owners of Rushland Ridge Vineyards. Lisa wears many "hats" at the winery. She is the wine tasting host, lawn mower, vineyard mower and event planner. Ed is involved with the grapes from the vineyard to the finished bottle of wine.
Rushland Ridge Vineyards started in its current location in 1986. Ed's experience with grapes goes back to the 1960's when he planted grapes with his father. Before planting the present vineyards, they sent soil samples to Penn State to determine what grapes would grow best. Today they have four acres of grapes and currently produce a little more than 2000 gallons of wine. Soon the vineyard will increase by two more acres. Current grapes include Chardonnay, Cabernet Franc and Chambourcin.
Ed and Lisa's son made the decision while he was in college that he wanted to return to the vineyard and winery. After graduating and visiting/interning in other wine areas of the world, he has returned. Now he works as the vineyard manager and winemaker.
Ed and his son are excited about the new techniques they have learned from a wine intern from Chili. She will be returning to her own country soon to be a winemaker.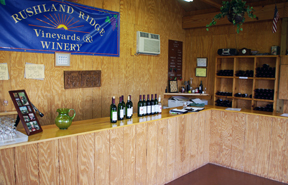 The tasting room opened in 1991. The Ullmans rebuilt the tasting room in the late 1990's. The new tasting room features wood paneling and a wood countertop. Simple with a bright interior, it is a lovely tasting room to experience their wines. Displayed in a window is a cheese plate with a special section with holes to hold individual toothpicks. The plate was a gift from her son after a trip to France.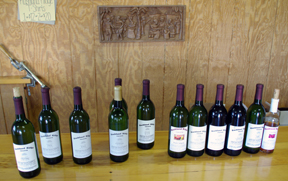 Visitors are encouraged to pour their own tastings. Wines we tasted included Villard Blanc with a floral nose. It was light, crisp and very dry. Villard is a blending grape. Seyval has a fruity taste and is dry. DeChanuac with a dark red color has a dark fruit nose with a fruit and acid balance. White Sangria made with Niagara grapes, has a strong Niagara influence. It is sweet. A special treat is their Strawberry wine that has a "real" strawberry nose and taste but is dry.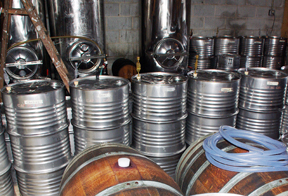 After our wine tasting, we walked through the winery, which is located under their home. We observed several stainless steel tanks. We learned that Ed is creative and built the winery's large stainless steel tanks. He also built the original crusher and de-stemmer machine the winery used. Lisa related how her son believes the crusher/de-stemmer Ed built is better than the new crusher/de-stemmer recently purchased. They are now in the process of testing both machines to see if there is a difference in the quality of a wine made by the two different machines.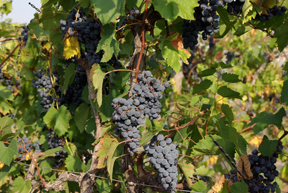 The vineyard is well maintained. Birds and deer are a problem for the winery. However, birds are the number one problem. Netting prevents birds from attacking the ripening grapes.
Rushland Ridge is looking forward to increasing the size of their vineyards and wine production. We wish them much success in this family enterprise.
Rushland Ridge Vineyard
GPS: N40° 14.922' W075° 03.207'
---