Pinnacle Ridge Winery
by
Terry Sullivan
February 2009 update:
Numerous changes have taken place at Pinnacle Ridge Winery since we visited in 2007. Currently they are producing their first Syrah to be released this summer. Traminette is now produced annually, and the 2008 vintage will be released in a few months. The winery portfolio has added a Late Harvest Vidal and in summer 2009 will be releasing a Vidal Blanc ice wine. Total production is now more than 5,000 cases. Most grapes for the winery are sourced from five miles away in Kempton. These growers have 14 acres of grapevines and they have added Riesling, Merlot, Traminette, Syrah, more Chambourcin and Vidal varieties. Brad Knapp, owner and winemaker, has added a new tasting bar to accommodate more visitors. This should help especially on busy weekends. The winery has earned a number of awards for wines. The Pinnacle Ridge 2007 Chambourcin won the Governor's Cup at the 2009 Pennsylvania Farm Show. According to Brad, "This is our third Governor's Cup in seven years and we're thrilled." In January the 2005 Veritas (Meritage blend) was awarded best of show at the Pennsylvania Wine Society review of Pennsylvania wines. According to Brad, "We're excited to have a cellar full of wines from two back-to-back excellent vintages (2007 and 2008).
---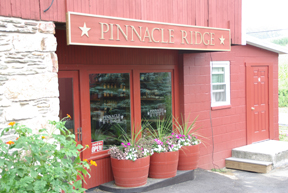 Pinnacle Ridge Winery is located on Old Route 22 in Kutztown, Pennsylvania. Just past the bank barn, a few remnants remain of old, Old Route 22. A recent storm uncovered the slate that once served as a roadbed. The winery and tasting room were built in the large 1851 bank barn. It gives a rustic feel to the winery and adds to the simplicity of the craft of making wine with minimal interference. One section of vineyards was an easy walk up a hill from the bank barn while vines also grow behind the barn.
Brad Knapp is the owner, vineyard manager and winemaker. He steers this vertical operation in the direction of making a small quantity of fine wines. Brad bought the land in 1990 and planted the vineyards in 1993. In 1995, he opened the winery to the public.
He currently produces between nine and ten thousand gallons of wine (about 4000 cases). Rather than increasing the quantity of wine, Brad wants to put his emphasis on the quality of his wine. Although Brad's background is in chemistry, he approaches wine as an art. He believes that a winemaker's most important tool is his palette. His wife, Christy Allen, designs the colorful, eye catching wine labels.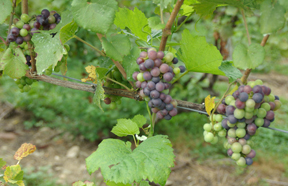 Brad's friend owns another vineyard about five miles from the winery. Brad purchases all the grapes from this ten-acre vineyard. He buys grapes by the acre rather than by the ton. This enables both Brad and his friend to drop grapes in order to produce fewer and better grapes. We walked with Brad through a small part of the three-acre vineyard located at the winery. He showed us some of the damage to a few berries caused by a recent hailstorm. It was a reminder that one cannot totally control the growing of grapes and that the beginning of winemaking is in the vineyard. Walking through the vineyard on this hot August day afforded the opportunity to see veraison, the state where grapes begin to change colors. Some of the grape varieties planted include the traditional Champagne grapes Pinot Noir, Chardonnay and Pinot Meunier as well as Riesling, Chambourcin, Cabernet Sauvignon, Merlot, and Cabernet Franc.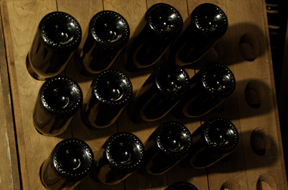 The winery can host large group events on the second floor of the bank barn. Wine making equipment and storage tanks and barrels are on the first floor along with the tasting room. One can see barrels and tanks resting behind the tasting bar. A newer well-insulated building has several large stainless steel tanks. This building is kept cool. It was a refreshing break from the near 100-degree temperatures outside. A smaller building, once a potato cellar, houses the sparkling wines. Bottles are stored horizontally in one section while other bottles are in a riddling rack. Brad riddles the bottles by hand, a chore that proves the winemaker's love for making sparkling wines.
The tasting room is on the lower level of the bank barn. There are shelves holding wine bottles and awards including two Governor's Cups. An assortment of accessories and gift items are for sale.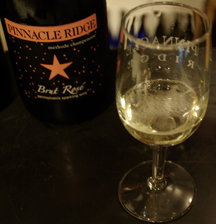 During our tasting, we were able to taste three sparkling wines. We won't pass up the opportunity to try sparkling wines, a personal favorite. Both the Brut Rosé and the Cuvee Chardonnay were dry, with a good fruit and acid balance. Both were refreshing and pair well with many different foods. The Blanc de Blanc was made from the Cayuga grape and had a wonderful fruit taste. Although it was dry, the forwardness of the fruit suggested a sweetness. Brad suggested pairing this sparkling wine with popcorn, a food pairing that we are going to try.
We also sampled the Chambourcin Rosé, which had a hint of orange in its color. It had a red fruit bouquet and fruit taste. This is a dry rosé, however the fruit leads one to believe it has a hint of sweetness. It finished dry and the acid on the finish makes this wine a good wine to pair with foods. The Riesling had a peach bouquet and peach taste. It finished slightly sweet. The number one selling red is the Chambourcin. It had the red fruit bouquet and taste and finished slightly sweet. The Chambourcin had a smooth mouth feel and white wine lovers will find this wine an attractive alternate to their whites.
We enjoyed our visit and tour of Pinnacle Ridge Winery. We are looking forward to a movie, popcorn and the Blanc de Blanc.
Pinnacle Ridge Winery
Kutztown, Pennsylvania
GPS: N 40° 34.756' W075° 46.859'
Local lodging: Hilton Garden Inn, Allentown West
---