Manatawny Creek Winery
by
Kathy Sullivan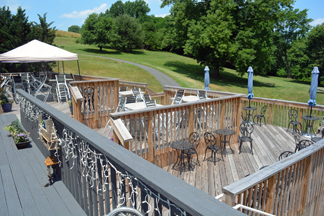 Summary: Manatawny Creek Winery in Amityville, Pennsylvania is a family-owned, boutique winery located in Pennsylvania's beautiful countryside. A large deck overlooking the farm property is available for guests where they can enjoy a glass of wine. Visitors will discover an array of different wine styles.
While driving to Manatawny Creek Winery from the Washington, DC metropolitan area took a bit longer than expected, we discovered the drive was definitely worthwhile. We found the winery located on an old farm property where farm buildings have been removed or modified to establish a winery and its equipment.One section of winery roof has solar panels attached providing about 25-30% of the winery's power needs.
The winery on Levengood Road was easy to find with a large sign. Immediately after turning onto the driveway we drove past a large, two-story stone farmhouse. Later we learned that the original section of this house was built around 1800. In 2008 the house was renovated and upgraded most recently. During a summer visit, visitors will notice a large netted framework near the home. The netting provides protection for the large blueberry bushes from the many birds.
Inside the tasting room we immediately met the President of Manatawny Creek Winery, Darvin Levengood, who laughed and said that he did many things including "cleaning the tanks, spraying the vineyards and mowing grass". He added that five family members are owners of the winery including his wife, sister and brother-in-law and his daughter, Joanne, who is also the winemaker and chief operating manager.
Darvin's grandparents purchased the 87-acre property in 1918 and the farm functioned as a self-sufficient dairy. Darvin quickly ran down a list of farm animals on the land back then including: cows, horses, chickens, pigs, cats and dogs. The property continued as a dairy farm until the early 1960s.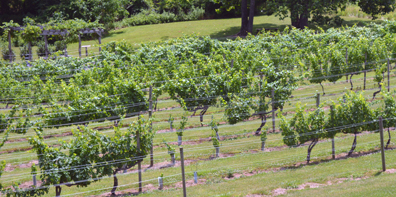 Vineyards
The Manatawny Creek vineyards consist of three sections. The first vineyard was planted in 1991 with French hybrid varieties. The grape varieties growing in this vineyard include: Marechal Foch, Chancellor, Steuben, Cayuga White, Vidal Blanc and Seyval Blanc. The second vineyard has vitis vinifera grape varieties and Chambourcin - a hybrid. The grapevines planted in 1998/1999 and succeeding years included Cabernet Franc, Cabernet Sauvignon, Riesling, Merlot, Syrah, Chardonnay, Muscat, Gewürztraminer, Petit Verdot, Pinot Noir and Pinot Gris. Within view of the large deck is a demonstration vineyard, where visitors can tour. This vineyard is planted with 12 varieties in 12 rows.
In addition to the birds being a problem with the blueberries, the birds also go after the grapes. This necessitates the use of netting for all of the vineyards as harvest approaches.
Winemaking results in a large amount of pomace, grape skins and seeds. The pomace at Manatawny Creek Winery is taken to a nearby field where compost is produced using that pomace and horse manure from local farms. Manatawny uses the compost in their vineyards. Darvin noted a study completed by Penn State that found using compost in the vineyards is better for the grapevines.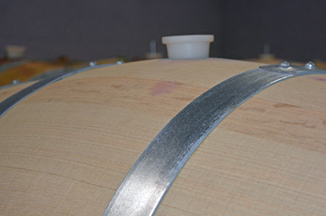 Winemaking
In addition to the onsite grapes, Joanne also sources grapes from local growers and juice from North East, Pennsylvania. The winemaking protocol at Manatawny includes aging many of the wines for more than a year. Current wine production is about 4,500 cases.
Joanne's interest in winemaking goes back to her high school days when she helped harvest grapes. Her father was making wine in their home during the 1970s and 1980s. Eventually Joanne tired of her corporate job in environmental engineering; she approached her father with a plan offering to attend enology and viticulture school at UC Davis if her father retired early and helped with the planned winery and vineyards. Her idea was to take her grandparents' property that she knew well, add a vineyard and start a winery. While at UC Davis, Joanne apprenticed at California wineries, one of which was approximately the same size as Manatawny Creek Winery and therefore an ideal fit for her wish to develop the Pennsylvania winery.
The first commercial production was in 1997/1998 when the winery crafted around 1,000 gallons of wine with sourced grapes, and a lot of used and new equipment in a just-completed building.
Wines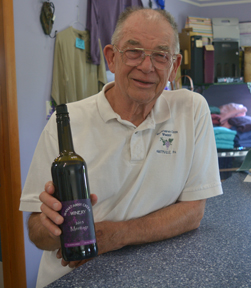 The tasting room has a long counter for wine tasters. The room is filled with many tempting wine-related gift ideas. As visitors taste wines, it is easy to browse. Attached to the tasting room is a large multi-level deck. Tables and chairs make this an ideal location for enjoying a glass of wine. We tasted several wines with Darvin (pictured right).
Gewürztraminer, with 12% alcohol, was a light yellow color. The aroma was very floral with hints of roses. The taste was sweet with hints of nuts, roses, spices and peaches. The finish was crisp. Pinot Grigio, with 13% alcohol, was a pale yellow color. The wine offered aroma notes of melon, citrus and pineapple. The taste reminded one of tropical fruit. The wine was full-bodied and smooth.
Meritage 2013 had 13% alcohol. The wine was a blend of Cabernet Franc, Merlot, Cabernet Sauvignon, Petit Verdot and Malbec. The wine was an opaque, dark ruby color with a black hue. The aroma was of black berry fruits. The taste offered black fruit, spices and herbal hints.
The wine had tannins and a medium/full body. The crisp finish had fruit yielding to spice.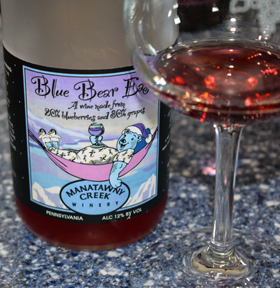 Sparkling Raspberry was a blend of raspberry and Seyval Blanc. The wine was red with an orange hue color. The wine offered intense raspberry aromas and tastes. Blue Bear Ease with 12% alcohol was a blend of blueberries, Seyval Blanc and Cayuga. The wine was sweet with intense hints of blueberries. There was a long blueberry aftertaste. This wine would be terrific in a cake recipe calling for a fruit wine.
Events
The winery has what Darvin referred to as mini-festivals from May to October. The festivals include food trucks and music. Other special events at Manatawny Creek Winery are cooking classes and special painting and wine classes. Watch the Manatawny Creek Winery website for event updates, wine facts, and for a full listing of all wines offered.
Manatawny Creek Winery is an ideal spot to stop and enjoy a wide range of wines in the tasting room or on the multi-level balcony while enjoying Pennsylvania's countryside ambiance.
Manatawny Creek Winery
227 Levengood Road
Douglassville, Pennsylvania 19518

GPS: N40º 17.750' W75º 43.161'
Article written July 2016
---