Amoré Vineyards & Winery
by
Kathy Sullivan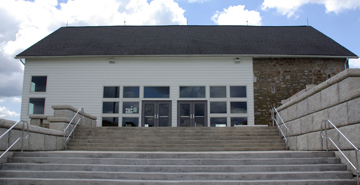 Summary: Amoré Vineyards & Winery offers visitors a delightful visit to a winery and tasting room housed in a 200-year-old barn. Located a short distance from the vast greenhouse also owned by Dr. Amoré, the winery is easy to locate.
Amore Vineyards & Winery, an all estate winery, is one of the many enterprises in which Dr. Gregg Amore is involved. In addition to owning a vineyard and winery, he is also involved with aviation, farms acres of fresh produce, and produces two million greenhouse plants. Dr. Gregg Amore, a psychologist and professor at DeSales University also conducts corporate seminars. The winery and vineyards are located on the farm where Dr. Amore was raised. The farm has been in the Amore family since his Grandfather purchased it in the 1940s.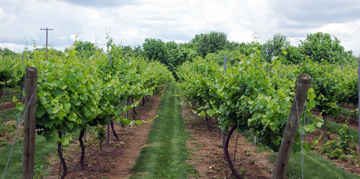 Dr. Amore and his wife, Diane, started Amoré Vineyard & Winery on property where he grew up. They planted vineyards in 2000. Today the vineyards consist of five and a half to six acres. Varieties include Chambourcin, Vidal, Concord, Cayuga, Riesling, Chardonnay, Cabernet Franc, Noiret and Niagara. Vineyards can be seen on the sides and behind the facility. The winery opened in 2003.
Tasting Room
The tasting room is located on the lower level of a renovated 200-year-old dairy bank barn. The original barn beams are still in the building. A light pinewood ceiling placed above the original ceiling beams emphasizes the historic beams. The room lighting is subdued and visitors will enjoy meandering and browsing the gift items available. Small stoves provide heat during the cold winters. Tables and chairs near the tasting counter offer a respite for wine travelers. A large window overlooks the tank room.
Outside, in front of the tasting room, small tables and chairs are provided under an overhang providing shade and protection from rain. To the right of the tasting room a patio with tables and chairs provides a pleasant area to enjoy a glass of wine with the vineyards just feet away.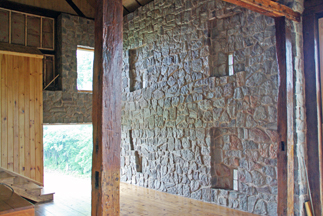 The second level of the facility, under construction at the time of our visit, is an event center that can host weddings, receptions, anniversaries, birthday parties and more. It is interesting to note the stone and wood construction. At one time there were windows in the stone structure that were later filled with stone. Where the historic barn was banked into a hill a striking stone deck and wide steps have been added. The steps lead to a grass area where events can take place. In June views of the vineyards from this area are delightful.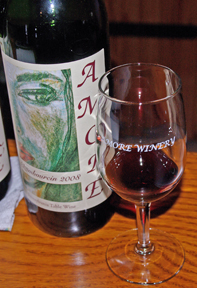 Wines
The winery produces several types of wines including red, pink, white, and sparkling. Wine lovers will discover dry, oaked, and sweet wines. Diane created the unique artist wine labels.
The most popular wine is Red Rapture. This was produced with Chambourcin and has a touch of sweetness. This is a good wine for those tending to move from whites to dry reds. Chardonnay was a light straw color. The wine offered an apple aroma with a hint of oak. The taste was smooth with apple notes and a hint of vanilla and caramel. Riesling had a floral aroma. The taste was smooth with floral rose notes and peach nuances. The crisp finish was fruity yielding to floral. Bella Dona was a white Concord made from Concord grapes with very little skin contact. The color was a light orange. The aroma and taste was like Welch's Concord grape juice. Apricot Blush was produced with a base of Niagara. Apricot notes were throughout the tasting. Rapport offered raisin and jammy fruit notes.
Events
Amoré Vineyards & Winery takes part in the Lehigh Valley Wine Trail Events. These events include Wine in Bloom, March Madness, the Open Gate Family Tour and Wine on the Mountain. Private events can also be scheduled at the winery including bridal showers, reunions, business meetings and weddings.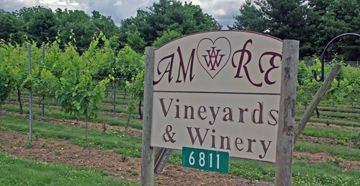 Contact Amoré Vineyards & Winery in advance for their hours. Attend an event or host a private event at the winery. Enjoy a visit to Amoré Vineyards & Winery in the Pennsylvania countryside.
Amoré Vineyards & Winery
7054 Beth-Bath Pike
Bath, Pennsylvania 18014
GPS: N40º 41.545' W75º 23.307'
---