Flickerwood Wine Cellars & Lounge
by
Kathy. Sullivan
Summary: Flickerwood Wine Cellars & Lounge offers visitors a delightful visit to a tasting room where details add to the ambiance of the facility. Located in the Allegheny National Forest, the winery receives many visitors who are traveling through the National Forest.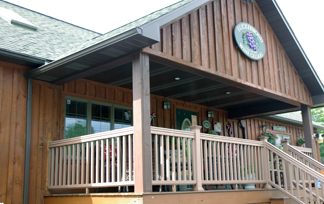 Flickerwood Wine Cellars & Lounge was established in 2000 after much consideration. Ron Zampogna had been making wine for 30 years as a hobby. Making wine came naturally since he came from an Italian family. He commented, "You either make wine or find another family." He started making wine in a five-gallon carboy and then received advise on making wine in a 500 gallon tank. As a result of retiring from the US Forest Service, he was looking for something to keep him busy. His two sons who are carpenters and two daughters encouraged him to start a commercial winery. His adult children have become very involved in the winery. One son, Rick Zampogna is a partner and winemaker. Two sons, who are carpenters, constructed the finely built facility. One daughter creates the images for his wine labels. Both daughters operate the Flickerwood Wine Cellars' tasting room in Kennett Square, Pennsylvania.
Steps or a ramp can access the front door to the winery. Outside the door is a porch with two small seating sections. This would make a wonderful spot to enjoy a glass of wine. Inside, the first section is filled with bottles of wine and gift items to browse. The room opens into a wider room, the lounge, where a tasting counter is located at the back. Several uniquely made tables are available for enjoying a glass of wine. A corner area holds a percussion set with amplification for evening entertainment. Ron created a music group that plays in the lounge. A stone fireplace adds to the ambiance. On the wall is a map from 1874 that shows the location of wine regions throughout the world.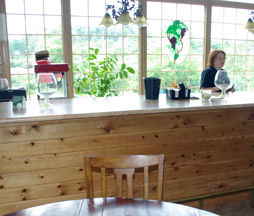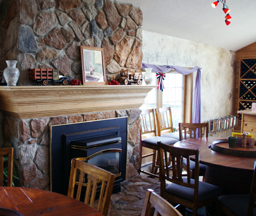 When visiting the winery ask about the special Italian blessing on a wall
May your life be like
a bottle of wine
tasty, sharp and clear.
And like good wine
may it improve
with every passing year.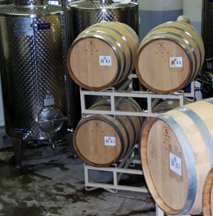 Flickerwood Wine Cellars produces red, white, blush and fruit wines. Most grapes are sourced from North East, Pennsylvania. The winery is producing 7,500 cases of wine in 2009. Since the demand for the wine is high, production will continue to increase.
White Wines
Riesling offered a floral and peach aroma with citrus and peach nuances. The finish was crisp with citrus. Chardonnay Gold had an apple and banana aroma. The smooth taste had apple, banana and tropical fruit nuances. The finish was crisp and fruity. The aroma of the Pinot Grigio was citrus while the taste was smooth with citrus. The finish was crisp and sweet with a fruity aftertaste.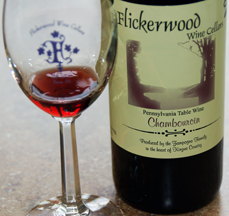 Red Wines
Marechal Foch offered a spicy aroma with a spicy taste and red cherry notes. There were mild tannins on the finish. Sleep Hollow Red was a blend of Pennsylvania grapes. It was a semi-sweet wine that offered a sweet aroma of red plums and cherries. The sweet taste had notes of red berries and red plums. The finish was slightly drying with fruit nuances. The wine was named after the Sleepy Hollow area where Sleepy Hollow Road meets Flickerwood Road. Flickerwood Sunset offered a taste of summer fruit including strawberries. Suggested uses include campfires, parties and picnics.
Fruit Wines
Strawberry Fields was a wonderful blend of strawberry and rhubarb. The aroma was reminiscent of fresh baked strawberry-rhubarb pie. The taste was of strawberries with rhubarb notes. The sweet finish had intense strawberry nuances. Red Raspberry wine offered raspberry nuances. The taste was sweet with lots of red raspberry notes. The wine had a long aftertaste with lots of raspberry flavor.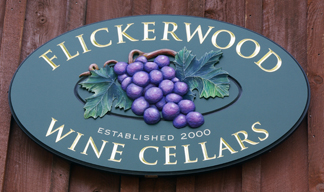 While visiting Allegheny National Forest don't pass up the opportunity to visit Flickerwood Wine Cellars & Lounge. See what they have to offer. If you are looking for winemaking supplies or wine accessories you may find just what you want.
Flickerwood Wine Cellars
309 Flickerwood Rd.
Kane, PA 16735
GPS: N41º 39.520' W78º 46.742'
---