Fero Vineyards and Winery
by
Terry & Kathy Sullivan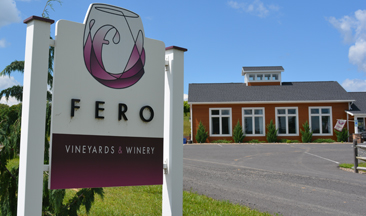 Summary: Passion transcends the vineyard and winemaking at Fero Vineyards. A small part of Europe is seen growing in Central Pennsylvania. Fero Vineyards and Winery specializes in European varieties, some from ancient wine producing regions.
The tasting room for Fero Vineyards and Winery is located near the thriving vineyards. At first glance the facility reminds one of a ranch-style home. Upon entering, visitors will see a large, thick wood countertop for the wine tastings. The counter and table tops were created from trees on the property. Numerous signs decorate the tasting room as well as two paintings from one of the wine and sip classes. Signs include a unique Fero Vineyard spelled out with photos from the area. Another sign says, "it's a smile, it's a kiss, it's a sip of wine, it's summertime" signed Kenny Chesney.
Adjacent to the tasting room is a much larger room for wine events. Large windows provide plenty of light to brighten the area. Numerous events take place at Fero winery including charity fundraisers on the first Friday of the month. Watch the Fero website for public events including community events, fundraisers, business meetings and the popular Wine-N-Mile. Private events at the winery include weddings and bridal showers.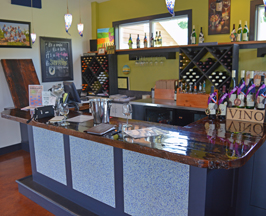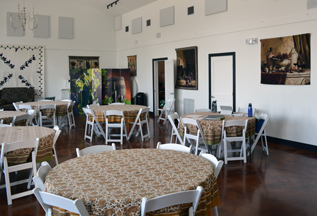 In addition to Fero wines, visitors can also purchase local artisan cheeses and Rip Rap Crackers. Local cheeses include garden pepper jack and savory oregano cheddar. Cracker varieties include Roasted Garlic & Cheddar, Real Salt, Rosemary & Celtic Sea Salt, Vanilla Fig and Parmesan Rye.
Chuck and Daneen Zaleski own Fero Vineyards. Chuck's interest in wine began when he was studying in Vienna in 1982. Chuck explained, "I was a student there for a semester and lived in the wine district. I was enamored with the wine culture. There is nothing like studying European history sitting at a heuriger overlooking the vineyards surrounding Vienna. I was a biology major and couldn't help noticing the similarities between Pennsylvania's climate and Austria. The Austrians made wonderful wines and the seed was planted."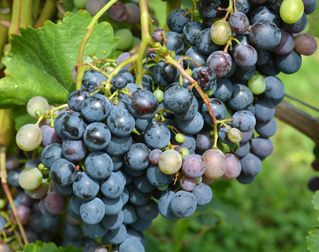 Vineyards
An experimental vineyard was planted in 2004 to determine what varieties would grow well in the terroir of Central Pennsylvania. Six years later, Chuck and Daneen had a good idea of what varietal grapes they could consistently rely on and those that could not be counted on. By 2010, a 12.5 acre vineyard was planted with Grüner Veltliner, Pinot Gris, Riesling, Lemberger, Pinot Noir and Saperavi. The Saperavi is an old grape growing in the country Georgia. Chuck was able to source Saperavi vines from the descendants of Dr. Konstantin Frank's vines along Keuka Lake in the Finger Lakes. Vineyard practices include sustainable principles.
Today the half-acre of Saperavi is doing well and in mid August 2015 the grapes are undergoing veraison. The vineyard managers noted that the Saperavi variety survives the cold winters of the area which can go to 0 degree F.
In speaking of the challenges of grape growing in Central Pennsylvania, Chuck wrote, "Central Pennsylvania is at the edge of some better established growing regions. We are between the Finger Lakes and Virginia. Viticulture in this climate is wild. We have about 180 days in the growing season with ample heat (3,000 GGD) and rain (usually 15") in the growing season. The diversity of species and the sheer biomass of Pennsylvania's summer season provide us with great potential and challenge. We have to work harder to get the fruit balanced, ripe and healthy. "
During a walk through the vineyards, we were delighted to see a statue of the Blessed Virgin with her foot on a serpent that had a grape in its mouth. We were tempted to think that the prolific vineyards were being protected from deer, birds and other pest by her watchful eyes.
Winemaking
Chuck enjoys making wine with Pennsylvania grown fruit. The key was selecting varieties that do well in the region. When referring to the traditional qvevri winemaking that is done in the country Georgia, Chuck said, "I love to experiment and making wine in such a traditional way seems irresistible. That experiment can begin as soon as I can find a suitable qvevri. Right now my wine making for the Saperavi is done in a way that tries to replicate those conditions. We ferment and store on the lees in a tall slightly breathable container without oak and try to maintain constant temperatures."
Currently Fero Winery produces about 3,000 cases per year.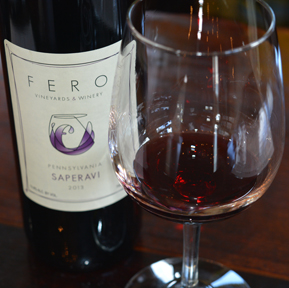 Fero Wines
The tasting notes at Fero are unique. Rather than relating the aromas and tastes of the wines, Chuck prefers offering consumers the specific chemistry of the wines. The data includes residual sugar, TA (total acidity), brix at harvest and more.
Grüner Veltliner 2013 had 2 grams/liter residual sugar. The light yellow wine offered aromas of citrus, tropical fruits and was floral. The taste was of tropical fruits and rose petals. The finish was crisp and long. The aftertaste offered fruit and floral notes. Riesling 2013 was a pale yellow with a lightly sweet aroma and melon. The taste was crisp and refreshing with notes of white peach and melon. The finish was crisp, dry and lingered. PInot Gris 2012 offered an excellent clarity. The light yellow wine is produced in stainless steel with whole cluster press. The taste of the wine included grapefruit/citrus. The wine was dry with a hint of sweetness.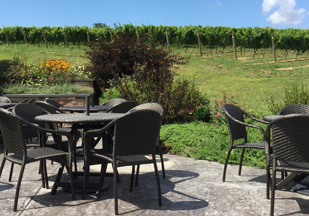 Estate Lemberger 2013 had 1 gram/liter of residual sugar. The translucent ruby wine offered notes of plum and dark fruits with tannins. The crisp finish had notes of fruit and leather. Pinot Noir Rosé 2014 with 3 grams/liter residual sugar was a translucent red with an orange hue. The aroma and taste were of berry fruit and the wine offered a long fruity finish. The wine had a hint of tannins and a crisp finish. Saperavi 2013 with 1 gram/liter was a translucent dark ruby color with a pink hue. The aroma had dark fruit notes. The taste was of blackberries, black cherry and leather. This Saperavi had bold tannins and a long fruity finish.
While traveling through Central Pennsylvania, stop by Fero Vineyards and Winery to experience the potential for well crafted European varietal wines. During warmer weather you can enjoy sitting on the patio with vineyard views.
Fero Vineyards and Winery
965 JPM Rd.
Lewisburg, Pennsylvania 17837
GPS: N40º 59.726' W76º 53.197'
Article written August 2015
---