Reid's Orchard Winery
by
K.L. Sullivan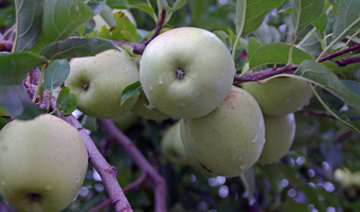 Summary: Enjoy a visit to Reid's Orchard and Winery located on the new Mason-Dixon Wine Trail. Wines are available at the farm/winery location and the Jennie Wade Birth Place tasting room in Gettysburg, Pennsylvania.

Reid's Orchard and Winery emphasizes fruits and traditional wines grown on and produced from onsite vineyards and orchards. The farm with a tasting room area in the winemaking facility is located in the historic Buchanan Valley. An additional tasting room is in Gettysburg at the Jennie Wade Birth Place. Fruit and vegetables can be purchased at several farmers' markets in Pennsylvania and Maryland.
Reid's Orchard and Winery consists of 100 acres located in the Buchanan Valley of Pennsylvania. David Reid has owned the property since 1976 producing fruits and vegetables including apples, apricots, peaches and tomatoes. While they have always had grapes mostly Concord, it was 10 years ago the decision was made to add wine grapevines. Wine grapes planted include Cabernet Sauvignon, Cabernet Franc, Merlot, Sangiovese, Petite Syrah, Petit Verdot, Nebbiolo, Pinot Noir and Zinfandel.
Reid believes that grapes will do well in this region of Pennsylvania just as his other fruits do. The excellent soil in the region is loamy and has lots of rocks providing good drainage. The microclimate consists of a cold winter but it is consistent.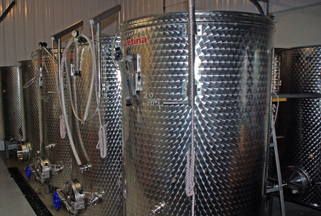 Reid's Winery opened in 2009. In addition to producing grape wines, Reid also produces fruit wines using 100 percent fruit from the farm. With all wines David Reid believes in working with nature and working with what they are given fruit wise. He goes on to say that if the fruit is less than ideal, "we try to make it worthwhile." Our visit to Reid's Orchard and Winery took place just after a heavy and prolonged rain event in 2011.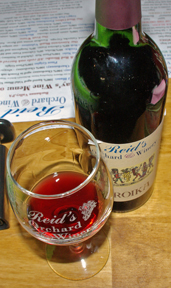 Wine
Reid believes that the wines in this region of Pennsylvania have the potential to be the best in the state. Reid produces red, white and fruit wines. Some of these include Chardonnay, Vidal Blanc, Merlot, Pinot Noir, Zinfandel, Strawberry, Cherry, Peach and Blueberry. We visited at a time when the winery tasting room was closed and only one wine was available for tasting. Troika was a blend of Merlot, Cabernet Franc and Syrah. This ruby colored wine offered dark fruit notes including blackberries and plums. The fruit yielded to earthy tones with mild tannins.
Fruits and Vegetables
Reid's Orchard and Winery offers a large variety of produce. At farmers' markets look for apples of which they have more than 75 varieties, apricots, blueberries, cherries, pears, plums, and Arctic kiwis.
Vegetables available include tomatoes, sugar snap peas, and lettuce. In May, consumers can purchase vegetable plants for their own backyard gardens.
Unusual items available include walnuts, currants, crabapples, and gooseberries.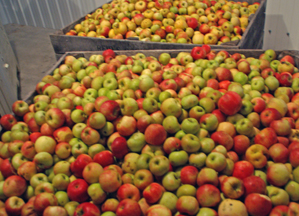 Value Added Farming
Adding value to traditional products is an important aspect of successful farming. Reid's value added products include ciders: Apple, Apple-Grape, Apple-Raspberry, Apple Cranberry, Apple Blueberry and Pure Pear. In addition, consumers can look for Apple Butter, Cherry Butter, Peach Butter, Pear Butter and Pumpkin Butter.
Wines and Fruits Availability
Fruits and vegetables are sold at farmers' markets in Pennsylvania and Maryland. While stopping by the fruit stand be sure to ask about the wines being produced by Reid. Wines are available at the winery and the Jenny Wade Birth Place in Gettysburg.
We look forward to a return visit to Reid's Orchard and Winery to taste more of his wines.
Reid's Orchard & Winery
2135 Buchanan Valley Road
Orrtanna, Pennsylvania 17353
GPS: N39º 56.484' W77º 22.612'
---