Mazza Winery
by
K.L. Sullivan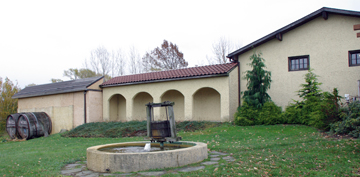 Summary: Mazza Winery, established in 1972, has influenced the development of wines in Pennsylvania. The Mazza family has operated the winery for almost 36 years and takes pride in the wine region and hospitality. They hope that it shows in their wines.
The Mazzas built the winery facility in a Mediterranean style. Visitors enter into a sales room with wine and wine accessories and are then directed to a large tasting room. The tasting counter is double L-shaped and can easily accommodate many visitors. There is plenty of room to move around the many-sided tasting counter. The white textured walls enhanced with wall lights, highlight the lightwood tasting counter. This room has an old-world charm décor. Pictures highlight traditional winemaking and thick wood shelves display artifacts.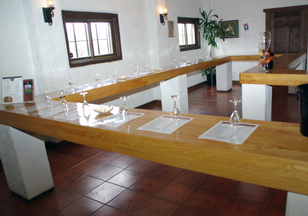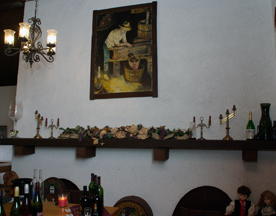 We met Mario Mazza, enologist for Mazza Winery. Mario's father and uncle built the winery in 1973. Mazza Vineyards now owns South Shore Wine Company and Mazza Chautauqua Cellars in New York State. Mario creates four different styles of wines at the Mazza Winery for four separate wineries. Mario earned his Master of Enology at the University of Adelaide in Australia.
The winery produces 40,000 cases under four different brands. The Mazzas believe that different wines are needed in different markets. They own seven acres of grapes including Vidal for ice wine, Chambourcin and Rubiana. Mazza Winery has produced ice wines for the last 23 years.
Mario believes that the winery receives better quality fruit today. He spends a lot of time with the vineyard owners, believing that they need to work together, adding it is a "very complex thing." In the final analysis, he wants to work with growers who want to work with them. The winery has been working with some growers for over 30 years.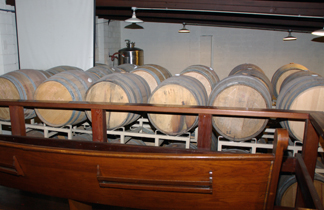 In the tasting room, the winery offers education, not just wines. Tours are frequently available to those interested visitors. A short video is available in the tank room showing the activity that goes on in a winery. Wines that are aging are not as exciting to watch as the activity that takes place during a crush, press, fermentation and bottling.
The wine list is long. Mario believes that when you are not in a well-established area, you need a larger portfolio. We tasted a range of wines with Mario.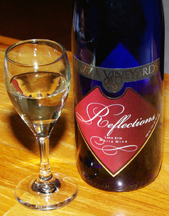 White Wines
Reflections is a blend of Cayuga, Riesling and Vignoles. The result is a smooth, fruity taste with a crisp, fruity finish. Reflections is a wine that shows "what you think is representative of the region." Several wineries along Lake Erie produce a wine called Reflections to showcase white grapes in the region. Pinot Grigio 2007, with a sweet, flowery aroma offered a smooth citrus taste with a crisp finish. Riesling 2007 had a smooth fruit with citrus taste. The finish was crisp with a long fruit aftertaste.
Red Wine
Cabernet Franc 2006 offered a pepper and spice aroma. The taste was of blackberries, black cherries and pepper. The crisp finish with mild tannins changed from fruit to pepper.
Specialty Wines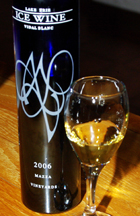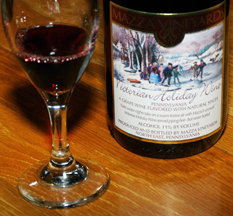 Vidal Ice Wine 2006 had a honeysuckle aroma with an apricot and honeysuckle taste. The finish was crisp with a honey aftertaste. Holiday wine offered an aroma of cinnamon with a smooth spice taste. The finish lingered. Consider serving this wine during your Thanksgiving and Christmas holidays or perhaps on a cold winter night. Harvesting the grapes and then freezing them produced Crystals of Chambourcin. The taste was of strawberries with a long aftertaste.
Mazza offers a winery experience for visitors. Be sure to consider taking a guided tour of the facility.
Mazza Vineyards
11815 East Lake Road (Route 5)
North East, Pennsylvania 16428
GPS: N 42° 15.071' W 79° 47.998'
---