Arrowhead Wine Cellars
by
K.L. Sullivan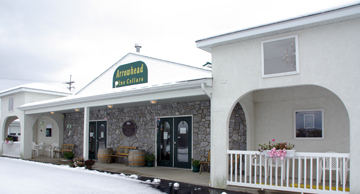 Summary: Arrowhead Wine Cellars offers visitors an opportunity to taste wines and browse a large selection of giftware. Next door to the winery, a seasonally opened fruit market, gives visitors the opportunity to purchase fresh fruit or pick-your-own fruit and browse other gourmet items.
Arrowhead Wine Cellars owned by Nick and Kathy Mobilia opened in 1998. Their location is in the middle of the triangle of three cities: Cleveland, Buffalo and Pittsburg. Arrowhead Wine Cellars' history goes back many years. In 1980, they began pressing apples. Later they began pressing grapes and wineries began purchasing the juice. Today they have 135 acres of grapes and buy grapes from their neighbors. The first year of operation as a winery, they produced 2,800 gallons of wine. In 2008, they produced 25,000 gallons (over 10,000 cases).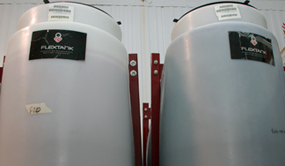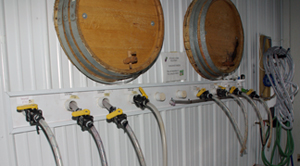 We had a tour of the winery with Nick. He explained that he uses "rice hulls" as an aid for extracting juice from grapes. With his method, the grapes are quickly pressed. He also showed us several Flex tanks designed and tested in Australia. Nick believes that these tanks have many advantages over using oak barrels including cost, space saving, and yield impressive wines. The winery sells juice to home winemakers as well as other wineries. Homewine makers can bring their carboys or other containers to the winery and "fill up."
The tasting room has a large fireplace that adds to the ambience. It offers an abundance of gift items to purchase. Items to purchase include seasonal gifts, jewelry, apparel including ties and much more. Be sure to take time to browse the gifts here. Kathy Mobilia and her daughter, Jennifer, maintain the gift shop and tasting counter. Jennifer occasionally travels to New York City looking for items to display and sell in the tasting room. On the day of our visit, Kathy and her daughter had festively decorated the tasting room for Christmas.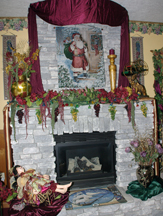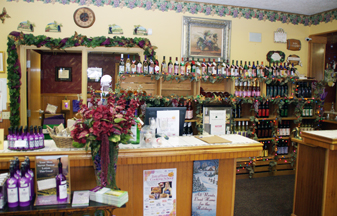 We tasted several wines and enjoyed the pleasant atmosphere. All of the Arrowhead wines are from grapes grown on their property.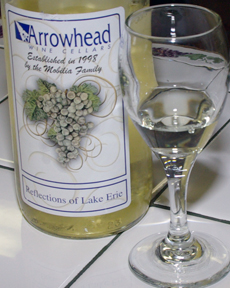 White Wines
Dry Riesling offered a mineral aroma with a fruit taste. It was very dry. Reflections of Lake Erie is a blend of 95 percent Seyval and 5 percent Chardonnay. The taste was smooth and fruity. There was a perceived sweetness though it was a dry wine. Semi-Dry Riesling with a residual sugar of two percent is one of the winery's best sellers. The taste offered apple and citrus nuances. The finish began sweet and then dried. Vignoles had an aroma of yellow stone fruit. The taste was of apricot and peach. It was sweet with a lingering fruit taste.
Red Wines
Semi-Sweet Fredonia had a dark pink color. The aroma was labrusca. The taste was smooth with the native American grape taste. There was a crisp finish. Chambourcin 2007 was the best selling red wine. The color was a dark purple. The aroma was of black fruit. It was smooth with a blackberry taste and oak. The finish went from fruit to oak with tannins.
Specialty Wines
Buffalo Blush was a blend of Steuben and Buffalo grapes. It is also one of the best sellers. It offers a native American grape aroma and the taste is sweet. The Buffalo grape was developed at Cornell University and is similar to Concord grapes in appearance. Its tannins are similar to vinifera grapes. Port was produced from Concord grapes. It offered a Concord aroma and taste. The Port finished sweet with a long Concord aftertaste. This port is like grape juice with a kick.
In season, be sure to stop at the Mobilia Fruit Market, next door to purchase fruit and other food items. The Mobilia's opened up this fruit market July 1, 1999. Nick proudly noted that he hires high school students to run this portion of the business. Enjoy your visit to Arrowhead Wine Cellars
Arrowhead Wine Cellars
12073 East Main Rd.
North East, Pennsylvania 16428
GPS: N 42° 13.800' W 79° 47.308'
---