Folino Estate Vineyard & Winery
by
Kathy Sullivan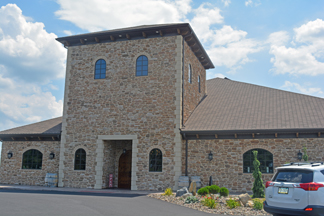 Summary: Folino Estate Vineyard & Winery, one of the newest wineries in Pennsylvania, offers a large Italian-style restaurant and two large event rooms. The winery is a celebration of Italian culture with a focus on quality wine and food.
Wine enthusiasts and food lovers can easily find Folino Estate Vineyard & Winery in an Italian-style villa located on Old Route 22. The immense stone Italian-style building recently opened in November 2015.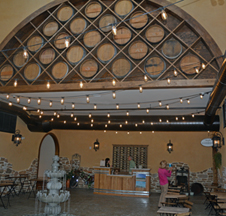 After approaching the winery set back from the road, visitors enter a large anteroom where they will find a five-foot stone fountain with trickling water, tables and chairs, and a sign-in counter where they will be directed to the restaurant, tasting room, or event rooms.
In a short time, Michael Vorauer, the winemaker arrived and provided us with an extended and detailed tour of the facility.
Winemaker at Folino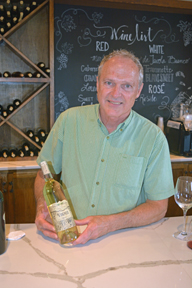 Michael moved to Pennsylvania from Texas because it reminded him of the Austrian countryside which he enjoyed. He mentioned how in Austria there are large urban areas with many small towns, just as in this Pennsylvania region. His winemaking journey began in 1978 in Lubbock, Texas at the first winery in Texas to open since Prohibition. Eventually Michael completed his degree in horticultural science.
During the 1980s, Michael wanted to learn Germany winemaking techniques including adding some of the grape juice to the wine to back-sweeten the wine made from the same juice. Beginning in 1985 he spent three years making wine near Germany's Rhine River. Now located in Pennsylvania, Michael said that existing as a winery and restaurant is a "benefit of both." He concluded that it is an advantage at Folino that the wines are readily available to the restaurant.
While talking with Michael, he noted, "I am not a winemaker per se, I am the keeper of the grapes."
Andrea and Marco Folino
The owners of Folino Estate Vineyard & Winery are Andrea and Marco Folino. Andrea read a magazine article about a husband and wife team who opened a winery. Intrigued Andrea suggested to her husband, Marco, "Why don't we plant a vineyard and build a winery?" Marco was taken with the idea. Eventually the couple decided to open a combination restaurant and winery. The Folinos believe that the winery and restaurant work with the synergy between the two.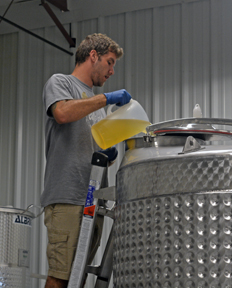 Winery
The winery is located in a separate building outside of the main building. Currently an addition is being added to the main facility to house the tanks and oak barrels. The first year the winery produced 4,000 cases of wine using sourced grapes. At the time of our July visit, wine from the tanks was sampled. A member of the winemaking team was returning wine that was analyzed to a tank.
Vineyards
The Folinos planted three acres of grapes in 2013 and added two more acres in 2016. Currently the vineyards include: Sangiovese, Pinot Gris, Merlot, Cabernet Franc and Teroldego. Eventually they hope to have approximately 30 acres of grapes under vine. While awaiting their own grapevines to reach maturity, the winery source grapes.
Wine
We tasted three wines from the stainless steel tanks waiting for bottling. The Sauvignon Blanc 2015 was produced with grapes from California. This yellow wine offered aroma notes of tropical fruits and a bit of oak, pineapple, and yellow stone fruit. This wine was to be bottled the next day. The Chardonnay 2015 was a yellow color. This wine was fermented and aged in French oak. The wine offered fruit notes including pear and apple with hints of vanilla. The mouthfeel was very velvety. The finish was crisp with fruit yielding to vanilla. The Moscato 2015 was produced with Muscat Canelli fruit sourced from California. This sweet wine had 35 g/l of residual sugar. The wine was a light yellow with intense orange and honeysuckle notes. The mouthfeel was silky.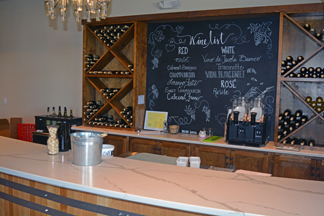 Wine Tasting Room
The Folino tasting room is spacious. The marble tasting counter has sides similar to oak barrel staves with barrel hoops. In addition to the wine tastings, visitors can browse a selection of gift items. A small market is available where visitors can purchase Italian cheeses and charcuterie for a small plate to enjoy with a glass of wine on the adjacent patio.
In this location we tasted additional wines. Traminette 2014 Finger Lakes was a light yellow color. The aroma was of floral and citrus notes. The taste had a hint of honeysuckle with citrus. The finish was crisp with mineral notes on the aftertaste. Viognier 2015 (California fruit) was a light yellow color. The winemaking protocol included staying on lees for seven months. The wine had notes of floral, honeysuckle, and yellow stone fruit. The mouthfeel was velvety. This wine was simply delicious.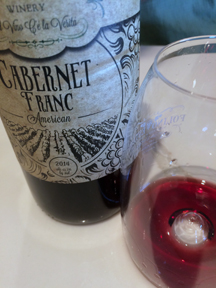 Cabernet Franc 2014 sourced from California was a translucent ruby color. The wine had notes of dark fruit and licorice. The taste included blueberries, blackberries and spice. The wine had tannins and a medium/full body. Lorenzo Forte 2014 (California fruit) was a blend of Cabernet Sauvignon, Cabernet Franc and Merlot. The wine was a translucent dark red color. The wine offered notes of blackberries, black cherries, blueberries, licorice and leather. This full-bodied wine had bold tannins. The finish was of fruit yielding to spices. Merlot 2014 (California fruit) was a bright translucent red color. The wine had notes of black cherries, licorice, leather and bold tannins. The finish for this medium/full-bodied wine offered fruit yielding to spice.
Private Events and Restaurant
With two large event rooms, Folino Estate Vineyard & Winery offers facilities for large weddings. Indoor accommodations can hold as many as 230 guests. A lovely bridal room is available for the bride-to-be to prepare for her big day. A large patio adjacent to the event rooms is available when the weather is cooperating. Between the patio and the vineyards an ornate gazebo and waterfall have been installed. Weddings, private events and corporate events can be scheduled at the winery.
A large restaurant is a focal point for the winery experience.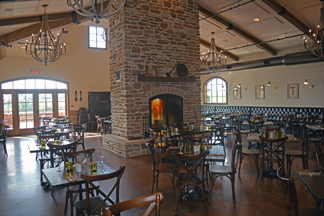 We spoke with the head chef for a moment. He noted that he uses red wine in just about everything he cooks. The chef also uses white wine in reductions.
Located only 72 miles from Harrisburg and an hour from Philadelphia, the Folino Estate Vineyard & Winery with an Italian-style restaurant, appears to be in an ideal location for wine and food enthusiasts.
Folino Estate Vineyard & Winery
340 Old Rte 22
Kutztown, Pennsylvania 19530
GPS: N40º 34.671' W75º 46.341'
Article written July 2016
---