Vynecrest Vineyards & Winery
by
K.L. Sullivan
February 2009 update:
Vynecrest Vineyards & Winery added Late Harvest Vidal and Dry Riesling to their wine portfolio and have a case production of 5500 cases per year. The size of the vineyards has increased to 17 acres and additions included Chardonnay, Riesling, Chambourcin and Vignoles vines. In an online questionnaire, Sam Landis noted, they "have a 60-70 person downstairs vyneskeller for buses and open every weekend for wine by glass and food, live music 2 times a month." The winery is located in the Lehigh Valley AVA, a new AVA officially approved in 2008. Be sure to check out the estate grown wines in the Lehigh Valley AVA.
---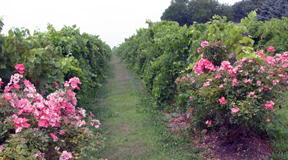 Established in 1974, Vynecrest Vineyards and Winery is a family-owned estate winery. Jan, a writer, and John, a chemical engineer, planted vineyards in 1974. Today on 75 acres, they have 18 acres in vineyards. Sam Landis, son, is involved fulltime in the business. Sam gave us a guided tour and answered many of our questions. The winery began in a barn built in the late 1800's. Additions to the winery occurred in 2003 and again in the fall of 2006. While renovating, the attempt is to keep the charm of the old barn.
Currently a large area of the barn on the lower level is being remodeled and will eventually have a tasting counter and several tables. The Landis family is determined that events at the winery will be wine education in nature. The philosophy at Vynecrest is to seek to "try to demystify wines as wine," to make visitors feel comfortable – not intimidated. Vynecrest seeks to make wine as approachable as possible. They want to have a warm atmosphere for people to feel comfortable.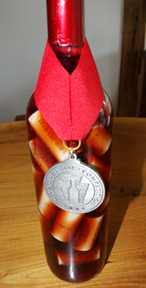 Today Vynecrest produces 12,000 gallons (about 5,000 cases) of estate wine and 90% of the sales are in the tasting room. Sweet wines provide 65% of the sales and dry wines provide 35%. Vineyards are located on three sides of the red-sided winery. Large rose bushes in full bloom highlight several rows of vines near the winery.
The tasting room is in two sections. In the first section, two custom boards create the countertop. Matching ceramic dump bucket and water pitcher sit on the counter. Behind the tasting bar, we chanced to see an unusual sight. During a bottling run, the machine that places corks in the bottles malfunctioned and ended up placing several corks into the bottle. Sam told us they couldn't do that again if they tried. It is a unique bottle of wine.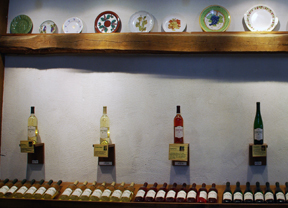 On the wall near the counter are two wreaths made with corks. While there are some wine accessories available, Vynecrest is a winery that focuses on their wines. The second section of the winery has tables for small gatherings. High on the wall is a large collection of plates, adding to the hominess of the winery. Jan received several plates as gifts and people began to think she collected plates. This in turn led to her collecting plates. Below the plates are bottles of wine along the wall. Each variety of wine has a bottle with a label on a small shelf. On another wall, a lovely tapestry depicting a wine scene from another century is on display.
The tasting begins with an overview of the wines by the tasting consultant. Mo, our tasting consultant, made several comments about each wine before pouring our tastings.
Vyntage Rosé is a Rosé made from Pinot Noir. This wine has a medium mouth feel with a light fruit taste. Pinot Gris is medium-bodied with a fruit taste and fruit on the finish. Traminette has a fruit bouquet with a fruit taste and is dry on the aftertaste. Sweetness is from the fruit. Autumn Gold is Vynecrest's number one selling white wine. A blend of Cayuga, Riesling and Vidal Blanc, it is a sweet wine and good for summer sipping. Autumn Gold can be used as a dessert wine. Riesling has a floral and fruit bouquet. It is dry with a fruit taste and there is sweetness from the fruit. The aftertaste is dry. Lemberger has a dry, dark fruit bouquet with a dark fruit flavor and alcohol on the finish. Chambourcin has a fruit taste, smooth mouth feel and finish.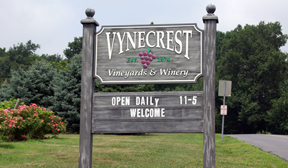 Vynecrest's tasting room has a comfortable ambiance. Stop by not only to taste their wines but to learn about the wines in a very friendly atmosphere. Be sure to keep a watch of their events for upcoming wine education events.
Vynecrest Vineyards & Winery
Breinigsville, Pennsylvania
Local lodging: Hilton Garden Inn, Allentown West
---