Hunters Valley Winery
by
Kathy Sullivan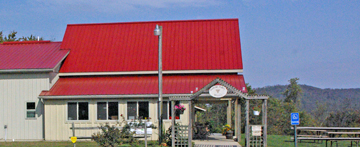 Summary: The Hunters Valley Winery location offers beautiful views of the valley and vineyards. The tasting room is laden with wine related gifts where visitors can linger awhile while tasting wines. The winery is also on the PA Quilt (And Rug) Trails.
Hunters Valley Winery is a boutique winery and vineyard owned and operated by Bill and Darlene Kvaternik. The winery and vineyard, atop a hill, offer picturesque views overlooking the valley with the Susquehanna River running through. This would be a delightful spot to enjoy a small picnic lunch.
The tasting room offers some seating as well as a plethora of gifts to browse. Numerous windows provide views of the valley and vineyards. The owners quickly welcome visitors and offer a warm family like welcome.
Bill grew up in western Pennsylvania and recalls picking buckets of elderberries. His father grew up in a village in Croatia. When Bill was very young his parents moved to a small farm near Pittsburgh, Pennsylvania and Bill remembers the fruit trees. Bill noted that he has always enjoyed growing fruits and other plants. When visiting family in Europe he noticed that one side of his family had a vineyard. Before retiring from his former work place, Bill found this property which had been a free-range chicken farm (later planted in corn) and a small fruit orchard.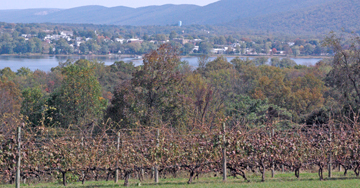 Vineyards
Eventually Bill and Darlene were able to buy the property. In the 1980's the couple began planting vineyards and today they have five acres of grapes including Cayuga White, Seyval, Chardonnay, Baco Noir, Chancellor, Cabernet Franc and Riesling. For their wine production they also source fruit from nearby growers as well as from the Lake Erie region of New York and Pennsylvania.
The Kvaterniks planted grapes in the 1980's in shale, loam soil that slopes to the east and south thus providing good drainage. Today all five acres of grapes are harvested by hand.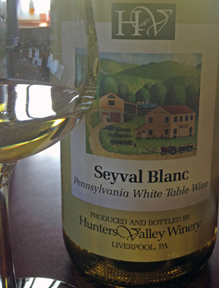 Wines
Mist in the Valley was a carbonated wine with a red color and a pink foam on the top. This was made with a blend of Cayuga, Baco Noir and Concord grapes. The taste was delightful and palate cleansing. Seyval Blanc 2011 was produced with the Hunters Valley grapes. The wine was a straw color. It had notes of apples with some pear notes and a hint of citrus. The finish was crisp and fruity. Berry Mountain Red 2011 was also made with Hunters Valley grapes – Baco Noir and Chancellor. The ruby colored wine offered dark fruit notes. The wine had mild tannins with fruit yielding to tobacco hints. Chambourcin 2011 was dark ruby with a dark pink hue. The aroma and taste had red berry fruit notes. The finish had dark fruit notes with mild tannins. This wine would be good paired with red meat. Simply Strawberry was an orange-ish reddish color (Sienna) with an intense aroma of strawberry jam. The taste tingled on the tip of the tongue and was delightful. Strawberry notes were on the taste and finish. Blackberry was a dark red color. Intense blackberry notes were noted. The wine was very smooth and the blackberry notes lingered on the finish. Country Spice was a blend of Niagara, Cayuga and Chambourcin. The taste reminds one of Christmas/holiday spices including cloves and cinnamon.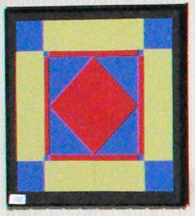 PA Quilt (And Rug) Trails
Hunters Valley Winery is a member of the PA (Quilt (And Rug) Trails. Visitors will see a large quilt on the side of the winery, visible from the parking area. This is a Diamond in the Square block, an Amish design.
When visiting Hunters Valley Winery look for the quilt painting on the side of the winery, browse the numerous gift selections and taste wines. Consider preparing a simple picnic basket to enjoy near the vineyards.
Hunters Valley Winery

3 Orchard Road

Liverpool, Pennsylvania 17045
GPS: N40º 32.548' W76º 59.494'
Article written October 2012
---