Long Trout Winery
by
Kathy Sullivan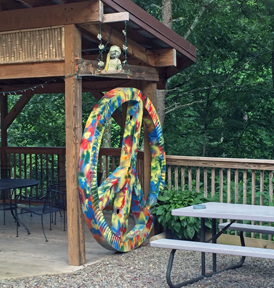 Summary: Long Trout Winery offers visitors a very unique experience that also includes a Disc Golf course. If you want to relive or experience the 1960s "hippy" way of life, Long Trout Winery is a must visit winery for you to experience. If you are seeking an adventure and a laid back experience stop by the Long Trout Winery tasting room.
The owners of Long Trout Winery, Tom and Kim Leibensperger, developed a winery tasting room with many of the reminders of the 1960s hippy generation.
To reach the winery tasting room, visitors park in an upper level parking area. A sign tells people to follow a narrow pathway to reach the Disc Golf course. When we visited the winery, people were eagerly making their way to the course. Wine tasters follow a long wood staircase down toward a large building. A sign advises "Hippies use side door." The building is a combination home, tasting room and deck. A large peace sign is on the deck, a sign of the 1960s peace movement.
Inside, the tasting room has subdued lighting and a fascinating large collection of 1960s paraphernalia. The floor is designed with the "yellow brick road." Music groups from the 1960s are also well represented among the decor. Anyone who grew up in the 1960s will recognize and reminisce about the "good old days." Looking for a tie dyed t-shirt? This is the place to acquire one.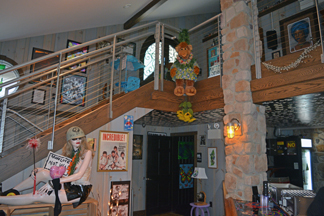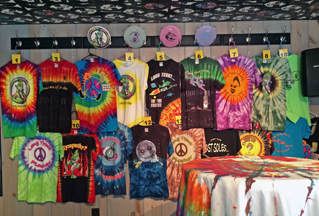 Winemaking
Tom has been making wine since the 1970s. In 2001, Tom and Kim decided to open as a commercial winery. They decided to name the winery Long Trout because of the pond on the property that had trout. Tom's goal is to produce wines that are unique. He wants to offer a different style of wine and a unique experience. Tom was determined to be outstanding in a different way. In 2006, the Leibenspergers added the Disc Golf course.
The majority of the grapes and fruit used for his unusual wines are sourced locally. Occasionally, Tom also sources grapes from California.
Long Trout Wines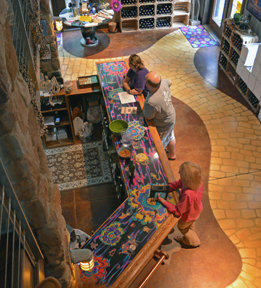 Hippie Way, a dry wine, was produced with Chardonnay. This was a light yellow color with notes of apple and pear. The finish was crisp. The writeup for this wine included, "Hand crafted by a merry band of aging hippies."
We All Live in a Yellow Nectarine was a light yellow color with notes of yellow stone fruit. There was a sweet, long nectarine aftertaste.
Given the setting, Terry wrote haikus about some of the wines.
Kiwi-Wi-Wi was a light yellow color with an aroma and taste of Kiwi.
Green target abounds
Tartness coasts interior
Sauvignon option.
Berried in Chocolate was a blend of black and red raspberries and strawberries.
Berries blend
to excite mouth
Married chocolate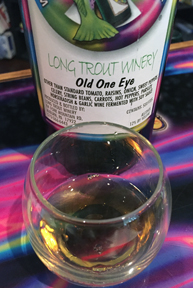 Old One Eye (Garden Medley) was a blend of tomatoes, raisins, onions, sweet peppers, celery, string beans, carrots, hot peppers, parsley, horseradish, garlic and soy sauce. You will probably not find this combination anywhere else in the world. The wine was a dark gold color. The aroma was of salsa and the taste included tomato, onion, hot peppers and green peppers. The wine had a vegetable finish. The winery recommends this wine for making a salsa martini. They also note that it is great with cheese.
Cut up vegetables
Tomatoes, onions, peppers
Salsa for nachos.
Yellow Snow was produced with hot peppers. The wine was a light gold color.
The last wine tonight
Burning the porch rocking chair
Foes or enemies.
Sour Cherrieola was a pink colored wine with a light cherry aroma. It reminded me of an old fashioned sour cherry pie if one added a pinch of sugar. According to the winery notes: "Remember the sour cherry tree by the creek when you were a young whippersnapper? Close your eyes and relive this classic smell and taste. This time you won't have to spit the pit."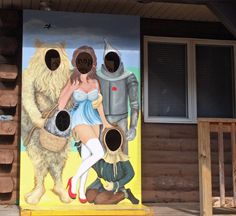 The Lus-T-Berry wine is an unusual wine produced with teaberries. Look for notes of wintergreen. The taste reminded me of minty toothpaste. It seemed to be a wine that either you liked it or you don't. Tasting room notes: "Picture the little Hippie Gnomes going out at midnight with gunny sack and flashlight in hand to harvest the mythical yet mystical berries at their peak of ripeness A minty fresh alleged aphrodisiac that will satisfy even Monica."
If you have a hankering to return to the 1960s for a brief time, visit Long Trout Winery, where being different is what it's all about.
Long Trout Winery
84 Fork Mountain Road
Auburn, Pennsylvania 17922
GPS: N40º 36.304' W76º 04.009'
Article written July 2016
---