Calvaresi Winery
by
Kathy Sullivan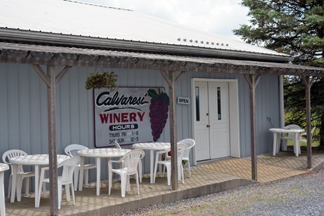 Summary: Calvaresi Winery, a family-owned winery is under the recent ownership of Shannon Birosik. The winery in Berneville, Pennsylvania, offers a low key, friendly wine experience. Wine lovers will discover sweet and dry wines.
Calvaresi Winery is located in a simple and long one-story building. Inside the tasting room and winery are located together in the same large room. Between the stainless steel tanks and the L-shaped oak tasting counter, numerous tables and chairs are setup. Nearby across from the winery building, a pavilion is available for special events.
Thirty-four years ago Tom Calvaresi started the Calvaresi Winery. In July 2014, Tom sold the winery to Shannon Birosik whose career was for a confectionary business. She was involved in research and development of food science for the company. Eventually, Shannon began looking for a small winery that would allow her more time with her family than her previous career had allowed. She also had been making wine at home and as a home winemaker, knew the basics of producing wine.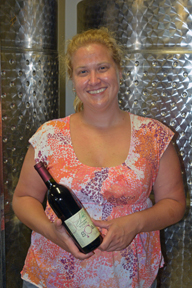 One day while visiting a winery, Shannon had an epiphany, "I should be doing this!" After searching she found the Calvaresi Winery for sale. Tom Calvaresi continues to live next door. He has established a kennel on the property. Shannon talked about how for several months after purchasing the property, Tom would come into the winery to help her and offer guidance.
She laughs as she recalls that while negotiating the contract for the winery she had told her children that they had to watch their spending for a short time. She overheard one of her children say, "Yeah, we have to watch our money; my mom spent all our money on wine."
Shannon's home winemaking journey began with a friend who had an abundance of apples and asked Shannon to help him make hard cider. This led to making wine. Her thought was, "Other people can make wine, why can't I?" As a home winemaker, Shannon just wanted to learn how to make wine.
In regard to the Calvaresi Winery, Shannon commented, "I am building this into something my children can takeover one day." Shannon wants to leave her children a legacy. She loves bringing her children to work with her and having them experience a good work ethic.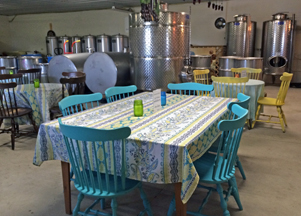 Currently, Shannon is producing wine with the majority of grapes sourced from North East, Pennsylvania. Occasionally she sources juice from Chile. Current production is 1,000 plus cases.
Shannon would like the public to know that Calvaresi Winery is a comfortable and casual place to visit. She takes pride in the products that she is producing. She also noted that sweet wines are "the ones that allow me to make dry wines."
Events
Calvaresi Winery offers special events in the pavilion including music bands. The winery also participates in Berks County Wine Trail events.
Calvaresi Wines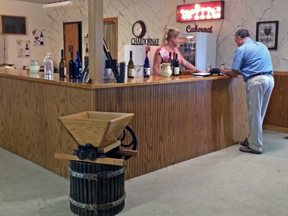 While tasting wines we asked about the brand name, SOaked. She noted that she decided to keep the Calvaresi name for the winery but wanted to put her own identity into the wine. The SOaked brand was created.
The Niagara wine was a yellow color. The aroma was reminiscent of visiting Grandma's house and eating Niagara grapes from the garden. The wine was smooth with sweet and floral notes. The wine dried on the aftertaste, showing some mineral hints. Pair this wine with a rocking chair on a porch. Viognier 2014 was produced with fruit from Chile. This yellow colored wine was full-bodied with notes of melon and tropical fruit. This food friendly wine offered a crisp finish that lingered. Riesling 2014 in a blue bottle was a pale gold color. The aroma was aromatic with notes of yellow stone fruit and honeysuckle. The finish was crisp. Be sure to pair this wine with your favorite rocking chair on the porch.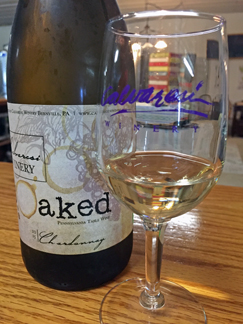 Chardonnay 2015 was produced with grapes sourced from North East, Pennsylvania. The light yellow colored wine offered an aroma of apples and pears. The taste was of apples and pears with a hint of vanilla and citrus. The mouthfeel was smooth. The crisp finish was fruity. Gewürztraminer 2015 was a yellow color with floral and spice aroma notes. The taste was of roses, honeysuckle and peach pits. The mouthfeel was smooth and the finish was crisp.
Cabernet Sauvignon 2013 North East, PA was a dark ruby color. The wine offered aroma notes of dark fruits and was herbal. The taste had blackberries, cassis and bell pepper hints. The wine was full-bodied with tannins. Merlot 2014 offered notes of black cherries. The full-bodied wine had tannins. The finish was crisp and fruity.
Autumn Rose was a blend of Catawba and Concord grapes. The wine was a pale red color. This medium-bodied wine will remind you of the old grapes in your grandmother's backyard.
Asked about her plans for the next five years, Shannon said that she hopes to double the size of the winery and open a second location. Visit Calvaresi Winery for a new twist on an established winery.
Calvaresi Winery
107 Shartlesville Road
Bernville, Pennsylvania 19506
GPS: N40º 26.704' W76º 06.971'
Article written July 2016
---