Rustic Acres Winery
by
Kathy Sullivan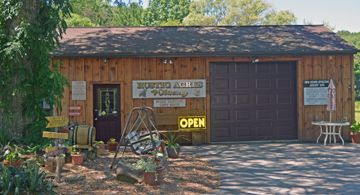 Summary: Rustic Acres is a friendly, boutique winery in Butler, Pennsylvania. People frequently stop by the winery to taste and purchase wines.
Rustic Acres Winery is a "must visit" quaint winery in Pennsylvania's beautiful countryside. The tag line for Rustic Acres is "Wine made with character." During our visit we discovered that people frequently stop by to taste and buy wines.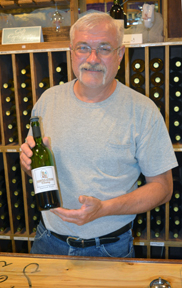 We found Rustic Acres Winery to be housed in a small cabin-style facility built by Gary Matson, a man with many talents. Gary originally worked in construction. While working in the construction business, he also worked with his father making homemade wines and discovered his passion for making wine. People began telling him that he should sell his wines. After his retirement from the construction industry, Gary developed Rustic Acres Winery as a second career. Rustic Acres Winery opened in 2005. Gary said he has "never looked back."
Tasting Room
Before entering the tasting room, notice the artistic flowing fountain made with an old wine bottle and driftwood pieces. This creativity enhances the idea that Gary has a creative nature reflected in the numerous wines he crafts.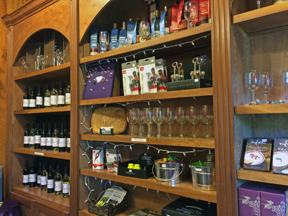 The Rustic Acres tasting room with the adjacent winery was built by Gary with wood that he had cut at a local sawmill. The wood is rough and resembles barn-style siding. The honey-toned color of the wood creates a warm ambiance in the tasting room. The wood-fashioned tasting counter was crafted by Gary's son, a cabinetmaker.
Rustic Acres' tasting room is decorated with a variety of unusual items. Located on a high shelf are several German Beameister bottles from the 1970s that Gary has collected. The labels are very detailed and colorful. We noted a couple of detailed wood carvings available for purchase. Conveniently, Gary has also added a nice selection of Amish cheeses.
High on a side wall, the assortment of Rustic Acres wines are listed and numbered 0 to 7. The numbers indicate the sweetness level of the wines. The number 0 represents the driest wines while 7 is for the sweetest wines. Gary noted that Peach Wine is his best seller; unfortunately for us, it was sold out at the time of our visit.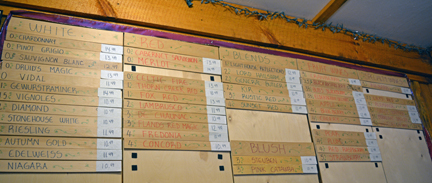 Rustic Acres' Wines
Gary is producing a large number of wines. In the winery, he prefers using stainless steel for his wine production. He sources grapes from North East, Pennsylvania. For fruit wines, Gary purchases local fruit. While we tasted several of Gary's wines, he talked about pairing wines with food. He noted that "Sweet wines cover up the taste of the food, dry wines will enhance it."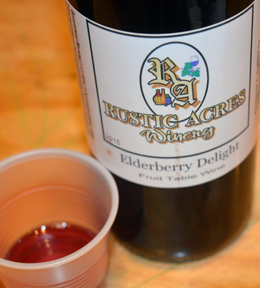 Cabernet Sauvignon 2014 was a dark ruby color. The wine offered notes of blackberries, black raspberries and black caps. The wine had mild tannins and was medium-bodied. The finish was crisp. General Butler 2014 was named for General Butler who was said to have developed the town. The General Butler wine was a red color with a pink hue. The wine was sweet with foxy notes. It was drying on the finish. While tasting this wine, we asked about General Butler. Gary responded with a grin and said, "Did you know that General Butler never came to Butler?" Sunset Red 2014, the most popular wine at Rustic Acres, was a blend with blackberries and black currants. This dark purple wine offered some sweetness. This wine would be a good 3P wine, good for the porch, patio or pool. Lambrusco was sweet and fruity. The taste lingered and the wine had a long aftertaste. Gary suggested pairing the Lambrusco with a barbecue.
Elderberry Delight 2015 was a translucent red color with a ruby hue. The wine offered notes of elderberry and earthiness. The wine was smooth and sweet with a long aftertaste. Rhubarb Wine was a translucent light pink color with an orange hue. As was expected the wine offered rhubarb notes. The mouthfeel was smooth and the wine had a long rhubarb aftertaste. Pear Wine offered a sweet taste. The wine was medium to full-bodied. I noted that this was the best pear wine I have tasted. The wine had notes of pear and a short finish although the sweetness lingered.
When visiting Butler, Pennsylvania for a friendly winery visit and a wide variety of wines, be sure to stop by Rustic Acres Winery. This is a laid-back winery providing a delightful experience.
Rustic Acres Winery
234 Crisswell Road
Butler, Pennsylvania 16002
GPS: N40º 49.320' W79º 53.535'
Article written June 2016
---