Oregon Hill Winery
by
Kathy Sullivan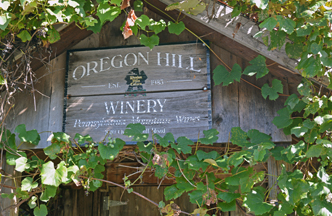 Summary: Oregon Hill Winery is located in a remote region of the Pennsylvania mountains. For a unique experience stop by the winery in an area with splendid views. The winery offers a variety of dry and sweet wines.
Oregon Hill Winery is a small unique winery located in the mountainous region of northern Pennsylvania. A drive along Oregon Hill Road offers travelers beautiful vistas of hills, mountains and fields.
Upon reaching Oregon Hill Winery, wine lovers discover the tasting room is on the ground floor of an old barn built in 1880 with an addition added in the 1930s. Outside the dark wood barn entrance is partially covered with vines. The winemaking area is in another area of the barn behind the tasting room.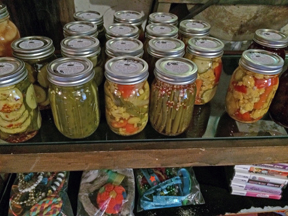 While tasting wines in the charming, rustic tasting room, be sure to look at the numerous home canned foods available, as well as an eclectic assortment of gift items including hand crocheted afghans.
Winemaker and owner is Eric Swendrowski who lays claim to being the youngest person to own a winery at the age of 18. Eric became licensed a year later at age 19. He has met and knows numerous wine personalities including Doug Morehead at Presque Isle. Eric even obtained grapevines from Dr. Konstantin Frank, although Dr. Frank advised him that the vines would not grow in this northern region of Pennsylvania.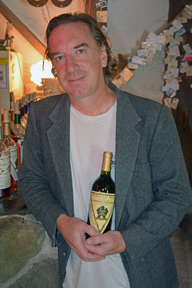 History
Eric's road to becoming a winemaker goes back to his childhood when his parents, originally from Europe, decided they wanted a change in their lives and purchased a bar that later became a German-style restaurant. His parents were well educated and his father spoke eight languages. Eric became well aware of the challenges of owning a restaurant. When Eric's father told him he would need to take over the restaurant one day, Eric was determined not to continue on with the restaurant as his future. Instead since he and his father had been home winemakers, Eric decided to follow the path to opening a winery. His first batch of wine was produced with the Steuben grape variety.
At that time in Pennsylvania, restaurants could not have winery licenses. The only way to work around this was for Eric's father to sell him a small piece of property where Eric was able to establish the winery.
Eric planted grapevines, although as Dr. Frank predicted the grapevines did not do well in this region. The year 1992 was a pivotal year. Eric was not able to grow enough grapes for the winery. He pulled out the vineyards and now concentrates on producing wines from fruit sourced from Pennsylvania growers. He has developed relationships with these growers.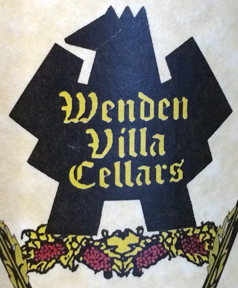 Eric recounted his father's history, noting that his father had grown up in orphanages and did not know his heritage or have a family crest. One day while musing over the lack of a family crest for the winery, he created a crest using straight lines. The crest is now used as the winery logo with the words Wenden Villa Cellars.
Winemaking
At Oregon Hill Winery, Eric produces a variety of wines from sweet to dry. While he seems to prefer dry wines for himself, he produces sweet wines including fruit wines to please his customers. Eric's fruit wines are produced from fruit; he does not use fruit flavorings at the winery. For Eric the most difficult part of winemaking is keeping the wine stable in the bottle, as he uses the least amount of preservatives possible.
Wines
We tasted several wines in the quaint tasting room. Steuben 2013 was a golden color.The wine was sweet with a hint of tartness. The grape taste, with hints of honey, was smooth and lingered. Consider pairing this wine with local food. Süssbeeren Tröpfchen, a blend of Riesling and Vidal Blanc is a Rhine-style wine. It was a light yellow and aromatic wine. There were notes of apple and the taste was smooth and sweet.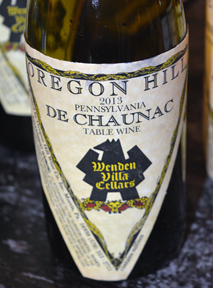 DeChaunac 2013 was a translucent red color. The wine offered aroma notes of red and black berries with a taste of red raspberries and blackberries. The wine was very crisp and fruity. This is a good red wine for white wine lovers. Ensemble Rouge 2014 was also a translucent red color. This wine was produced with a blend of Cabernet Sauvignon and Merlot. The grapes were co-fermented. The aroma and taste offered notes of plums and blackberries. It was slightly sweet with mild tannins. The fruity finish yielded to some earthiness. Cabernet Franc 2014 was a translucent ruby color. The aroma was of dark fruits and spices. The taste had notes of plums and blackberries. The wine was dry with tannins. The finish had fruit yielding to mineral.
This area of Pennsylvania is more remote than many areas. While there are not many tourists who drop by the winery, there is a good customer base - essential for Oregon Hill Winery. If you happen to be traveling in this area of Pennsylvania check out the wines available.
Oregon Hill Winery
840 Oregon Hill Road
Morris, Pennsylvania 16938
GPS: N41º 31.508' W77º 17.929'
Article written August 2015
---