Nimble Hill Vineyard & Winery Showroom
by
Kathy Sullivan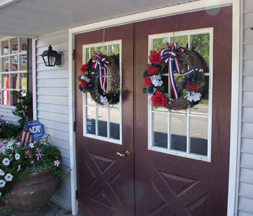 Summary: Nimble Hill Winery is located in Tunkhannock, Pennsylvania about a half hour from Scranton. The tasting room is in the Endless Mountains of Pennsylvania and is a member of the Endless Mountains Wine Trail. The owner is also brewing beer although as of September 2012, laws prevent the beer from being sold in the same location as the wine. The beer can be found in local restaurants.
The tasting room for Nimble Hill is located in what was once Gary Toczko's Dad's shop. Harry Toczko's specialty was small engines. In 1972, Harry built a small room and set up shop to work on small engines. Eventually he added wood burning stoves to his inventory. Harry also built sawmills. Then he added woodworking including trestle wood tables. As the furniture business took off, additional sections of the building were added on.
Years later, Gary Toczko bought land and planted a vineyard that has been prolific. Then Gary met Kevin Durland who recently retired and studied winemaking as a second career. When the two met, things clicked and they have been working together ever since. They opened the Nimble Hill tasting room and winery July 1, 2007.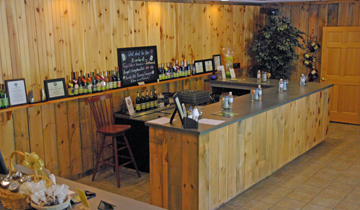 Tasting Room
Today Gary has renovated the shop and has three rooms. Wine enthusiasts can enter the tasting room where they will be greeted quickly. The Wifi Lounge is a cozy sitting room with a leather loveseat and armchairs. Local artwork is displayed and available for sale.The lounge is located to the left of the tasting room and up a few steps. An event room is located to the right of the tasting room.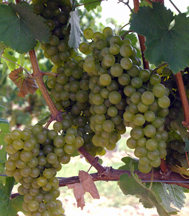 Nimble Hill Vineyards
The vineyards are located about 15 miles from the tasting room. The vineyards consist of six acres with Riesling, Vidal, Frontenac Gris, Vidal, Pinot Gris and Gruner Veltliner (pictured). Nimble Hill purchases grapes from other growers in Pennsylvania and some from Long Island. We visited the vineyards and found the winemaker, Kevin Durland with Gary Toczko, owner and vineyard manager, working in the vines. It is encouraging to see a winemaker in the vineyards. Kevin, Gary and an intern were busy pulling leaves in the fruit zone of the Riesling vines. They estimated that it would be about two more weeks before the grapes would be ready for harvest.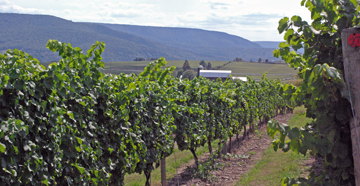 Kevin noted that his interest in wine stemmed from years of visiting the Finger Lakes wineries with his wife. When he retired from Proctor and Gamble he received a package incentive to further his education in another career. After taking numerous courses, Kevin interned at Red Newt, a winery in the Finger Lakes region. He and Gary met and together they are creating serious as well as fun wines.
Wines
Back in the tasting room we sampled a few wines. Reserve Gewürztraminer 2010 was a light straw color. The grapes for this wine were sourced from the Finger Lakes wine region. The aroma and taste were floral with a touch of yellow stone fruit. The finish was crisp with roses on the aftertaste. Mystera Blanc 2011 was a blend of Pinot Grigio, Gruner Veltliner and Chardonnay. The wine was aromatic and the taste was dry and crisp with a hint of sweetness. Innocence, a blush wine was a blend of Edelweiss, Cayuga and Vidal Blanc with a bit of Chancellor added for color. This wine had four percent residual sugar. The aroma was fruity with light red raspberry notes. The taste was sweet and fruity with cherry, strawberry and raspberry notes. Dry Rosé of Cabernet Franc 2011 was a light pink. Red berry fruit notes were on the aroma and taste. The finish, with 0.9 percent residual sugar, was slightly sweet but with crispness. This is a good 3P (patio, pool, or porch) wine or paired with food.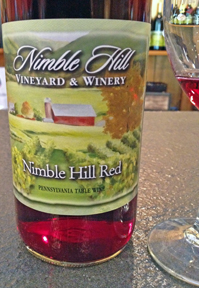 Nimble Hill Red was red with pink hues. This was a comprehensive red with St. Croix, Landoit Noir, Cabernet Franc, Merlot and Lemberger. The wine was fruity and crisp. The wine would pair well with pasta. Mountain Magic 2009 was a blend of Noiret and Cabernet Franc. The residual sugar was 9 percent and the alcohol was 20 percent. The wine was a ruby color. The aroma had dark, jammy fruit notes. The taste reminded one of dried fruit. The finish was fruity with no burn on the finish.
Nimble Hill's special fruit wine is the Mango Slide. This wine was made with mangos and natural peach flavorings. The residual sugar was seven percent. Mango notes lingered on the finish. Anyone who enjoys mangoes should be sure to try this wine.
If you are looking for an outing and driving through Pennsylvania's beautiful Endless Mountains region, plan to stop by Nimble Hill Winery only a half hour from Scranton.
Nimble Hill Vineyard & Winery Showroom
3971 SR 6,
Tunkhannock, Pennsylvania 18657
GPS: N41º 32.261' W75º 55.826'
Article written September 2012.
---