Hauser Estate Winery
by
Kathy Sullivan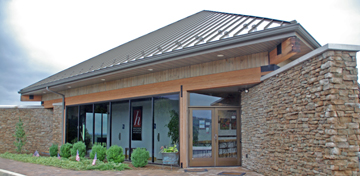 Summary: Hauser Estate Winery produces a variety of wines including red and white vinifera as well as hard cider. The Hauser family and extended family has been involved in agriculture for many years focusing on apple orchards. Eventually they created a destination site for wine enthusiasts to enjoy wine.
As visitors approach the Hauser Estate property, they discover a long and winding stone road wrapping its way around a hill to the top where the glass enclosed tasting room awaits them. Before stepping inside take a look at the picturesque views of Pennsylvania's countryside complete with mountains, hills, orchards and vineyards. The Hauser tasting room is located on the top of a hill that was once covered with apple orchards.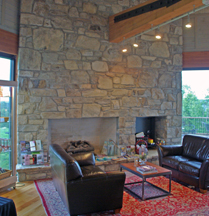 Hauser Estate Winery, on the new Mason-Dixon Wine Trail, recently opened the tasting room with views of Pennsylvania's majestic countryside from all sides of the tasting room. Large windows that surround the tasting counter provide the 360-degree views.
The tasting room is light and airy. Tables are provided for enjoying a glass of wine. The large stone fireplace adds to the ambiance of the tasting room. A conversation seating arrangement is located in front of the fireplace. A wood deck and red brick patio provide another delightful location to enjoy a glass of wine.
Background
John A. and Helen Hauser owned the apple orchards for many years. John also known as "Jack" became the president of Musselman Company in 1944. After Jack's demise in 1983, the family stayed in the apple orchard business.
In the early 2000s Jonathan Patrono, Jack and Helen's grandson, attended a local Rotary meeting at which vineyards and wineries were discussed. Jonathan embraced the idea of planting vineyards on the property and adding a winery for "value added" agriculture. In 2005, Jonathan approached his mother and two aunts regarding growing grapes on the land. As a result in 2006 vineyards were planted where apple orchards were no longer thriving. Today the vineyards have 12 to 13 acres of Chambourcin, Vidal, Pinot Noir, Chardonnay, Cabernet Sauvignon, Cabernet Franc and Petit Verdot. Some grapes are sourced from Pennsylvania vineyards. The tasting room opened to the public in 2008.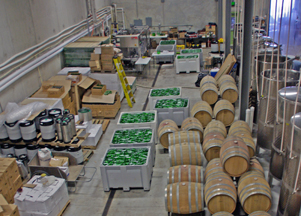 Wineries need to use an incredible amount of water. To conserve energy, the Hauser family has special solar power tubes to heat the water. The solar tubes can be seen from outside the tasting room doors.
Hard Ciders
Melisa Patrono gave a tour of the winery and conducted the wine tasting. Jack's Hard Cider is in distribution. Produced with Rome apples this Jack's Hard Cider offers notes of apples on the nose and taste. The cider with 5 ½ percent alcohol was crisp and refreshing. Jack's Hard Cider (original) was produced with Granny Smith apples. This light straw color wine offered an apple aroma and a taste of tart apples. The crisp finish included apple notes.
Wines
Reserve Chardonnay 2009 was aged nine months in French and American oak. The straw color wine offered notes of caramel on the nose and apple, pear and caramel on the taste. The finish had citrus on the finish with a hint of caramel. Jennie Wade White was a light gold color. The aroma of fruit was light. The taste was smooth. This wine would pair well with cheese. Jennie Wade was a young woman, who was the only civilian casualty in the Battle of Gettysburg.
Merlot 2009 was red and had an aroma and taste of cherries. The finish was mild with tannins and cherries that yielded to earthy tones. Cabernet Franc 2009 was a ruby color with an aroma of perfume that changed to black fruit. There were some plum influences. Mild tannins with fruit yielding to spice were on the aftertaste. Chambourcin 2009 was a dark purple/red and offered an earthy aroma. The smooth taste makes this wine an easy drinking wine. The wine dried on the finish. Suggested pairings include steak and pizza.
Late Harvest Vidal 2009 had lots of tropical fruit. This fruity wine was delicious. It was sweet with a very slight tartness on the finish. Suggested pairings included apple pies, vanilla ice cream and cheesecake.
Events at Hauser Estate Winery
Private events can be scheduled at Hauser Estate Winery. The tasting room, deck and patio can provide an ideal environment to host a birthday party, celebrate an anniversary, hold a business meeting or have a wedding. Extra space can be added with a large event tent.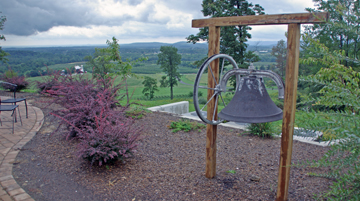 Enjoy a visit to Hauser Estate Winery, a winery that offers a friendly welcome in a beautiful state of the art tasting room. Walk around the outside of the facility to observe views of the Adams County, Pennsylvania countryside.
Hauser Estate Winery
410 Cashtown Road
Biglerville, PA 17307
GPS: 39º 54.474' W77º 20.852'
---