Sand Castle Winery
by
Kathy Sullivan
June, 2011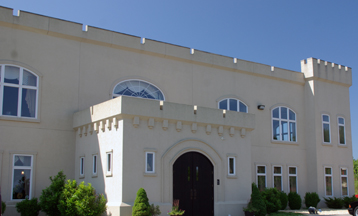 Summary: Travel along the Delaware River and then up a long hill to reach the delightful location of Sand Castle Winery. The winery facility also has the Upstairs Gallery featuring fine arts. From the winery, visitors have a 15-mile view of Bucks County.
Sand Castle Winery offers an elegant and sophisticated tasting experience for visitors. First time visitors to Sand Castle Winery will delight in the picturesque view of the winery facility as they approach the parking area. The large two-story, castle-like building is of sandstone with a sandstone color event tent nearby.
Owner, Joseph Maxian, notes that Sand Castle Winery is "a jewel you have to seek to enjoy." Driving to reach the destination, one travels along the shade covered Delaware River. The road leads to a long driveway that stretches up and around to the winery and vineyards. Sand Castle Winery is an hour and a half from New York City and an hour and twenty minutes from Philadelphia.
Joseph's brother is an artist. The two brothers grew up in Slovakia's wine country next to the Danube River. While their father was a lawyer, their uncle was a winemaker. As boys they had to work in the vineyards. Joseph noted, vineyards "have a charm that suck's you in and never lets you go." He continued with he "works at a place where other people take vacations."
Joseph related a story that his father told. During the Medieval Ages wheat was a very important crop. Wheat was so important that any land that was plowable had to be used for growing wheat. Grapevines were only allowed to be planted on hillsides that could not be plowed.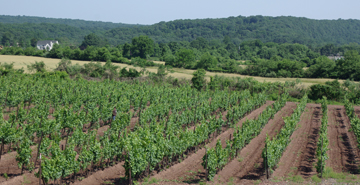 Vineyards
When Joseph did his research about growing grapes in this area of Pennsylvania, he discovered that the Central Delaware Valley AVA is as far south as Naples and Rome in Italy. The soil at the vineyard is rocky and offers mineral complexity. Soil depth is between 10 and 30 inches. Today the vineyards consist of 40 acres onsite and six acres about a mile away. Grapes include Chardonnay, Riesling, Cabernet Sauvignon, and Pinot Noir. These grapes are located in Pennsylvania where the grapes can fully ripen if certain vineyard techniques are followed. Currently Joseph is experimenting in the vineyard with Gewürztraminer. The Delaware River can provide a fog bank that will protect the vineyards. Since starting the vineyards, the winery has only had one bad frost year and that was in 1993. Joseph smiled and noted that he "didn't pray enough."
Tasting Room
The large tasting room is elegant. Tasting counters are of quartz and several tables are available. With red drapes at the windows, the effect is elegant.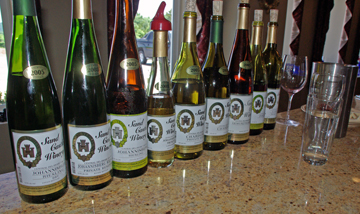 White Wines
Sand Castle Winery focuses on producing traditional wines. All wines are labeled with the Central Delaware Valley AVA and estate grown.
Johannisberg Riesling 2005 was dry. The wine was yellow with floral notes. The taste offered rose and mineral notes. The finish was crisp with mineral nuances. Johannisberg Riesling Private Reserve was a dark yellow. The aroma had mineral and floral notes. The taste had mineral notes. The finish was crisp with mineral and hints of petrol. Johannisberg Riesling 2005 Semi Sweet offered a floral aroma with a taste of yellow stone fruit and mineral. The finish was crisp with yellow stone fruit, floral and minerality. Late Harvest Johannisberg Riesling 2003 offered apricot, peaches, mineral and floral notes. The finish was crisp, sweet and long. There was stone fruit on the aftertaste. Chardonnay Private Reserve 2005 was yellow with caramel and apple notes. The finish was crisp with caramel yielding to apple. Chardonnay 2005 was aged in French oak and had caramel and apple notes. Chardonnay 2002 aged in French oak three years was a dark yellow. The aroma offered mineral, pear and cedar notes. The taste had mineral and cedar nuances. The finish was crisp with cedar yielding to mineral and then pear. Gewürztraminer 2005 was gold and had mineral notes. The finish was crisp and dry.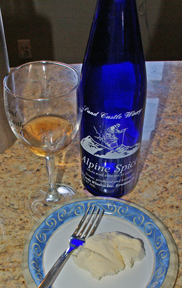 Red Wines
Pinot Noir 2008 was a dark red with red cherry and mineral nuances. The finish was crisp with mild tannins. While tasting we paired the wine with a leaf of rosemary. The two flavors went hand and hand together. Then we tasted the wine with Asiago cheese and white chocolate to note the differences. Cabernet Sauvignon 2007 was a ruby color. The aroma was of dark fruit while the taste had dark fruit and mineral nuances. The finish was crisp with mild tannins. This was paired with Asiago cheese and milk chocolate. The chocolate brought out a cherry taste in the wine.
Dessert Wine
Apple Spice was like a bite of warm apple pie. This wine was a blend of Chardonnay and Riesling with a proprietary blend of herbs and spices. It is suggested to serve the wine in the summer on ice and in the winter warm. However we tasted it warm during the summer paired with ice cream, heavenly!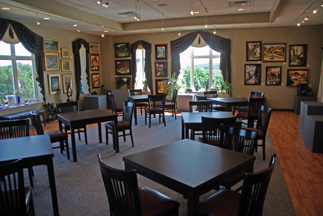 Upstairs Gallery
In 2010, the Upstairs Gallery opened on the second floor of the building. The gallery offers displays of artwork including paintings, glass and sculpture. The artwork is available for sale.
Joseph said the winery is "One of the few places one can see for 15 miles and see the beauty of Bucks County. The charm of the castle and wine is a premium." Enjoy visiting Sand Castle Winery where you can expect a wonderful experience with picturesque views, traditional wines and an art gallery.
Sand Castle Winery
755 River Road
Erwinna PA, 18920
GPS: N40º 29.515' W75º 04.276'
---