Allegro Vineyards
by
K. L.Sullivan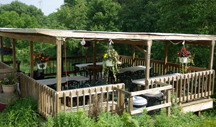 Allegro Vineyards is located in York County, Pennsylvania. We made our way to Allegro Vineyards along rolling hills and beautiful farmlands spread far apart and on bumpy but paved roads. Not too far away but not too close to Interstate 83, we soon arrived at Allegro Vineyards. A short distance from the front door is a lovely picnic pavilion overlooking a hillside. It was a hot day and this would have been a perfect place to share a picnic and a glass of Allegro wine. The vineyards currently harvests grapes from five and a half acres. Allegro purchases grapes necessary for the production of fine wines.
Inside, the tasting room is relatively small, with a curved wood counter and wine displayed behind the counter. Several shelves of gifts will be moved to other retail stores and an educational element will replace the gifts now available in the Allegro Vineyards winery tasting room. We look forward to seeing the educational component that will evolve.
We met Carl Helrich, winemaker and co-owner with his wife of Allegro Vineyards. Carl is passionate and eager about producing fine dry wines. He believes that Allegro Vineyards is located in the best terroir of Pennsylvania. Carl mentioned how difficult it is to get the public to understand that great wines are available in "your own backyard." Fine wine is available at many small wineries and yet the public believes they need to have wine from California or other areas of the world.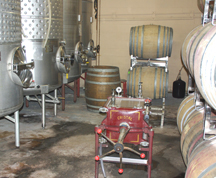 Carl talked about Allegro's history beginning with the John and Tim Crouch brothers, both fine musicians, who purchased the vineyards in the 1970's. Tim was a violinist and John played the oboe. The winery with tasting room was added in 1980. In the same year, Cabernet Sauvignon took a double gold and for the next 10 years Allegro continued to receive medals for their fine wines.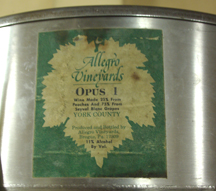 Music has played and continues to play an important part at the Allegro winery. Currently Carl's wife, Kris, creates the beautiful labels, which feature various instruments. Several of Allegro's wine names refer to musical terms including Suite, Harmony, Forte, Jazz, Aria and Serenade. Another wine made called Opus 1 was a blend of Seyval Blanc and peaches. However, an agreement was made with Robert Mondavi when Mondavi and Baron Philippe de Rothschild wanted to use the name Opus 1 for their joint venture. Now the Allegro label Opus 1 rests on the bottling line reminding visitors of a time since past.
When John decided to sell Allegro Vineyards in 2001, it took three months for Carl to convince him to sell the winery to him. John wanted to be sure that to whomever he sold the winery, the new owner would only produce quality wines. Today Carl concentrates on the quality and flavors of the wines he produces.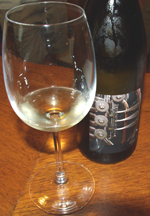 Carl continues to follow the tradition of the Crouch brothers in producing fine wines. Currently Allegro produces 3,000 cases which includes 22 to 24 varieties of wine. They are fortunate to have their own bottling system, which facilitates the bottling of so many varieties. Wines produced include Pinot Grigio, Chambourcin, Cabernet Sauvignon, Dry Rosé, Vidal Blanc, Riesling, Harmony, Chardonnay and Forte. The Dry Rosé is a blush Cabernet Franc and a perfect red wine for a white wine lover. The Vidal Blanc has four percent residual sugar, while the Riesling has a 2 percent residual sugar. The Forte is a port wine made from Chambourcin and Cabernet Franc, which has been aged for two years. Harmony is a delightful sweet wine; bouquet and flavor are reminiscent of picking Niagara grapes as a child. Harmony is one of their best selling wines. The Pinot Grigio is light and makes a good summertime drink. Chardonnay 2004 is smooth.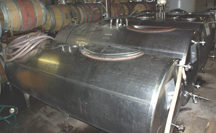 As we toured the winery, we saw tanks being used for the wine, which were once milk tanks. Milk tanks are less expensive and as good to use as traditional wine tanks. Carl would rather put his money into buying better grapes to make better wine than putting money into new tanks. We saw a press from the 1960's and an old filter. Carl uses French and American oak barrels.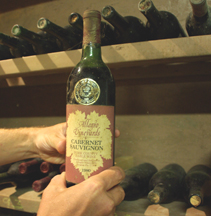 Beside the tanks and barrels, a space was set aside for wine that is 15 to 20 years old. Guests attending special events and vertical tastings will have an opportunity to taste this wine. Carl tastes the older wine to compare to wine he produces now.
Due to the winery's location, Carl and his wife, offer their fine wines at six other locations that offer easy access to their wines. However, if you would like a beautiful drive in the country, bring a picnic lunch, stop at Allegro's winery and tasting room for a tasting and a bottle of your favorite wine.
Allegro Vineyards
Brogue, Pennsylvania
GPS: N 39° 50.664' W 076° 28.647'
---